Discover the colourful history of this small green island located in the middle of the Pacific Ocean. Defined by its Norfolk Island pine trees and jagged vertical cliffs, this tiny island measures only 5 by 8 kms.
15 – 22 October 2021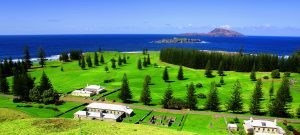 From World Heritage Kingston historic site to stunning views and the lush vegetation of its National Park, your full week on this magical island combines organised touring with free time to relax or explore. There are a number of museums visited on the tour, plus the Cyclorama and the Cemetery, which are not to be missed. Meet the friendly locals, enjoy a swim, a gentle stroll or a hike to the top of Mount Pitt in your free time, or drive yourself in the car provided with your tour (remember cows have right of way!)
Dinner is included daily with 'paddock to plate' fare provided by the rich volcanic soil.
Escape to Norfolk Island with the National Trust and enjoy a taste of 'Paradise' as described by Captain Cook!
Bookings: David Smith, Travel on Capri, phone 1800 679 066
Enquiries: Jill Bunning, Tour Leader, phone 0439 321 164