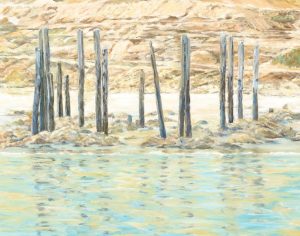 Join volunteers from the Willunga National Trust for a new heritage walk at Port Willunga. The walk includes the site of the first jetty, the Ida (1857) shipwreck as well as the fisherman's dugouts where they stored their boats.
Port Willunga has long been a favoured place for artists to draw, sketch, and paint. Explore Port Willunga and see some of the places painted by artists. You will hear about the "Port Willunga school' and other artists and some of the places where they lived and painted. Compare the scenes in front of you with the images captured by these talented people. We will visit the site of the second Port Willunga jetty that was painted by Barbara Storer in 1991, Brian Seidel in 2000 and more recently by artists such as Donna Chess and Hugo Shaw.
Copies of the full-colour, 60 page catalogue for the "Art of the Willunga's Built Heritage" exhibition will be available for sale at cost of $10 . The Walk will take about 2 hours. 2 km. Grade – Medium.