26 Sep 2023
Thinking about volunteering? Find out how you can lend a hand at the National Trust and make a difference caring for nature and history.
One in four Australians take part in volunteer work and it's easy to see why – volunteering is a great way to connect with people, learn new skills, and research even shows that it boosts mental and physical health.
The National Trust has an incredible community of volunteers that help celebrate heritage and conserve special historic places for everyone to enjoy. But as a charity, we rely on the ongoing help of volunteers to keep this good work going.
"Volunteering is one of the most generous things you can do with your time," says Ranmalie de Silva, National Trust (NSW) Volunteer Coordinator. "At the National Trust, we have lots of great volunteering opportunities to match your skills and interests. And the best part is you know you're making a real impact on preserving heritage for future generations."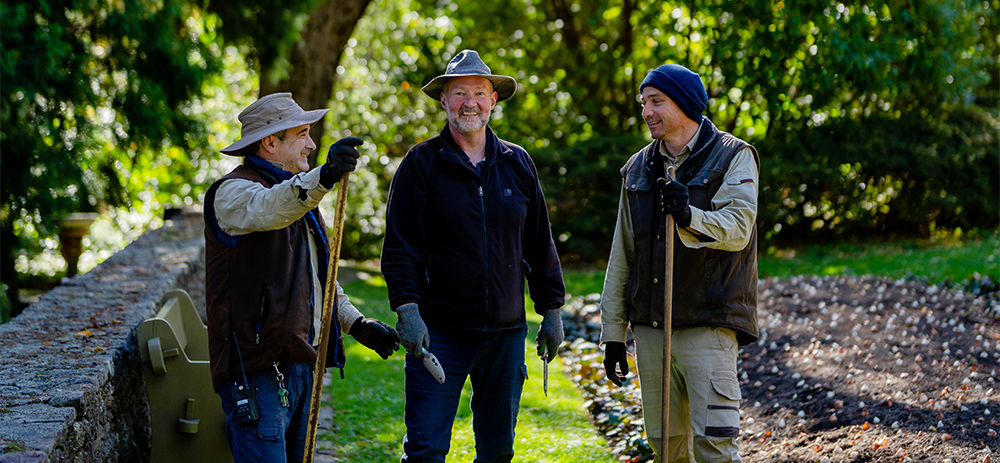 Ways to volunteer
Whether you're looking to help in the great outdoors, or get up close and personal with history, there are lots of way to get involved. Here are just some of the areas you can volunteer in:
Gardening
If you're a nature enthusiast, volunteering with the National Trust offers the perfect opportunity to immerse yourself in the great outdoors. There are many iconic gardens to volunteer with, such as Retford Park in the Southern Highlands, Everglades House & Gardens in the Blue Mountains, and many more.
As a garden volunteer you could be working on many different tasks, from light pruning and weeding, to creating new plantings. You'll work with expert gardeners and we'll provide the support and training to make the most of your volunteering experience. Find out more about gardening volunteer roles.
Supporting visitors
Do you have a passion for history and like working with people? Our tour guide volunteers play a key role in sharing the stories of our heritage sites. In this type of role, you could be providing a warm welcome to visitors, leading guided tours, sharing your new-found knowledge and pointing out fascinating facts.
You could volunteer at Cooma Cottage in Yass, home to the first Australian-born explorer, convict-built Old Government House in Parramatta, Dundullimal Homestead in Dubbo, or any of the other fascinating heritage sites we care for across the state. Find out more about visitor experience volunteer roles.
Behind-the-scenes
Our behind-the-scenes roles are the perfect opportunity to make new friends, give back to the community and not worry about being in a visitor-facing role. You'll gain fascinating insights  into how a leading conservation charity operates and uncover new skills.
Behind-the-scenes volunteer roles range from administration, where you could be taking tour bookings, attending to enquiries, or maintaining office filing systems. Or you might be interested in working with our precious collections. Working as a collections volunteer is a unique opportunity to be directly involved in the conservation of the National Trust collection, which contains more than 60,000 special objects, such as furniture, artwork, clothing, and more. Find out more about behind-the-scenes volunteer roles.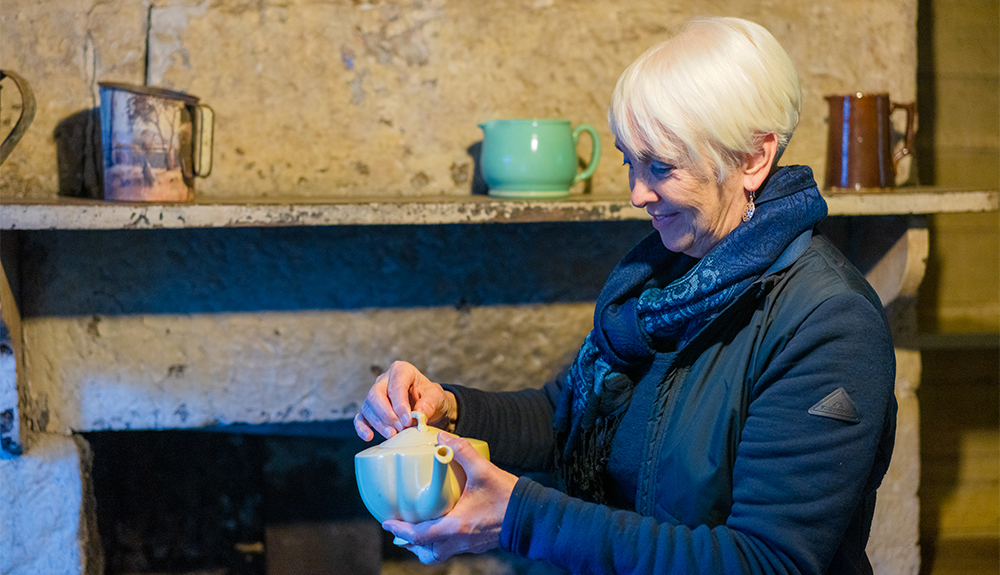 Where to volunteer
The National Trust has many heritage houses, gardens and galleries around NSW, so there are lots of locations to choose from. Some are major tourist destinations such as Old Government House in Sydney, while others are smaller house museums like Miss Traill's House in Bathurst.
We'll work with you to figure out which location interests you the most, and which is easy for you to get to. You can volunteer a few hours a week, or more depending on your circumstances. We provide full training for roles when required, and as a volunteer you'll receive free access to all National Trust properties in NSW. You also receive an Associate Membership to the National Trust once you volunteer 96 hours over a 12-month period. Take a look at all of our places.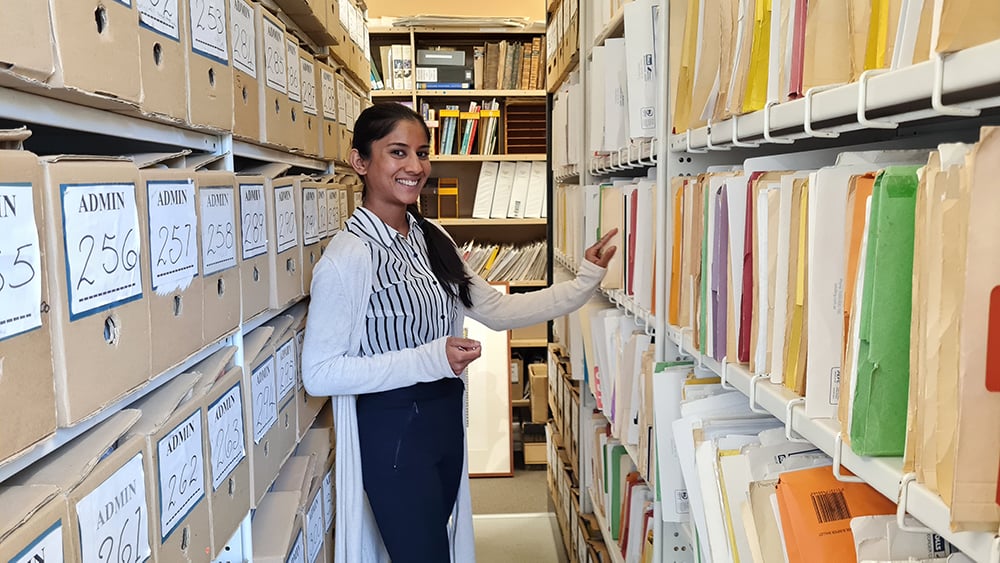 Volunteering FAQs
You might have some extra questions about how it all works. Here we've answered your most frequently asked questions.
Where can I volunteer?
We are in regular need of volunteers across New South Wales, at our galleries, museums, gardens and bushland. We often have opportunities in the Blue Mountains, Southern Highlands, Hunter, Yass, Goulburn, Dubbo, and Sydney, to name a few. For a list of all properties, head to our explore page. We also have Branches across the state that need volunteers for their advocacy and fundraising work. If there isn't a property near you, send us an email at volunteer@nationaltrust.com.au to find your nearest Branch.
How much time do I have to give?
There is no minimum time you must give. A typical shift is four hours and the days available will vary depending on the property opening times. We have a range of roles from a few hours to one-off events, however a regular commitment is preferred. This can be weekly, fortnightly or monthly. Once you've expressed your interest in a role, we will call you to discuss your availability.
What age do I have to be?
Whether you're in school, retired or somewhere in between, we welcome everyone. In some cases, our properties will accept Duke of Edinburgh Award applications, however applications must be made direct to the property.
Many of our volunteer roles provide a great way to gain experience for your next job. We are happy to provide a reference after six months of consistent volunteering.
Will I receive training?
The level of training will vary depending on the role. You will be given all the training and support needed to make this an opportunity you will always enjoy.
What are the benefits of volunteering?
There are lots! Volunteering is a brilliant way to make new friends, work in amazing places and know that you're helping a great cause. Volunteering is a great way to connect to your community, especially if you've just moved to a new town and want to meet like-minded people.
Volunteering is an opportunity to utilise your existing skills and develop new ones. A certificate to demonstrate work carried out for the National Trust is available on request to show future employers or further education providers.
In addition, you will receive free or discounted entry at National Trust properties throughout NSW, and associate membership after completion of 96-hours of volunteering over 12 months. Many of our volunteers remain part of our community for several years. We have a long service awards scheme to recognise those that have given outstanding service.
Do I have to be a member of the National Trust?
No. Many of our volunteers are not National Trust members although we'd love you to join and enjoy our many benefits.
Can groups apply to volunteer?
Yes, we offer volunteering for many different types of groups including corporate volunteering. Whatever you're into, we encourage you  to apply. Email us at volunteer@nationaltrust.com.au to find out how your group can get involved.
How do I apply to volunteer?
Register your interest in volunteering by completing our online form and we'll be in touch to discuss your interests and next steps.