6 Sep 2023
Spring is finally here, and colourful buds are brightening gardens all around the state. National Trust (NSW) gardens are renowned for their natural beauty and cultural heritage, so plan a day out at one of these spectacular spring gardens.
Blue Mountains
If we had to pick one garden that captures the spirit of spring it would be Everglades House & Gardens in Leura. This iconic inter-war garden is beautiful all year round, but it really puts on a show from September through to November.
The famous Cherry Terrace starts to burst into pink and white blossoms in early September and is so spectacular it's become a favourite on the Blue Mountains cherry blossom trail. Keep in mind they only last a week or two, so plan your trip from early- to mid-September to catch the best of the blossoms.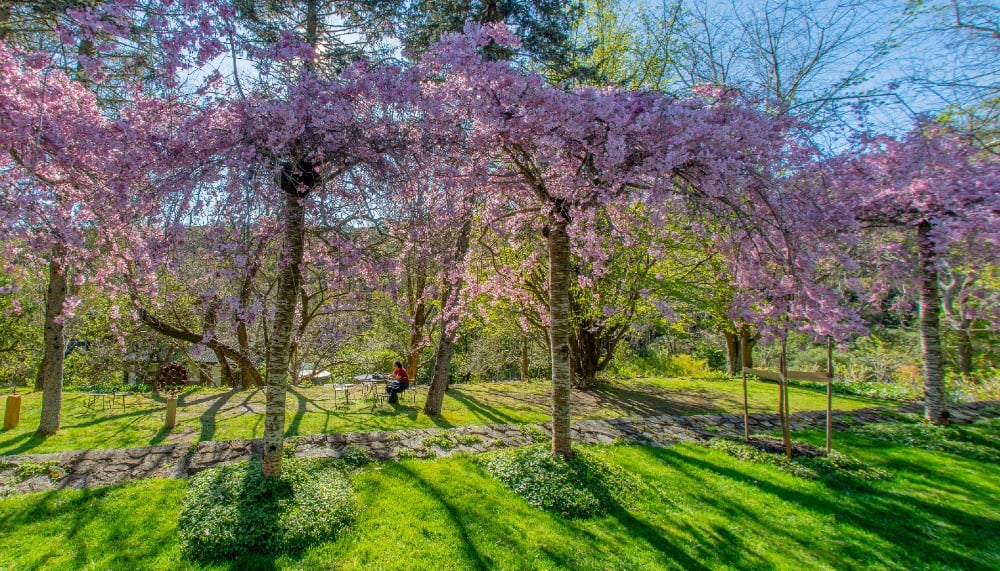 As you explore the rest of the garden with its different 'rooms' – designed in the 1930s by Paul Sorensen – keep an eye out for other early spring flowers making an appearance, from delicate hellebore flowers to flowering bulbs on the daffodil lawn.
By October and November, the garden transforms again with swaths of bluebells, azaleas, lilacs and tulips. Archival photos show that tulips were grown at Everglades House & Gardens over 90 years ago, and this heritage is continued today with mass plantings brightening the winding paths throughout the garden. Bring a picnic and if you're there on the weekends, stop for Devonshire Tea in the Art Deco house. Plan your visit to Everglades House & Garden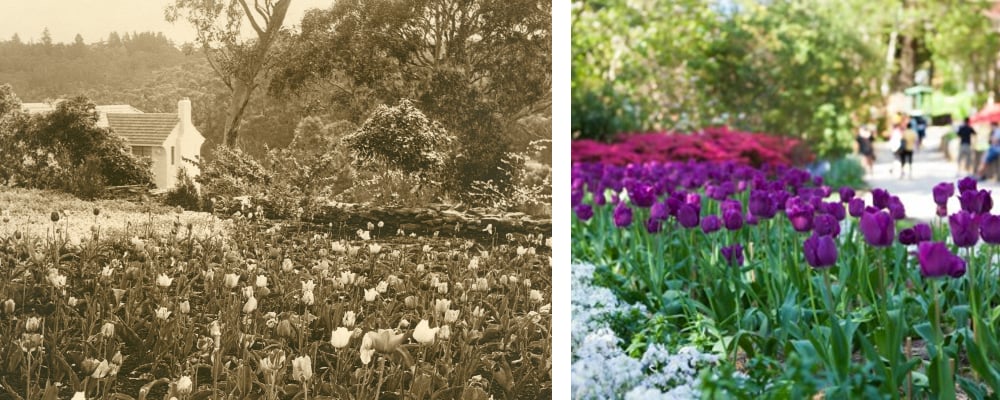 Did you know?

The gardeners at Everglades House & Gardens plant more than 2,500 tulip bulbs in the autumn to prepare for the famous spring display.
Not far away in Faulconbridge is Norman Lindsay Gallery, the former home of prolific Australian artist Norman Lindsay. The gallery is bedecked with wisteria in September and the vast bushland gardens are a sight to behold in spring.
The Roman-style gardens feature dramatic fountains and sculptures, and there's even a heritage bush pool set amidst native trees. While exploring, take the short scenic bushwalk for remarkable views of the Grose Valley.
Norman Lindsay painted a watercolour in 1926 called 'Spring', which features his wife Rose as the central figure. Today, you can take a guided tour and step inside Lindsay's original art studio to get a behind-the-scenes look at his art and inspiration. Finally, a visit to Norman Lindsay Gallery in spring isn't complete without watching our resident native ducks teaching their young to swim in the recently restored Seahorse Fountain. Plan your visit to Norman Lindsay Gallery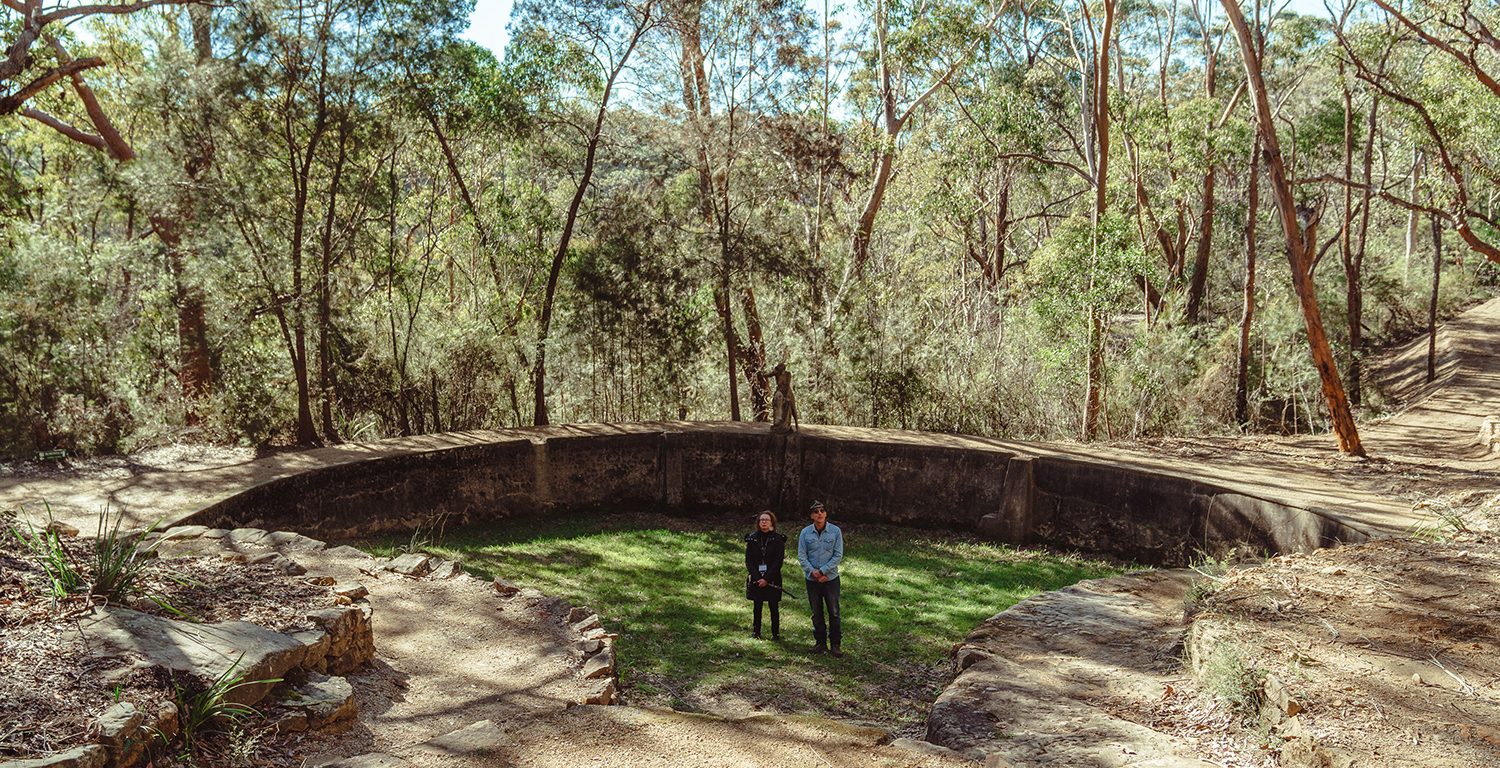 Southern Highlands
Retford Park in Bowral is famed for its gardens and there's nothing quite like seeing this magnificent estate in spring. One of the standout sights are the peonies. Retford Park's former owner, James Fairfax, loved travelling to Japan and was a big admirer of peonies. His gardeners planted the Retford Park peony walk in the 1990s, and 30 years later these plump, perfumed flowers are still putting on a fantastic display from mid-September to November.
Look out for the other heritage features in the garden, such as the modernist pool pavilion, knot garden, and even Fairfax's cemetery for his beloved dogs. Azaleas and rhododendrons bring riots of colour to the garden, matched only by the bright pink mansion that is open for guided house tours. Plan your visit to Retford Park

Did you know?

Retford Park is a sustainable garden. Our gardeners use minimal chemicals, and encourage bugs and birds to keep pests under control.
A ten-minute drive from Bowral is another heritage destination to add to your spring garden list. Harper's Mansion was built in 1834 and is surrounded by two acres of cool-climate strolling gardens that still retain their original 19th century charm.
In September the fruit trees are alight with blossoms, while the heritage roses begin to make their debut in mid-spring. While walking through the gardens, keep an eye out for magical carpets of bluebells that make an appearance throughout October. Children will be delighted by the winding hedge maze, which was planted in 1999 and is now one of the largest hedge mazes in Australia. Plan your visit to Harper's Mansion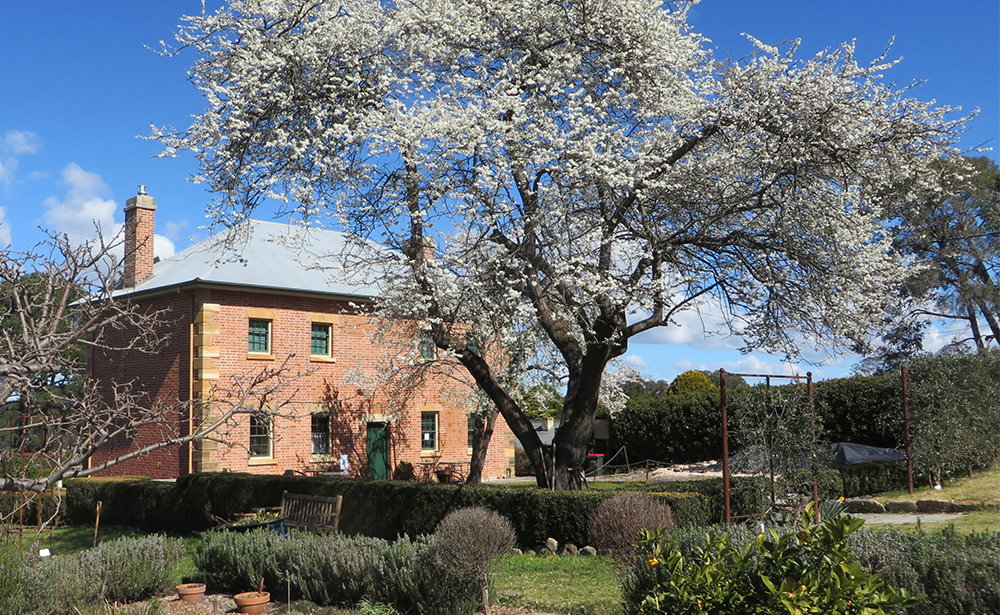 For another heritage garden that's a bit more off the beaten track, try Riversdale in Goulburn – a charming colonial Georgian home with an artistic history and gardens that come alive in spring.
Built in 1840, Riversdale was home to the Twynam family from 1875 to 1967. Emily Rose Twynam was a self-taught artist and between the years of 1890 to 1905 she filled seven sketchbooks with detailed drawings of the flora and fauna from her Riversdale gardens. You can still see Emily's botanical sketches today at Riversdale, as well as the evocative garden that inspired her art.
It's also believed that Emily planted the peonies in her garden, and over a century later, these spectacular flowers still bloom throughout October. Plan your visit to Riversdale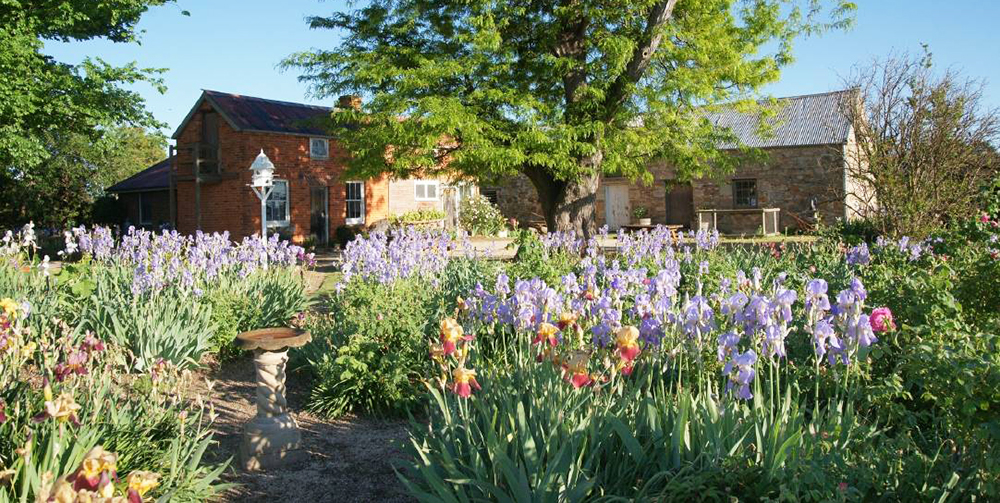 Don't forget to bring …
Your picnic blanket. Spring is ideal picnic time, and there are many spots in our gardens to put down a rug and enjoy the scenery.
Explore our other heritage gardens this spring.
Sign up to the free National Trust (NSW) newsletter for more spring updates, news and events.