18 Aug 2022
The famous cherry blossoms at Everglades House & Gardens bloom for just a few spectacular weeks every September.
After a long winter, one of the most enduring signs of spring are the first buds of the Japanese cherry trees. In Japan, these trees are revered for their flowers and symbolise the transience of life due to their very short flowering season. But you don't have to travel to Japan to get your fix of cherry blossoms. NSW's cold climate and mountain areas make perfect conditions for these plants, and the National Trust's Everglades House & Gardens in the Blue Mountains is a must-see on the cherry blossom trail.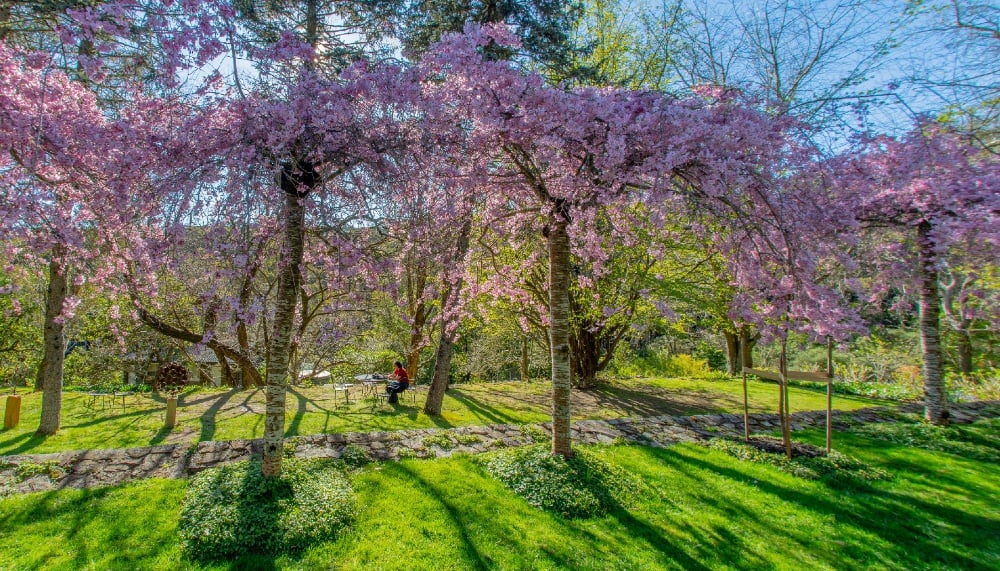 When to visit
Timing is everything when it comes to cherry blossoms. They are at their peak from early to mid-September, when the trees transform from bare branches into an explosion of pink and white flowers. After about two weeks, the blossoms begin to fall, making it a short but spectacular flowering season.
Time your visit to Everglades House & Gardens in the first few weeks of September, and you'll be in for a treat. The show-stopping Cherry Terrace features two prolific white cherry blossoms and a long line of weeping Japanese cherry trees (Prunus subhirtella) that extend across the lawn.
These trees were planted in 1998, and are now magnificent mature trees with long weeping branches and pink buds that open to bell-shaped, pale pink flowers. In Japan, it's common to meet with friends and picnic underneath the cherry blossoms – a custom called hanami, which literally means 'watching blossoms.'
At Everglades House & Gardens you're also welcome to 'watch the blossoms' by bringing your own picnic mat and spreading out on one of the many grassy spots around the lawn with friends and family.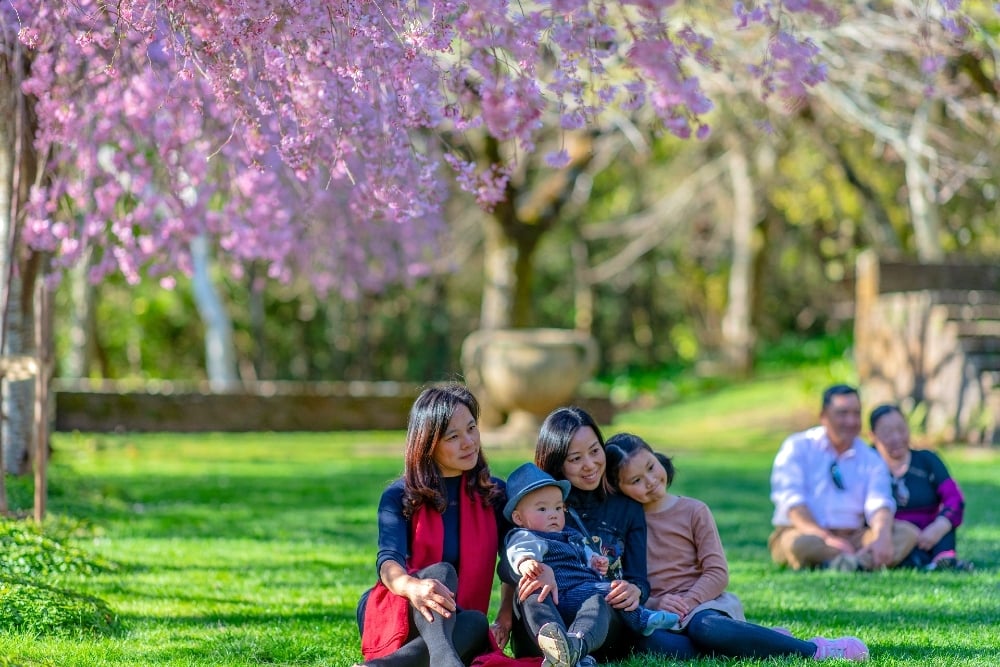 Why we love cherry blossoms
Everglades House & Gardens is one of Australia's most spectacular inter-war period gardens, with a rich natural history.
Danish-born landscaper Paul Sorensen designed and built the garden in the 1930s in partnership with owner Henri van de Velde. Sorenson took great care to create a garden that merged exotic plantings with the natural surrounding bushland, importing plants and trees from as far as Europe, America and Asia.
The effect is a garden that has its own unique moods and mini eco-systems – from the cool climate Grotto at the bottom of the garden, to the calm Asian-inspired Glades filled with Japanese Maples.
While it's unclear exactly when the Cherry Terrace was originally planted, it's thought that they were originally supported on a pergola until the 1960s, at which point they were replanted.  These were later replaced in 1998 with the current cherry trees, which continue to preserve the original charm of the garden terrace, and are carefully maintained by the Everglades gardeners and a team of dedicated volunteers.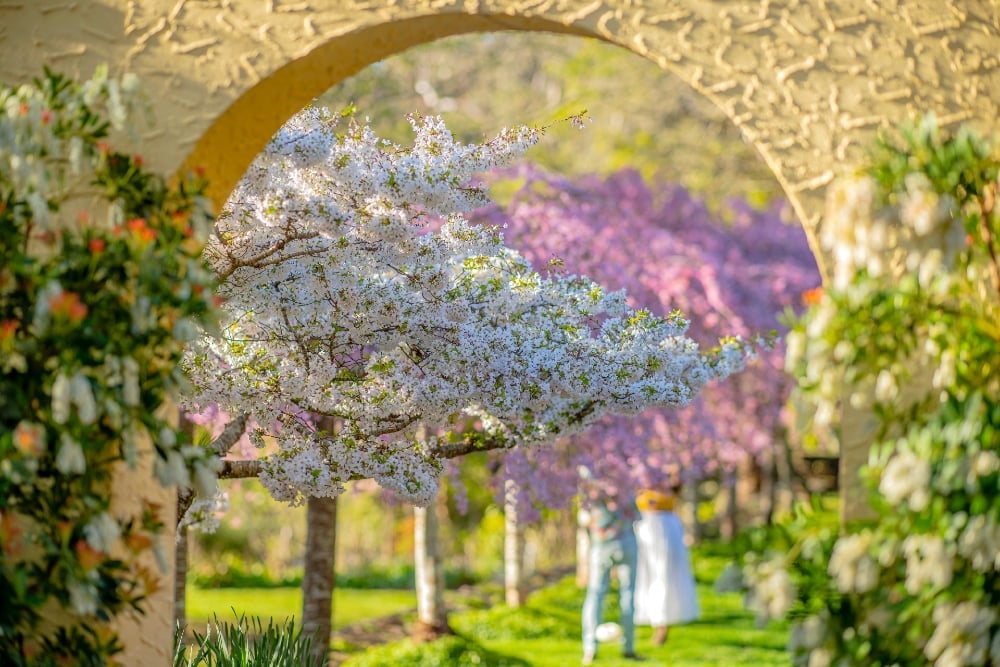 Other spring highlights
Everglades House & Gardens is open all year, and September is the month when the garden really starts to come to life after a long Blue Mountains winter.  During this time, you'll see swaths of azaleas, spring-flowering bulbs, bluebells, harlequin flowers, the daffodil lawn, plus a spectacular lilac display.
The wonderful garden theatre features a dramatic water feature. And on the lower terraces of the garden, you'll find a watercourse flowing through the Glades to an eight-metre waterfall and hidden grotto pool fringed with ferns.
Take in the latest exhibit at the gallery, and stop by the Everglades entrance shop for a few souvenirs on the way out. There is also a tea-room serving up Devonshire Teas on weekends throughout September from 11am to 3pm.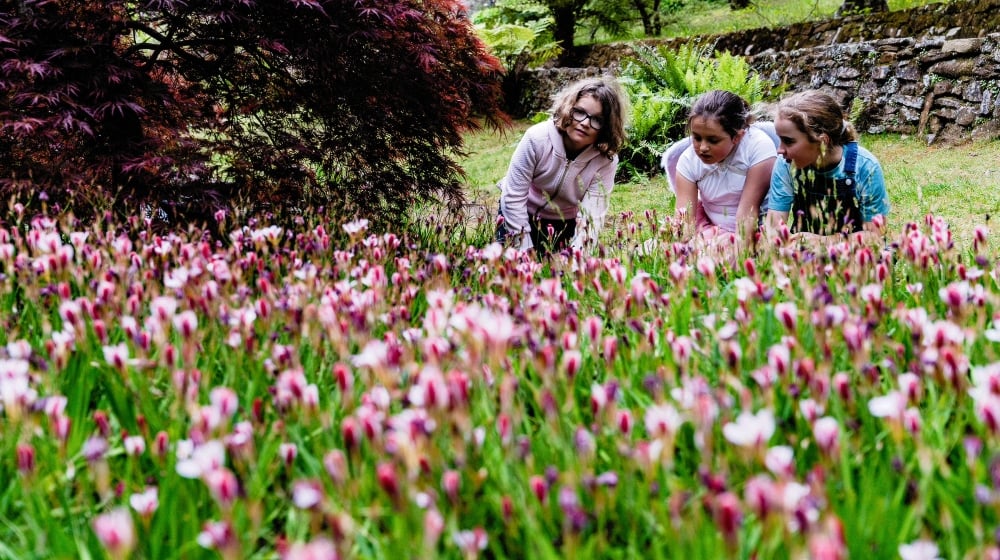 Don't forget to bring …
A picnic rug and your phone/camera are a must for September. It's ideal picnic time, and Everglades House & Garden has lots of spots to put down a rug and enjoy the scenery.
Getting there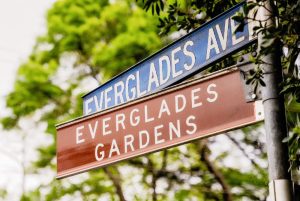 Everglades House & Gardens is in Leura in the Blue Mountains – less than a two-hour drive or train-ride from Sydney. Otherwise it's a lovely one kilometre walk or short taxi ride from Leura train station. If driving, there's usually lots of off-street parking nearby.
Plan your day trip to Everglades House & Gardens.
Explore our other heritage gardens this spring.
Sign up to the free National Trust (NSW) newsletter for more spring updates, news and events.