17 Feb 2022
A famous clock, Temple and Webster's handmade chair, and cutting-edge video art are just some of the fascinating items on display at a new exhibition exploring the lives of convicts and the impact of their crafts on the colony.
We may think of convicts as petty criminals, but the truth is many were competent artisans, such as potters, silversmiths, cabinetmakers, artists and clockmakers. Before being transported for their crimes, these convicts were usually apprenticed in their trade in England and carried their skills to the young colony, which found ways to make good use of them.
Making Good: Convict artisans in exile brings together in one exhibition an intriguing collection of objects and creative works handcrafted by convicts, revealing how those forcibly banished to the antipodes used their skills and acumen to become independent businesspeople who furnished their masters' homes.
This is the first time these stories have been told in detail at the very place responsible for controlling the colony and the lives of convicts, Old Government House.
It was Governor John Hunter who tasked James Bloodsworth, a master bricklayer and builder, to build the central block of Old Government House in 1799. James, a First Fleeter sentenced for stealing poultry, taught his fellow convicts how to make bricks and set up a brick kiln on the edge of the river below the house. A later Governor, Lachlan Macquarie, instructed convict architect Francis Greenway to design the house's front portico and had other convicts craft the timber and roof shingles for the extension.
Ticket to freedom and prosperity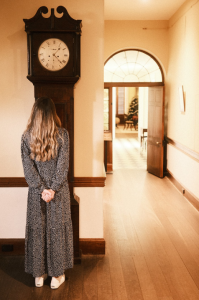 Although convicts' lives were under strict control, those who worked hard could reap the rewards when their time was done. Some were given land grants and became highly respected members of the community. By the Macquarie period, skilled convicts were often allowed to work for themselves after completing their tasks for their assigned masters. Many were able to establish businesses, which prospered further when they were pardoned and could be their own masters.
One such enterprising convict was clockmaker, James Oatley, who arrived in Sydney in 1817 and was able to set up his own business. By 1819 he was appointed Keeper of the Town Clocks and was so successful he was able to purchase land on his pardon in 1821.
But not all skilled convicts had such a straightforward path to independence. When Cabinetmaker William Temple arrived in the colony in 1814, he was soon in trouble for absconding from work and stealing boat parts to make an escape.
William was sent to the coal mines for a time before Macquarie employed him as a cabinetmaker at Government House in Sydney. There, he partnered with the newly arrived carver, John Webster, to make a pair of ceremonial chairs for the Governor. Despite Temple's earlier transgressions, Macquarie must have been pleased with their work as he granted pardons to both craftsmen soon after they completed the chairs.
The Making Good: Convict artisans in exile exhibition includes one of only three Temple and Webster's chairs in existence today. Modelled on the Macquarie chairs, this one was made for Thomas Hobbes Scott, secretary to Commissioner Thomas Bigge. Temple and Webster must have worked quickly on the Scott chair, as it was made between late 1820 and February 1821 when Scott departed the colony. The chair is part of the St James Church Sydney collection, and its owners have generously loaned it to this exhibition.
Asking bigger questions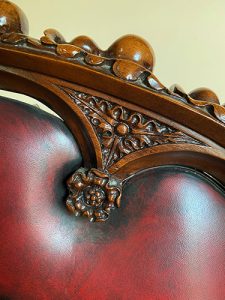 The exhibition also asks larger questions of the colony and the role of convict artisans in transforming a place of exile into a genteel settlement with a thriving economy. In an exciting first for Old Government House, artist Kenneth Lambert has also developed a contemporary video and sound installation to accompany the exhibition.
Kenneth's work, which will sit in its own space, is a response to a convict-made bed. Kenneth was inspired by Midnight Oil's protest song, Beds are Burning, and the work will examine the question: "How did the occupants of the bed sleep at night in a colony that was systematically displacing and traumatising aboriginal people in service of the British Empire?"
Old Government House is part of the World Heritage-listed Australian Convict Sites because of its role in determining the fate of so many convicts. It's fitting that the property is now helping to tell the stories of those who, bereft of family and exiled from their home, produced and sold exquisite wares to gain their freedom.
VISIT
This exhibition has now closed.
For more information on Old Government House or updates on upcoming events and exhibitions at the property, click here.
This story first featured in the National Trust New South Wales magazine which gets delivered to members quarterly. Become a member today to receive many exclusive benefits.