Australia Day with the National Trust
This Australia Day take some time to learn more about the people and places that helped make our country what it is today.
How the early settlers lived and thought can tell us a lot about who we are as Australians in 2018. While the start of a new year seems to urge us to make plans for the future, it's still important to glance back at the past – it's the only reliable evidence we have for how far we've come and how much we've changed.
The following National Trust (NSW) properties will be open on the Australia Day public holiday and they all have amazing stories to discover – Old Government House, Experiment Farm Cottage, Everglades House & Garden, Miss Porter's House, Norman Lindsay Gallery, Harper's Mansion, and Cooma Cottage.
Old Government House, Paramatta
Old Government House is Australia's oldest remaining public building and is UNESCO World Heritage listed. It stands on a hill at the edge of Parramatta Park and for seven decades it was the country residence of 10 early governors of the colony, including Governor and Mrs Macquarie, who from 1810 to 1821 preferred the clean air and space of rural Parramatta to the dirty, crime-ridden streets of Sydney Town
Governor Macquarie is credited with producing the first official currency specifically for circulation in Australia and was a great sponsor of exploration. In 1813 he authorised Blaxland, Wentworth and Lawson's successful crossing of the Blue Mountains, and ordered the establishment of Bathurst. He also appointed John Oxley as surveyor-general and sent him on expeditions up the coast of NSW and what is now Queensland where explored the present site of Brisbane.
And we have Governor Macquarie to thank for the fact that we drive on the left-hand side!
Discover more Australian stories at Old Government House – open 10am to 3.30pm. The amazing (and cool!) cellar will be open to the public on Australia Day only. Entry will cost you a gold coin donation.
Experiment Farm Cottage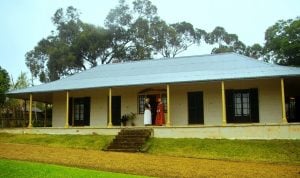 Experiment Farm Cottage in Harris Park is one of Australia's older buildings. It sits on the site of Australia's first land grant and was given to former convist James Ruse after a successful experiment in self-sufficiency.
Ruse was sentenced to seven years transportation to Australia when he was convicted of breaking and entering in 1783.  With 18 months of his sentence remaining Ruse applied to Governor Arthur Phillip  for a land grant, stating that he had been bred to farming. Governor Phillip was desperate to make the colony self-sufficient, so he allocated Ruse an allotment near Parramatta, where he proved himself industrious and showed that it was possible for a family to survive through farming.
In 1793 Ruse sold the land to John Harris (a surgeon, merchant, magistrate and farmer) who built the cottage.
Find out more stories about James Ruse and John Harris when you visit Experiment Farm Cottage. Enter will cost you a gold coin donation. Open 10.30am to 3.30pm.
Norman Lindsay Gallery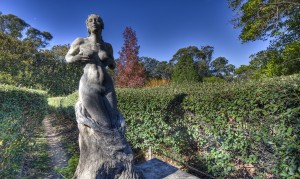 Artist and writer Norman Lindsay is well know to most Australians for his risque art and his book, The Magic Pudding.
But he was also an editorial cartoonist, a journalist for weekly magazine, the Sydney Bulletin and an amateur boxer!
His wife Rose was his business manager, one of his favourite models and the printer for most of his etchings.
The Norman Lindsay House & Gallery in Faulconbridge showcases just what a talented and versatile artist he was with many of his sculptures, etchings and paintings on display. Lindsay bought the land with Rose in 1913 and remained living on the property until his death in 1969.
Discover more stories about this Australian legend and his family at the Norman Lindsay Gallery and Museum, open on Australia Day from 10am to 4pm.
Everglades House and Garden
Many visitors to Everglades spend most of their time strolling around the amazing gardens, through pockets of Blue Mountains bushland and marveling at one of the best views in the area, but the 1930s, butter-yellow house is also a feast for the eyes.
The house and gardens were designed and constructed by Danish-born landscape architect, Paul Sorensen, with owner Henri van de Velde. Belgian-born Henri was a merchant and felt manufacturer. During World War I he won a contract to supply woollen blankets to the army through his business, Sydney Felt and Textiles Ltd.
Find more Australian stories at Everglades Historic House & Gardens on Australia Day.
Open 10am – 5pm. Adult – $13; Concession – $8; Child – $4.
Miss Porter's House
The Porter family ran a general store in Hunter Street Newcastle from the late 1870s. The store was directly behind Miss Porter's House. Unfortunately the store is no longer there but the house, which was home to the same family for more than 90 years, still survives with house, grounds, interiors and contents all intact.
Miss Porter's House is a wonderful look at how life changed for one family over several generations.
Discover more of the Porter family's Australian story on Australia Day and see a century's worth of Aussie household objects including kitchenware, dining ware, clothes, and furniture. The house will be open from 1pm – 4pm and is free for National Trust members. Tickets for adults are $8 and $6 for pensioners and children under five years.
Harper's Mansion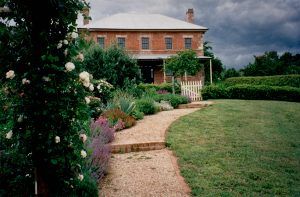 Harper's Mansion was built by James and Mary Harper just after Berrima was gazetted in 1831. James Harper was a district constable in nearby Sutton Forest and  the first licensee of the Surveyor General Inn at Berrima.
James Harper was the son of convicts William and Margaret Morgan. The couple married at Parramatta in 1803 and their only child, James was born there in 1805.
Berrima is the second oldest European settlement in Wingecarribee Shire and the oldest continuing settlement in the shire. The site for the town was selected by Surveyor General Sir Thomas Mitchell in 1829 on a visit planning the route for a new road alignment from Sydney.
You can find out more about how Harper's Mansion fits into the history of this small Australian town when you visit on Australia Day. The house, maze and gardens are open from 10.30am to 4.00pm.
Cooma Cottage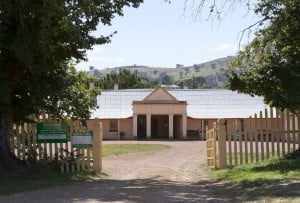 Cooma Cottage is one of the oldest surviving rural houses in Yass and was the home of famous explorer, Hamilton Hume.
Hume was born in Seven Hills in 1797 and together with William Hovell he participate in an expedition that took an overland route from Sydney to Port Philip in Vitoria. With Captain Charles Sturt was on of the first Europeans to discover the Darling River in 1828.
His efforts are commemorated by the Hume Highway which links Sydney to Melbourne.
Find more stories about this famous explorer when you visit Cooma Cottage on Australia Day.  This year the Cottage will host a Twilight Fair from 4pm – there will be a barbecue, games, visits from the resident Clydesdale horses and lots of history!