31 May 2023
Discover how to make the ultimate old-fashioned sugar bun with this delightful recipe from Saumarez Homestead.
Similar to a rock cake, these small buns are a classic for afternoon tea. The recipe comes from a hand-written card kept in the original kitchen at Saumarez Homestead in Armidale, and is part of a collection gathered by Mary White.
An important figure in the history of the Country Women's Association, whose members are celebrated for their baking, Mary was a founding member of the Armidale branch. Her cards often recorded the name of the person who gave her the recipe. While we may never know exactly who Mrs Ross was, her sugar buns live on as a quick, inexpensive treat to enjoy with a cup of tea.
INGREDIENTS
60g unsalted butter, softened
1 cup (220g) caster sugar
2 eggs
3 cups (450g) plain flour
4 teaspoons baking powder
½ teaspoon salt
½ cup milk
1 cup currants
2 tablespoons raw or demerara sugar
METHOD
1. Preheat the oven to 180 °C and line a baking tray with baking paper.
2. Cream butter and sugar with electric beater or by hand until smooth. Beat in the eggs one at a time.
3. Sift together the flour, baking powder and salt. Add to the butter mixture in several lots, alternating with the milk, and stir with a wooden spoon or knife until combined to form a moist, sticky dough. If it looks a bit dry, add a little more milk. Using a knife, mix in the currants.
4. Place large heaped dessertspoonfuls of the mixture on the tray, spaced about 5 centimetres apart, and sprinkle with the raw sugar. Bake for 15 minutes, or until golden.
Makes about 15 buns.
Tip: This recipe is very sweet for modern tastes so you might want to reduce the amount of caster sugar. Mrs Ross also suggested using sultanas and mixed peel as well as currants.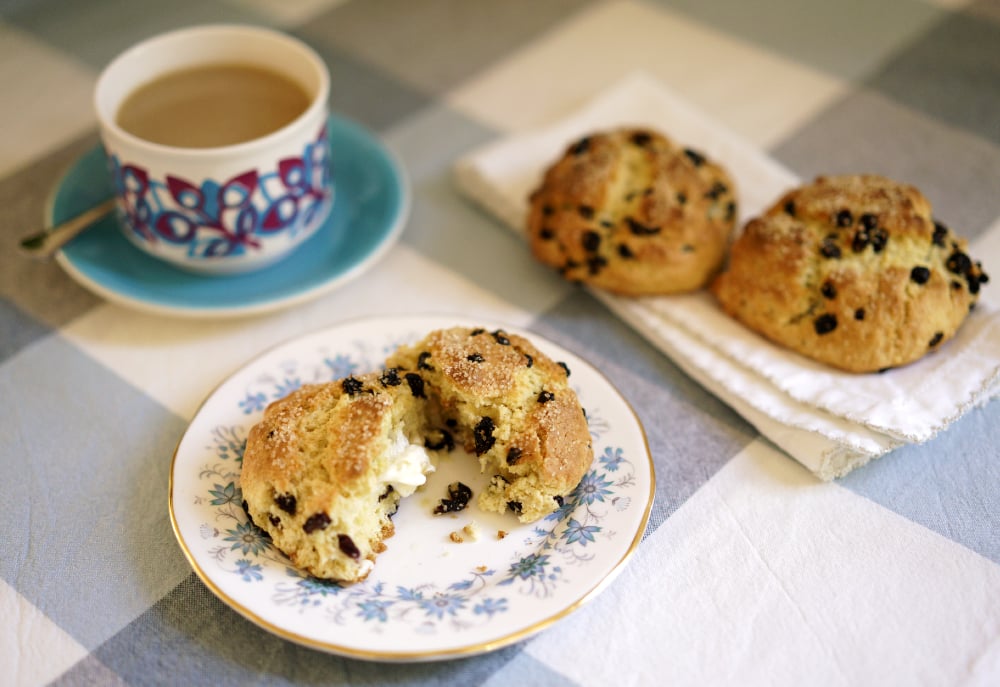 Find out more
Plan a visit to Saumarez Homestead in Armidale and explore this magnificent house museum surrounded by spectacular gardens.
Check out another heritage recipe, our Christmas Tea Loaf.
Subscribe to the National Trust newsletter for more recipes, news and special offers.