30 Nov 2022
This classic Australian tea loaf is the perfect accompaniment to a Christmas cup of tea. The original recipe comes from the 1939 edition of the The Australian Sunshine Cookery Book for Every Housewife, which was found at Miss Porter's House in Newcastle. We've added some tea and icing sugar for extra Christmas cheer, but no doubt the women of Miss Porter's enjoyed this loaf all year round. Serve with a slather of butter and house slippers.
Adapted from The Australian Sunshine Cookery Book for Every Housewife
Ingredients
1/2 cup chopped raisins
1/4 cup butter
1 egg
3 cups plain flour
1/2 teaspoon salt
1/4 cup castor sugar
1 cup milk
6 teaspoons baking powder
3/4 cup crushed drained pineapple
4 teaspoons black tea
Icing sugar to decorate
Method
Preheat the oven to  160°C
Beat butter and sugar to a cream.
Stir in beaten egg.
Sift in flour, baking powder and salt, adding milk to moisten.
Add the raisins, pineapple and black tea. Stir to combine.
Turn mixture into a greased loaf tin and bake for 75 to 90 minutes, until golden brown.
Allow cake to cool, then turn out of tin.
 Sprinkle with icing sugar and serve.

christmas with the porters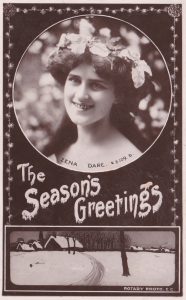 This recipe comes from The Australian Sunshine Cookery Book for Every Housewife, which was produced by the Australian Dried Fruit Industry in 1936, presumably to promote the use of dried fruit in Australian cooking. The cookbook was used by the women of Miss Porter's House,  who, like most households across Australia at that time, were the ones in charge of cooking for Christmas.
Besides the Christmas tea loaf, how did the Porters celebrate Christmas? An early postcard sent from Herbert Porter to his soon-to-be wife Florence, suggests that just like now, overeating and drinking were common. In one pre-1910 card, Herbert wrote to Florence: … card to let you know I am still alive … Don't make a glutton of yourself at Xmas or get too much wine. I will be as good as possible. Give John a drink for me…..
As for what was on the menu, Florence would have followed the very English recipes in her early cook books, including Christmas cake, plum pudding and fruit mince pies. Dinner was roast or boiled meat. If the meal extended to three courses it would be fish or soup, roast or boiled meat and a pudding. While we have no evidence of Florence enjoying the above Christmas Tea Loaf, we like to think it was one of the last indulgences of the day, or maybe even the ideal Boxing Day breakfast. With tea, of course.
Find out more about the history of Miss Porter's House or plan a visit to see this special Edwardian House Museum, open every second Sunday of the month from 1pm-4pm.  Find out more.