17 Apr 2022
A National Trust (NSW) artwork restoration has led to the remarkable discovery of a 17th century Dutch Master painting in the Blue Mountains.
For almost 150 years, a dark, unassuming still life painting was housed inside the walls of Woodford Academy in the Blue Mountains. Painted on two panels of oak hardboard, the still life depicted an abandoned feast, dishevelled tablecloth and toppled silver goblet – the kind of painting you might stop to admire for a moment, but decades of damp and grime had dulled the varnish and obscured any signs of a signature.
Known simply as Still Life, the piece was one of 36 artworks included in the National Trust (NSW)'s recent artwork appeal, which aimed to restore ailing artworks to their former glory. However, when restorers removed the varnish on Still Life and spotted two microscopic signatures hidden on a knife's blade in the painting, they realised this was no ordinary cleaning – they had in fact discovered a valuable 17th century painting by Gerrit Willemz. Heda, son of the famous Dutch Master still life painter Willem Claesz. Heda.

Expert examinations of Still Life are still ongoing, with suggestions that it may be a father-and-son collaborative artwork. What is certain is that Willem Claesz. Heda's works are typically valued in the millions of dollars, and according to Rebecca Pinchin, Collections Manager for National Trust (NSW), the discovery of a new Heda work is extremely rare.
"We believed the artwork might be an authentic 17th century painting, but finding the artist's signature felt like a one in a million chance," says Pinchin. "This is a remarkable story of discovery, which has taken us on a journey across a number of years, piecing together and validating the work through expert advice and technology."
The work of a teenage master
Still Life had an estimated value of $200,000 before attribution and restoration, and is now undergoing a re-evaluation. Beyond the price tag, what makes the artwork particularly intriguing is that it's been dated to 1640, making the artist, Gerrit Willemz. Heda, no older than 17 years at the time of its execution.
"He was so young and so gifted," says Pinchin. "Even if this artwork was painted as a father-son-collaboration, the level of Gerrit's skill in this painting is incredible. The handling of all the different textures, from the fabric and glass carafe, to the pie and the metal plate is really quite miraculous."
Pinchin also points to the deep symbolic meanings embedded in the work. "An interesting characteristic of Heda still lifes is that there is always a plate half off the table. It's symbolic of the transient nature of life  – one minute you have comfort and pleasure, the next you can fall into bad times."
A rocky history from Holland to the Blue Mountains
Facing good and bad times is also a tale of the painting itself, which in its 400 years has had an adventurous history, crossing the globe and passing through multiple owners, properties and storerooms – all while remaining in a salvable condition.
Perhaps the biggest mystery of all is how a 17th century Dutch painting ended up in the Blue Mountains. While the artwork's full provenance is yet to be researched, Dutch pictures had become increasingly fashionable in Australia by the 1830s and were often brought here as symbols of cultural development of the colony. It's possible that Still Life, along with Woodford's substantial collection of 19th century Victorian paintings, was acquired around the 1870s by Alfred Fairfax, who bought Woodford House and refurbished it initially as a gentleman's country retreat and then when finances soured, as an up-market guesthouse.

The house later became a private school – Woodford Academy – from 1907 to 1936, run by Headmaster John McManamey. McManamey's daughters remained in the academy after his death, and in a curious twist there is a photo of Gertrude McManamey in her sitting room, seated below a painting with the same wooden frame Still Life was found in, suggesting the piece may have hung in her home (see picture below).
In 1979, Gertrude bequeathed Woodford Academy to the National Trust. The painting was included with the house, but Pinchin says the collection was in a state of disrepair.
"Rooms were stacked with artworks, furniture and papers suffering from damp and insect infestation. It took some time for the contents to be sorted and identified, and due to lack of resources the National Trust was unable to complete the research required for the full cataloguing of the collection."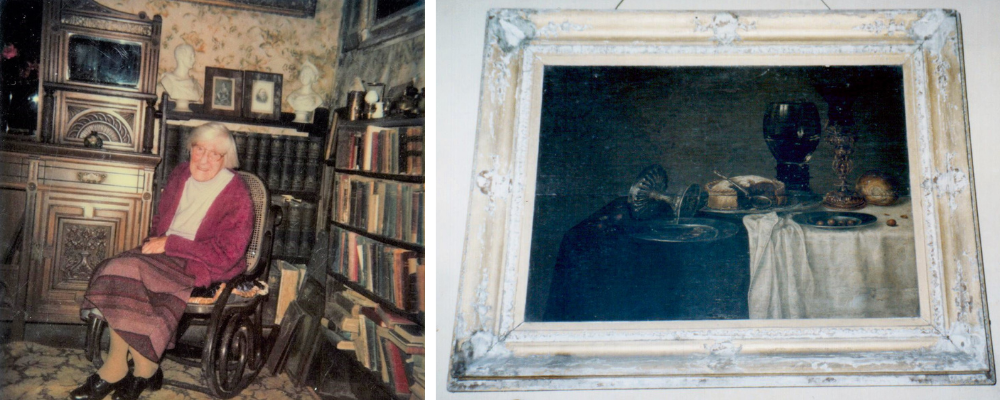 Fast forward to 1996, and Woodford Academy opened to the public as a house museum, but experts remained mystified by Still Life, with differing reports finding it to be a  19th century artwork, despite an earlier assessment that it was potentially a 17th century piece. Expert advice remained inconclusive until the funds were finally raised as part of the National Trust (NSW)'s major art appeal in 2021.
The search for a signature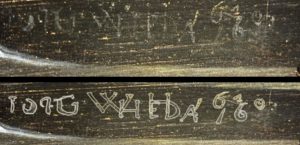 Restoring a 400-year-old artwork requires delicacy and patience, particularly in the case of Still Life, which was in two separate pieces after long years of storage in bubble wrap.
"Before conservation, it was a rather dull and lifeless still life, separated into two boards with a heavy dark varnish over the image," says Julian Bickersteth, CEO of International Conservation Services (ICS), the company that undertook the restoration work. "But from the start it was clear that it was extremely well executed."
The restoration process involved testing the varnish for an effective method of removal that wouldn't damage the paint underneath. Once the varnish was removed, restorers carefully cleaned the painting, joined the two boards together, then set about searching for a signature. They examined the entire painting with a microscope and eventually found not one but two signatures hidden on the knife's blade.
"When the signature was found on the artwork by the conservators I was amazed," says Pinchin. "To have found an authentic 17th century painting in our storeroom at the National Trust was beyond exciting – it left me breathless."
The long-awaited unveiling of this painting's history and value have shed light on just how crucial it is to care for historical collections. CEO National Trust (NSW), Debbie Mills, says it's all thanks to the generous support of donors.
"We are immensely proud of the wonderful National Trust collection," says Debbie Mills. "This artwork was restored as part of our recent art conservation appeal. It's only possible through the generous spirit of our kind donors that exciting discoveries such as this one are made and conserved for all to enjoy."
See the artwork at Woodford Academy
Still Life will be on display at Woodford Academy in Woodford, Blue Mountains on 14 May 2022. Book to guarantee a spot.
Watch as the varnish is removed from Still Life
Find out more
Discover the fascinating history behind Woodford Academy
Explore other historical paintings, letters, photographs and sculpture in our collections
The restoration of Still Life was made possible with the incredible support of our donors and members. Join the National Trust (NSW) and help us to continue protecting special places and collections. Join today