17 Oct 2022
An Old Government House exhibition explores the creative talents of Sydney's convict artisans. So who were these convicts, and what did they make? We take a look at four of their stories.
We often think of convicts as petty criminals, but many were skilled artisans, such as potters, silversmiths, cabinetmakers, artists and even clockmakers. Making Good: Convict artisans in exile brings together an intriguing collection of objects and creative works handcrafted by convicts, revealing how those forcibly banished to the antipodes used their skills to become independent businesspeople who furnished their masters' homes. From cheque-forgers to thieves, here are four convicts featured in the exhibition who rose from convicted criminals to colony artisans.
Joseph Backler 
Crime: Forging cheques
Sentence: Life 
Appearance: 5 feet 5 inches, sandy hair, hazel eyes
Arrived Sydney: Portland, 25 May 1832 
Married:  Margaret Magner (1842 – 1852), Sarah Tincer (c1857 – death)
Died: 22 October 1895, buried at Waverley cemetery 
Apprenticed to his father as an artist, Joseph Backler was convicted for forgery at age 18. Upon his arrival in Sydney he continued to be a thorn in the side of officers in the colony and was sent to the secondary penal settlement in Port Macquarie in 1833. Over the following ten years he was constantly in trouble, all told receiving 150 lashes, a year in irons and twenty-three days in the cells.
Although a trouble-maker, he was able to negotiate a ticket-of-leave in 1842 and left Port Macquarie.  Joseph began to advertise his services as an artist in the colony, and over the next decade he travelled extensively, painting portraits of the local farmers, publicans, merchants, builders, and their families, many of whom were convicts like himself.  Scandal arose in 1850, when Joseph tried to pass off a copy of a Titian as an original design in an art competition.
While the character of the man may have been unlikeable to many, his artworks today provide us with compelling insights into the individuals who built a colony. Through obtaining a portrait of themselves they could present an entirely new image to their acquaintances and a respectability in their communities that would hide their convict stain.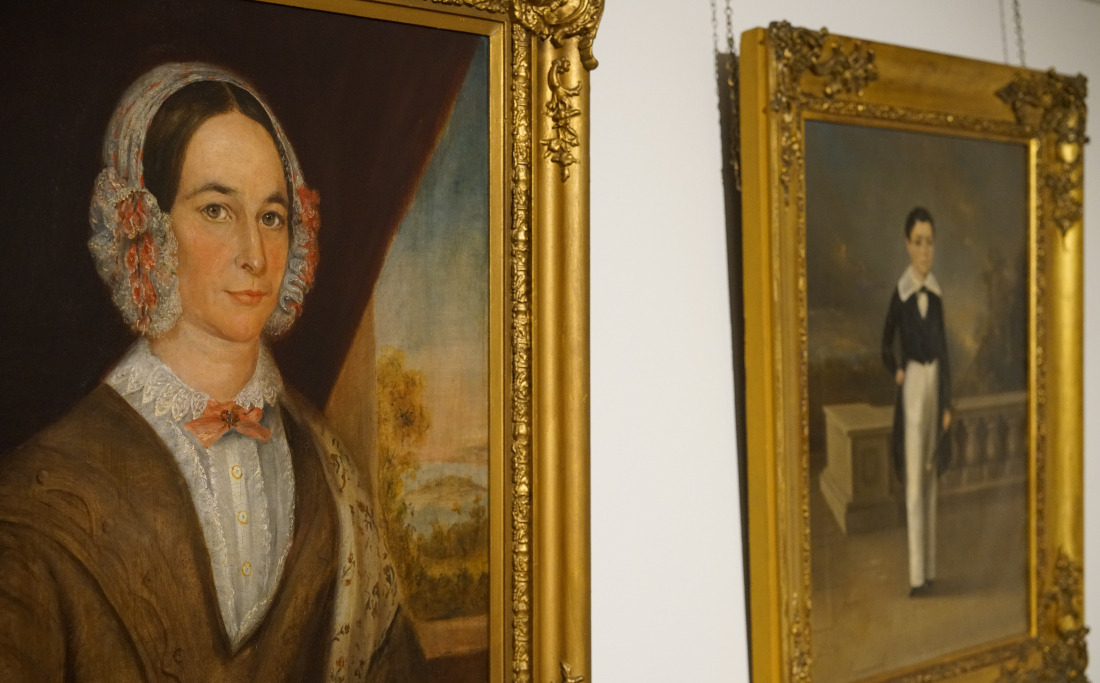 Alexander Hart
Crime: High Treason
Sentence: 14 Years
Arrived Sydney: Speke I, 18 May 1821
Married: Bridget O'Heara, 1822
Died: 28 March 1876, Glebe
Alexander Hart took part in a workers' strike and uprising in Glasgow in 1820. In the fighting he was injured, leaving him with a disfiguring wound.  Already a trained cabinet maker, he requested to bring his tools with him to the colony, along with his violin.
On arrival in Sydney he was assigned to Dr Henry Grattan Douglass at Parramatta, where he worked for several years.  An industrious man, he made furniture for both Douglass and John Macarthur whilst assigned to them.  He obtained his ticket of leave in 1826 and set up his own business in Macquarie Street Sydney, which was in operation until at least 1868.
In 1836 Alexander received a Royal Pardon for his crime, along with the others involved.  The group of Scottish Radicals are now seen as heroes of the social rights and democracy movement in 19th Century Scotland.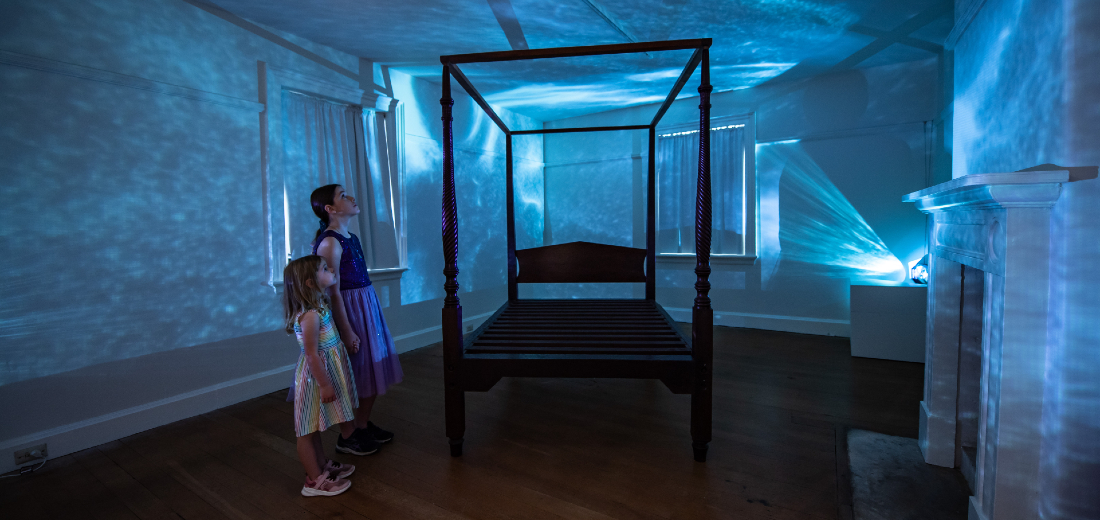 Jonathan Leak
Crime: Burglary
Sentence: Life
Arrived Sydney: Recovery, 18 December 1819
Married:  Mary Wood, 1798
Died: 1838
Jonathan Leak trained as a potter, and had his own business in Burslem, Staffordshire.  Between 1810 and 1814 he tried unsuccessfully to sell the business. In 1819 he was convicted of stealing £300, probably in the company of John Moreton.  Upon arrival in Sydney, he was assigned to the Government Pottery.  Obtaining his ticket-of-leave in 1822, he was given two land grants in Surry Hills in 1823, and set up his own business.
The business was successful, and by 1828 he was employing twenty men.  His products included bricks, kiln tiles, ginger beer and other bottle types, stone jars for pickling and other earthen ware, which were sold all over the colony and Tasmania. Jonathan was renowned for his fine work in ceramics, producing detailed and complex designs from the local clay.
Jonathan's wife Mary and four of their children joined him in the colony in 1822 or 1823.  His eldest son Lewis arrived in 1826, bringing with him moulds to use in the manufacture of pipes and jugs. Jonathan was granted his conditional pardon in 1828.  After his death in 1838, Jonathan's sons Lewis and Stephen continued to run the pottery.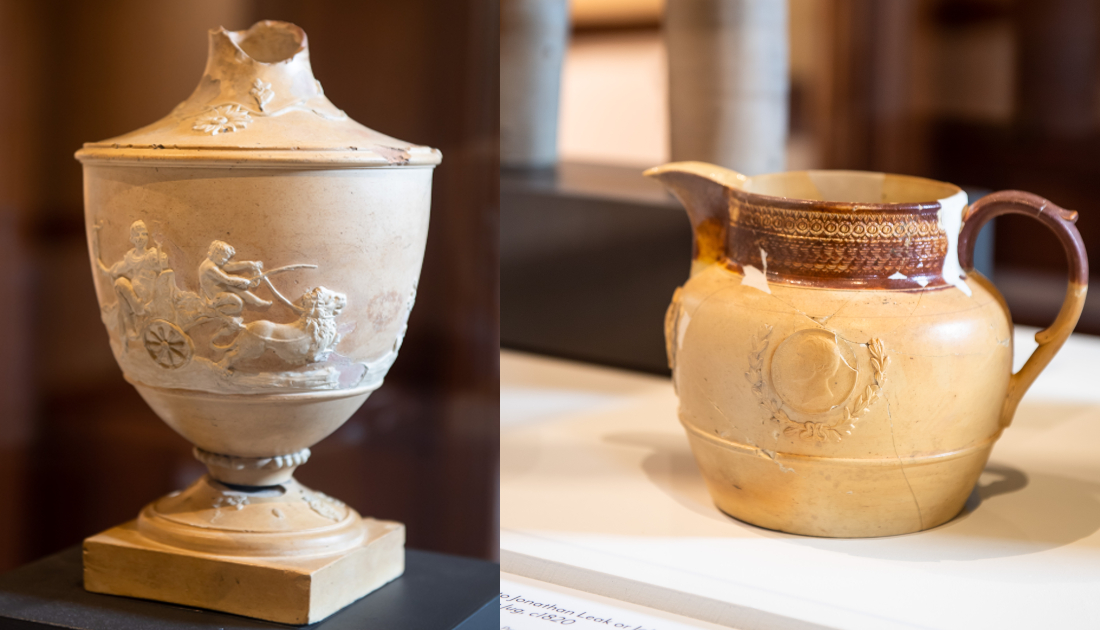 Charles Jones
Crime: Theft
Sentence: 7 Years
Appearance: 5 feet6 inches, Black hair, dark brown eyes
Arrived Hobart: Georgiana, 1 February 1833
Married:  Mary Thompson, 1841
Died: 14 June 1864
Charles Jones trained as a silversmith in Birmingham before being sentenced at age 22. In Hobart he was assigned to the merchant David Barclay, where he was regularly in trouble resulting in lashes, time in the stocks, and working in chains.   In 1839 he was given his Certificate of Freedom and established his own business in Hobart.
Charles was involved in the local theatrical societies, and his wife was a well-known actress.  He and Mary moved to Sydney, where they had some success in the local theatres before returning to Hobart in 1844.  Restarting his silversmith business, Charles made many presentation cups and plates for prominent Hobart residents, and became a respected member of the Order of Oddfellows.
In 1858 the Jones's with their five children returned to Sydney where Charles became the administrator of several Sydney theatres.  In 1864 he had many financial difficulties, and in what was declared a fit of temporary insanity, committed suicide.
VISIT
This exhibition has now closed.
For more information on Old Government House or updates on upcoming events and exhibitions at the property, click here.