30 May 2022
To mark World Environment Day on 5 June, we take a closer look at the invasive weeds that are threatening New South Wales bushland, and the innovative techniques the National Trust (NSW)'s Bushland Management Services team is using to restore biodiversity to even the trickiest of green spaces.
Bush regeneration is a difficult job, but clearing out 10,000 square metres of African Olive (roughly the size of two football fields) is weeding on an extraordinary scale.
This was the challenge for the National Trust's Bushland Management Services (BMS) team, which was contracted in 2020 by Liverpool Council to tackle a stretch of urban bushland in Sydney's Glen Regent Reserve that had become infested with African Olive.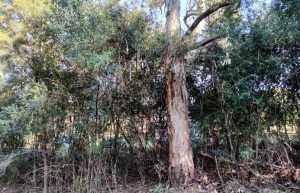 Olea europaea subsp. cuspidata was introduced to Australia in the mid-19th century as a hedging plant, and has since become an aggressive woody weed that not only produces dense shade, it also smothers native understory plants. In the case of Glen Regent Reserve in the south-west suburb of Casula, the weeds were threatening native trees.
"The African Olives were having a significant impact on the whole area, especially the old Eucalypts, which were extremely stressed," says BMS Business Manager, Adrian Visintin, who oversaw the project. "It just wasn't functioning properly as an ecosystem."
Adrian says that considering the environmental needs of a site is central to the BMS approach. "Bush regeneration isn't just about removing weeds – it's about looking at the bigger picture and thinking about how we can improve the overall biodiversity and ecology in the site."
To do this, the team first cleared the weeds beneath the mature Eucalypts using a traditional 'drill and fill method' – also known as stem injection – where holes were drilled into the African Olives and then filled with herbicide solution. This gave the mature Eucalypts some breathing space. Next began the extensive work of removing the rest of the Olives, and finally planting out the site.
"We introduced 21 different native plant species and planted a total of 29,000 native grasses and ground covers," says Adrian. "Monocultures such as the African Olive site benefit only a few species. However, with a diverse range of native species, there will always be something flowering or seeding, which attracts different insects, pollinators and birds, and ultimately allows the whole ecosystem to function properly."
After just six months, the African Olives are all gone and Adrian says Glen Regent Reserve is now unrecognisable. "It's transformed completely into a diverse pocket of bushland."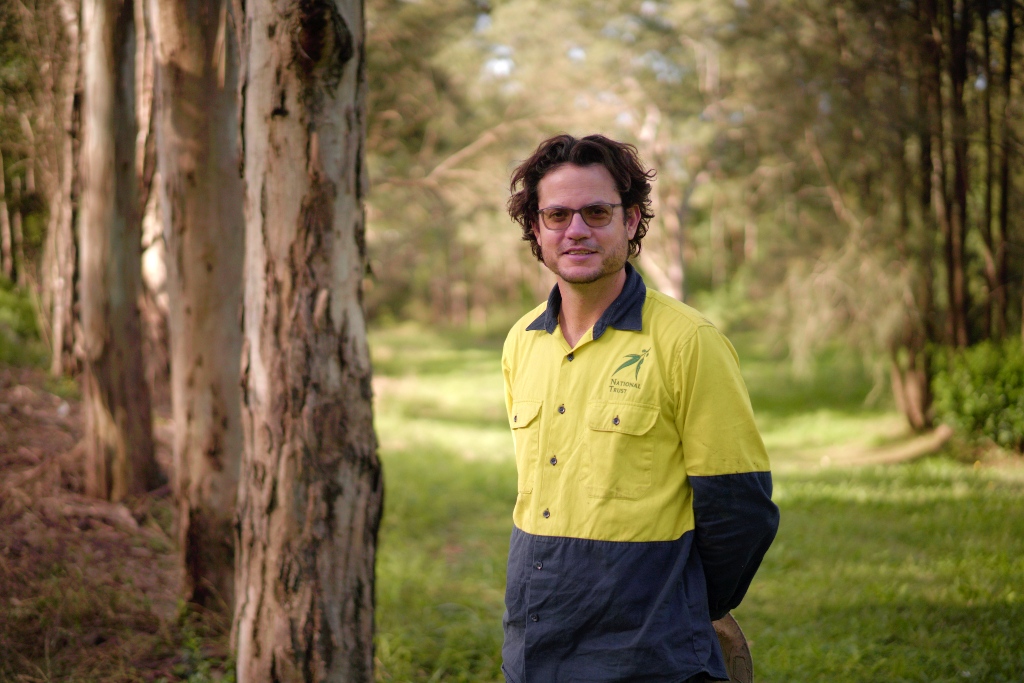 A history of bushland protection
Councils are now seeing the value that bushland regeneration can bring to communities, and are investing in restoring creek lines and weed-choked reserves to their natural state.
Of course, it hasn't always been this way. Almost 100 years ago, National Trust founder Annie Forsyth had to fight to protect the trees in her local area, prompting her to create the Ku-ring-gai Tree Lovers' Civic League in 1927. She later became a pioneer in bushland protection and established the National Trust in 1945.
This connection with the land continued into the 1970s, when former industrial chemist, Joan Bradley, and her sister, Eileen, began working with the National Trust (NSW) to restore precious Blue Gum forest in Beecroft, Sydney.
Their revolutionary approach to bushland management known as 'the Bradley method', which is based on minimal disturbance and encouraging native plant growth, is still used by the National Trust today. However Adrian says the BMS team is also constantly finding new techniques to respond to challenging sites.
He points to a recent project in Sydney's Bankstown, where the site was full of Blackberry and suffering from dry and degraded soil. "Due to limited resources, the standard approach would have been to continually spray the weeds," he explains. "But all you're doing is spraying and not figuring out how to get native species back in there. We weren't able to do a mass planting at the time, so we had to think creatively."
Battling the Blackberry
The Blackberry is a noxious weed in NSW and is notorious for forming dense thickets that wipe out native species.
After removing the Blackberry, Adrian's team found the soil was in desperate need of regeneration. Building the ecosystem from the ground up was critical to successfully regenerating the site, so they tried an experimental method of digging fallen logs into the soil, which encourages worms and termites into the soil, as well as fungi to retain moisture.
They also raked the area and collected native seeds, which were then distributed around the site and watered with smoke water – a liquid containing concentrated smoke chemicals that encourage germination. The experiment was a success, with over ten different native species germinating and colonising the area.
"The weeds came back, but we also had native plants coming up as well," says Adrian. "You could actually see the soil coming alive again, and that's the benefit of a holistic approach: whereas once this area might have been sprayed over and over, it was finally blooming with a range of native species."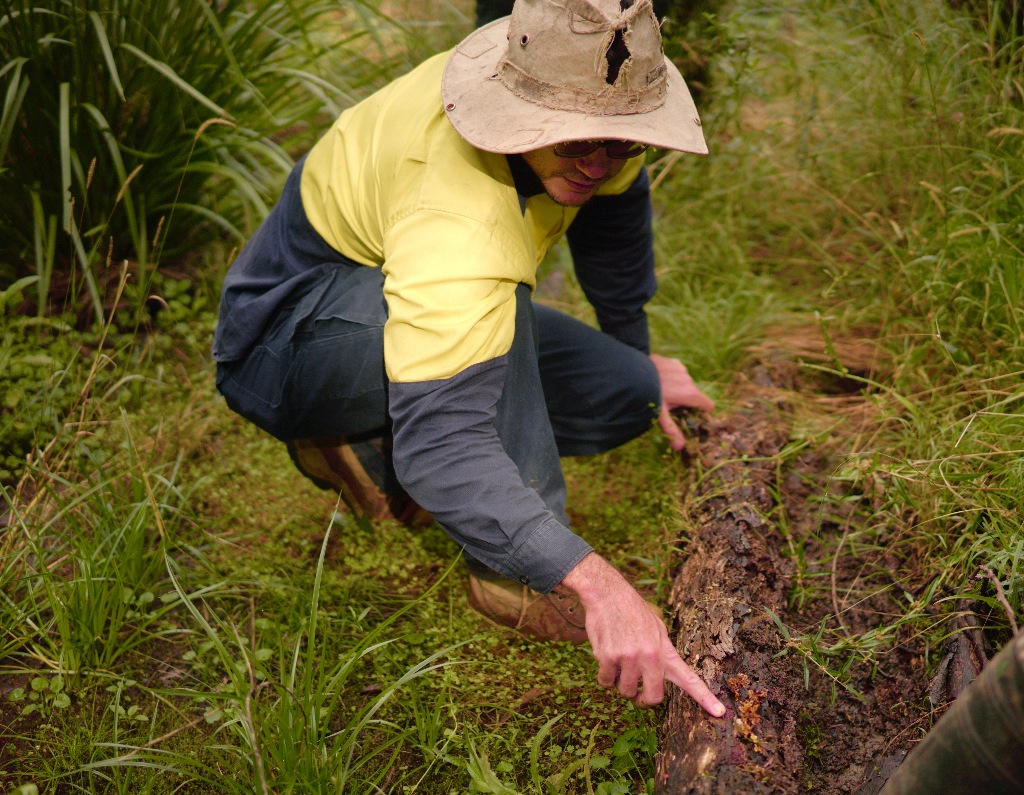 A more sustainable future
After 17 years working in bush regeneration, Adrian says that constant innovation is the way forward, and it's often the smallest patch of growth that can give the greatest hope.
"I used to work along riparian corridors full of weeds and it was hard to get my crew motivated. I decided to rake some of the weeds away and transplant and spread native seeds and grasses. It coincided with some rain and was incredibly successful, so we kept expanding the area. While the site was challenging, we had this one little patch that was successfully regenerated, and that's the thing about bushland regeneration – sometimes we can get stuck thinking about weeds weeds weeds, when really it's all about how we can improve the whole ecosystem."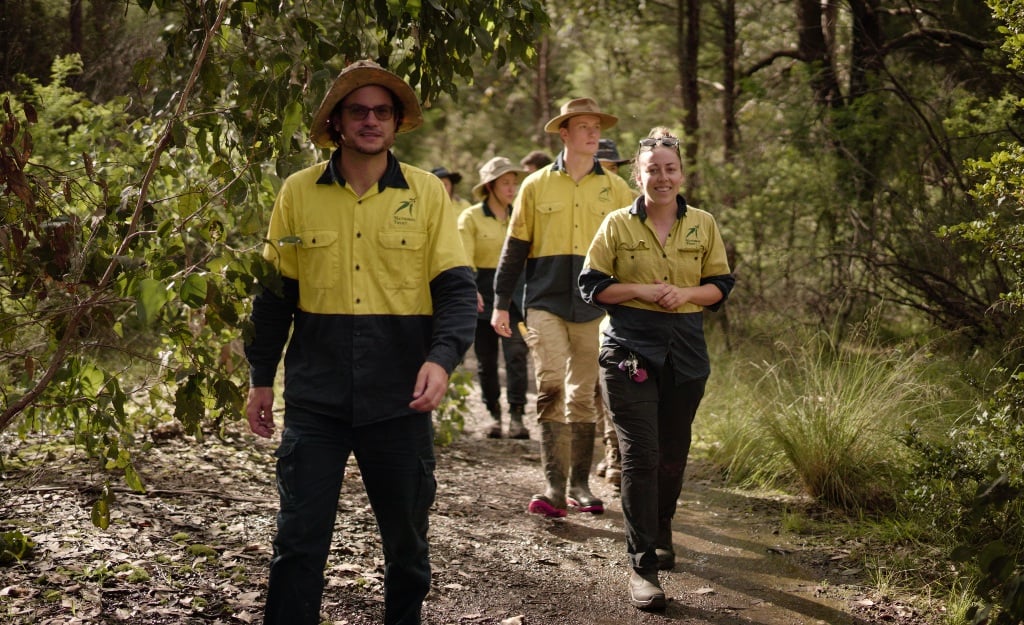 Are you passionate about bush regeneration and enjoy working outdoors? Contact us to find out how you can get involved in projects across Greater Sydney, or read more about the National Trust (NSW)'s Bushland Management Services.
Be the first to find out about the National Trust (NSW)'s latest news and events. Sign up to our newsletter.