Qantas story takes flight in outback hangar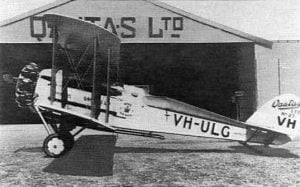 This year's Australian Heritage Festival visitors were given an insight into our early aviation history when the National Heritage Listed Qantas Hangar ran guided tours for its 95 anniversary.
On this day in 1922 Qantas established its first regular passenger air service between Charleville and Cloncurry. The Hangar was the first to be completed in August 1922 as a permanent home for the fledgling airline.
Qantas was founded in Winton, in Queensland in 1920 as Queensland and Northern Territory Aerial Services Limited by Paul McGinness and Hudson Fysh. The original fleet was made up of just two biplanes: an Avro 504K with a 100 horsepower water-cooled Sunbeam Dyak engine and a Royal Aircraft Factory BE2E with a 90 horsepower air-cooled engine. Initially, the service operated just for joyrides and demonstrations, until the first major air contract was landed in November 1922.
On 2 November 1922, Qantas began its first regular airmail and passenger service, between Cloncurry and Charleville. The first passenger was 84-year-old outback pioneer Alexander Kennedy, who flew on the Longreach-Winton-McKinlay-Cloncurry leg of the inaugural mail service from Charleville to Cloncurry.
Between 1926 and 1928, Qantas built seven de Havilland DH.50s and a single DH.9 under licence in its Longreach hangar.[4] In 1928 a chartered Qantas aircraft made the inaugural flight of the Royal Flying Doctor Service of Australia, departing from Cloncurry.
The National Heritage Listed Qantas Hangar is part of the Qantas Founders Museum in Longreach, Queensland.
Aviation enthusiasts – stay tuned for similar events in the 2018 Australian Heritage Festival!