Onward Soldiers' artists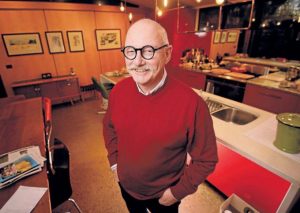 Photo: Walking art: Soldiers Hill Artist Collective's Cliff Adeney in his studio. Picture: Dylan Burns.
An art walk through Soldiers Hill will expand to include four private studio tours after the the first was "inundated" by visitors last year, Soldiers Hill Artist Collective's Judith Bryce said.
Soldiers Hill Art Walk 2017 will see 14 artists exhibited in the suburb's private studios and businesses from Saturday, May 13 to Sunday, May 28.
This year the walk will coincide with Ballarat Heritage Week and the Australian Heritage Festival.
"The reason why we've opened more studios this year was because the one studio that was opened last year was inundated, it was very successful," Ms Bryce said.
"People that were doing the walk could come in, they could meet many of the artists exhibiting in the studio and I think that gives it greater connectedness with the art."
The self-funded group has grown to over 40 artists, including Federation University lecturer and printmaker James Pasakos, graphic designers, former teachers and a cabinet maker.
"There are people who are highly trained, we have a midwife, we have ex teachers, we have ex university lecturers, a cleaner, it's quite diverse," Ms Bryce, a history teacher, said.
"I can only see that the collective will grow."
SHAC chair Cliff Adeney said the walk allowed Soldiers Hill's artistic community to share their work with the neighbourhood.
"Soldiers Hill contains a vibrant group of artists who are producing exciting and high quality work," Mr Adeney said.
The walk will be launched upstairs at Seymour's on Lydiard at 7pm on Thursday, May 11 and run until Sunday, May 28.
Private residences will be open at the weekends only.
Venues will be identified by yellow squares on the footpaths. Maps are available from Minerva's Books, the Art Gallery of Ballarat, Ballarat Visitor Information Centre and Soldiers Hill businesses.
All works of art are for sale directly from the artist.
For more information visit Soldiers Hill Artist Collective (SHAC) or find SHAC on Facebook and Instagram.
(This article was first published in The Courier on 30 April and was written by Jessica Black.)