Have you been conducting conservation work on a heritage place, writing conservation plans, publishing in print or digital form, or been a member of a volunteer group?



Please nominate to the National Trust Queensland Heritage Awards. Nominations will now close Friday 15 December 2016 and the Awards Presentation will be held in May 2017.
To find out how you can nominate visit the National Trust Queensland website.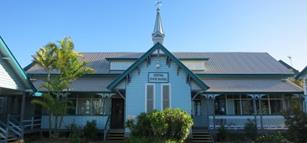 Queensland Schools Heritage Strategy – John Herbert Memorial Award Winner 2015
Awarded to: Department of Education and Training
This project demonstrates a proactive and systematic approach to the identification and recognition of significant school buildings in Queensland. It has resulted in the nomination of 107 schools to the Queensland Heritage Register and the ongoing process of Conservation Plans for these places. It clearly recognises that school buildings are important to communities. This is an exemplar approach for government agencies with large property portfolios. It shows commitment over a long period of time.