Georgian Glass – Colonial Style Tour
The World Health Organisation has declared the COVID-19 virus a pandemic that risks the health, safety and wellbeing of the most vulnerable people in our community. We take this risk very seriously, so the National Trust has cancelled or postponed all events until 30 June 2020. This event is cancelled.
For all ticketed events, refunds will apply.
The National Trust (NSW) is very proud to tour our extensive collection of Georgian era glass to regional National Trust properties across New South Wales.
More than 40 rare and delicate items are part of the 90-plus Havelberg-Smith collection, which was bequeathed to National Trust (NSW) by Dean Donald Havelberg in 2014.
The more than 40 rare and delicate items which will be on display are part of the 90-plus Havelberg-Smith collection, which was bequeathed to National Trust (NSW) by Dean Donald Havelberg in 2014.
"Georgian Glass: Colonial Style" features items dating from 1700 – 1840, including candlesticks, serving ware, wine glasses, rummer glasses, decanters and jugs.
The touring exhibition will be accompanied by a series of public programs, including talks and demonstrations. (More information on these as they are confirmed.)

A brief history of Georgian Glass
Glass has been an essential part of British households since Roman times. The earliest manufacture of raw glass in England can be traced back to 1226 at Chiddingfold. Until the 15th century, the majority of glass produced was window glass for use in churches and monasteries, with some glass for drinking, medicine, or for storing chemicals.
Quality glassware for domestic use became available in the 1570s. The discovery of heavier and more durable glass led to the development of the English glass industry, and by 1800 table glass was affordable for the general public.
Early glass was plain, with a variety of bowl styles and knops (bumps) on the stems. The period 1710 to about 1750 was characterised by light glasses called balusters. In 1745 the British Government introduced a glass tax by weight and the air twist stem was developed to make glasses lighter and therefore cheaper. The twist was made by tears (bubbles) introduced into the cylinder of glass, which was then heated, drawn out and twisted to make a range of patterns. 'Air twist' and 'incised twist' stems followed until the 1760s, which also saw composite stems introduced. Straws of white and sometimes coloured glass were incorporated into the glass stems, which were drawn and twisted to form patterns. Glassware in this style was produced from c.1755 to 1780.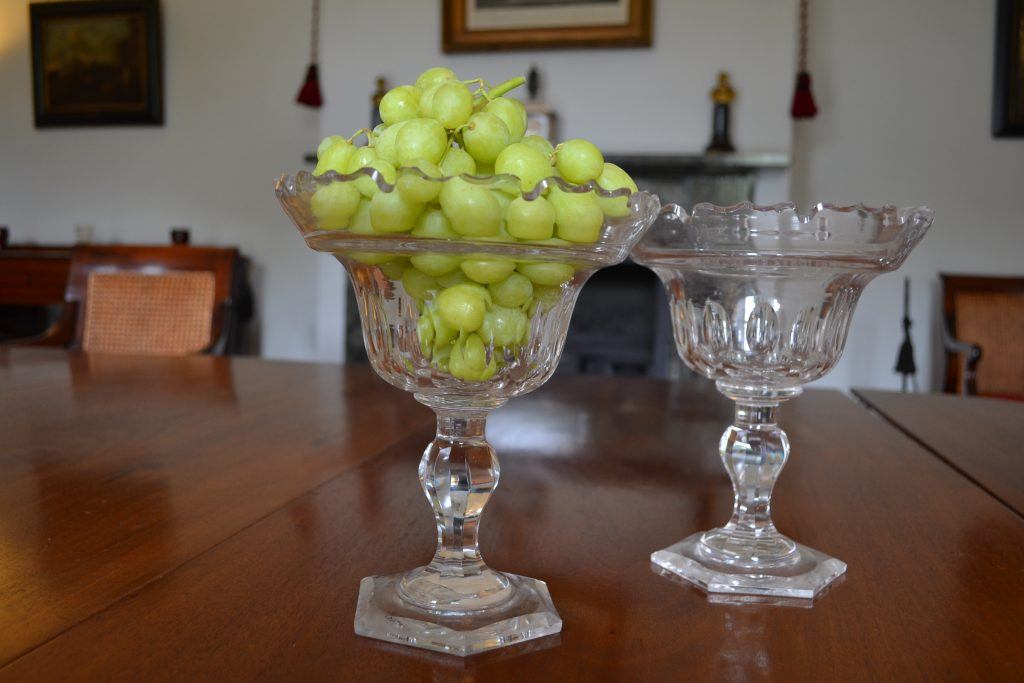 Faceted stems followed from 1770-1810. Glass cutting became cheaper as steam power enabled easier cutting with mechanical tools instead of by hand. F
During the 1800s plain glass again became popular and facets disappeared. Complicated stems went out of style, and glasses with plainer stems, such as rummers, were produced. By about 1830 the greatest period in the history of English glass was coming to an end.
Colonial Style
Aboriginal people have traded and used glass for thousands of years. Obsidian, a naturally-occurring volcanic glass, was quarried and processed into blades, axes and spearheads. After c.1500, contact with Macassan traders in Arnhem Land introduced modern glass into Australia.
Although table glass was common in England at the time, the colonists of the First Fleet in 1788 brought with them wooden and pewter plates and mugs. Glass was scarce in the colony until about 1800 when more ships carrying goods for sale began to arrive. In the earliest Sydney Gazette of 1803 Simeon Lord advertised a variety of glassware including tumblers, goblets, decanters, cut salts , wine and other glasses, along with looking glasses and window glass. Glass windows were rare and noteworthy in Sydney houses of this period. By 1812 there was interest in establishing a glass industry in New South Wales, however, the enterprise was short lived and glass continued to be imported.
By the time of Governor Macquarie's arrival in 1810, glass of all forms was plentiful in the colony. From 1835 cheap American and English pressed glass started to replace the more expensive blown glass. It is estimated that only 10% of wine imported into the Colony prior to the 1830s was in glass bottles. Wine was served at the table in decanters which were filled from wooden casks in the cellar.
Important pieces of table glass – including drinking glasses, finger bowls, salt cellars and dessert dishes – were found in wealthy Colonial households. Finger bowls were used for washing between courses and wine and ale glasses would have been set out on the sideboard for use during dinner. Dinner consisted of multiple courses followed by the dessert course, which usually comprised cheeses, fresh fruit, sweetmeats and sometimes jellies.
After the Georgian period, glass design slowly evolved into the glass forms we use today. The major advance was the invention of moulded glass, which allowed for mass production with little variation, replacing hand blown glass as the predominant form of glass manufacture. Glasses became larger and tumblers replaced rummers for water and non-alcoholic drinks. Elements of Georgian glass design went in and out of fashion, with air twist stem glasses produced in the 1910's and Georgian style champagne flutes and wine glasses in the 1970s.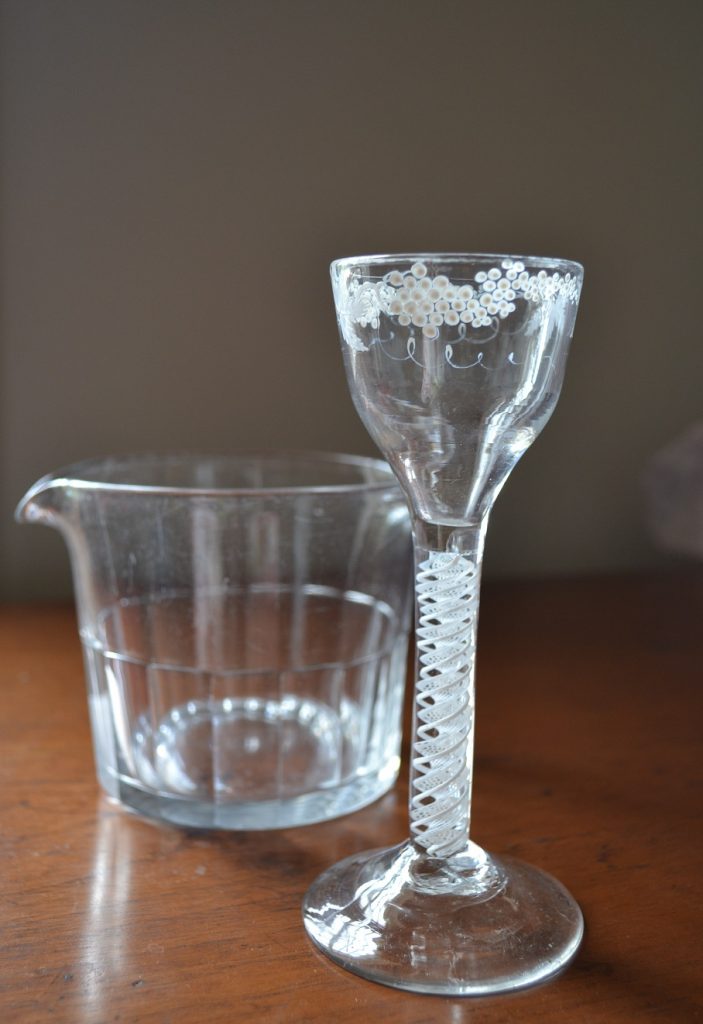 Georgian Glass tour venues and dates:
Dundullimal Homestead, Dubbo NSW
5 August – 27 September, 2019
Saumarez Homestead, Armidale NSW
7 October – 30 November 2019
Grossman and Brough Houses, Maitland NSW
If you have any enquiries, please contact us using the information below. Please understand that in light of the current health crisis, many of our staff and volunteers are working remotely and it may take slightly longer than usual for us to respond given the volume of events we are cancelling at this time.
Please contact  (02) 4934 8837 or grossmann@nationaltrust.com.au for further information