Education Programs at Dundullimal Homestead
Dundullimal Homestead offers a series of history programs for New South Wales students in primary school, years K-6.
Stage 1 – The Past in the Present
Stage 3 – The Australian Colonies
We also offer an art program linking to the NSW primary school history syllabus and the visual arts syllabus.
The program lasts two hours and the children produce two artworks to take home. Work references the Wiradjuri artist Roy Kennedy and in particular his artwork "Days of harmony on my Mission in days gone by" the students choose a part of Dundullimal Homestead to sketch using ink and twigs collected from around the site. Through their work they are telling their story of their visit to Dundullimal Homestead.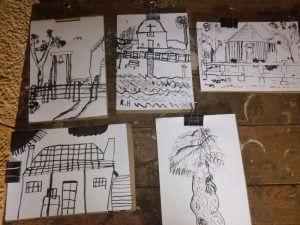 The second type of artwork students will create is a cyanotype referencing the work of botanist and photographer, Anna Atkins (1799-1871). She used the cyanotype process invented by Sir John Herschel in 1842 to record pictures of her seaweed collection and published an illustrated book 1843. The time period fits in nicely with Dundullimal Homestead.
Students use light sensitive fabric to create collages with natural and man-made objects ie leaves and horse shoes found around Dundullimal. After processing, which simply involves rinsing the fabric in clean water, the areas of the fabric which were shadowed stay white and the rest turns a rich blue.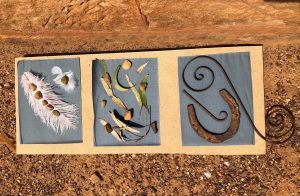 The art program costs $16 per student.  (Dundullimal also offers an enthusiastic indigenous games program. Cost is an extra $2 per student.)
Please note: At the moment we don't offer a high school program but we are willing to support high school teachers should they wish to run a program at Dundullimal Homestead.
Plan your visit
Education Programs at Dundullimal Homestead
Address:

23L Obley Road, Dubbo NSW 2830
1.5 km past Taronga Western Plains Zoo

Open:

Monday, Friday and Saturday
11am - 3pm, last entry 2pm

Closed:

19 December - 04 January
New Year's Day, Australia Day, Good Friday, Easter Monday, Anzac Day, King's Birthday, Labour Day, Christmas Day, Boxing Day

Phone:

(02) 6884 9984

Email:

What we offer: