6 Sep 2023
Roses, vintage textiles, and a house packed with treasures make Grossmann House a fascinating place to visit in Maitland. Here are some of the highlights to see at this National Trust (NSW) heritage gem.

A house with history
This grand Victorian home was built in 1870-71 by the prosperous merchant Isaac Beckett. In a curious twist, Beckett's business partner, Samuel Owen, also built a mirror replica of the house right next door (known as Brough House), and today you can still see the identical houses standing side by side.
What's fascinating about Grossmann House is its transformation from well-to-do family home to a bustling girls school in the late 19th century. Between 1894 and 1963, it housed Maitland Girls High School, one of the first four public high schools established in New South Wales.
Take a guided tour through the house and hear stories of school girls and headmistresses, while also marveling at the Victorian-era décor. Many of the original heritage details are still intact, such as gas lighting, Victorian wallpaper, bell pulls and butler's pantry.

The rose garden
The Wilga Abrahams Heritage Rose Garden at Grossmann House bursts into bloom from mid-October and is not only a delight to walk through, it also features heritage cultivars such as Autumnalis from the 1930s and Baron Girod De L 'Áin, a cultivar from 1897. Another revelation is the "Wilga" rose, cultivated by volunteer Stephen Abrahams in honour of his mother Wilga, who helped found this wonderful garden.
This spring marks the 50th anniversary of the rose gardens at Grossmann House, so mark your calendars to come and smell the roses at the Spring Fair on 14th October 2023.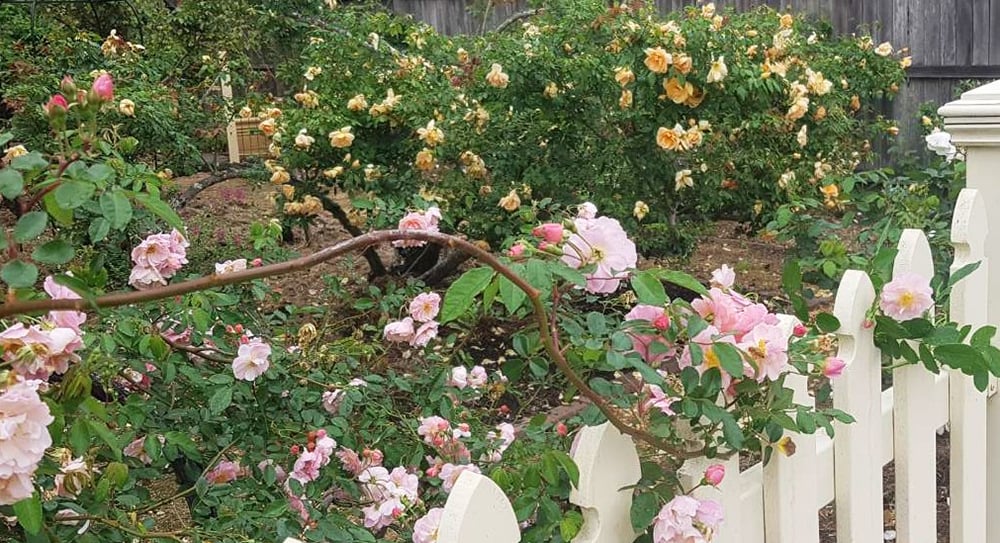 Vintage textiles
The unique costume and textile collection housed at Grossmann House is one of Australia's hidden treasures. With the opening of the property as a museum in 1964, a dedicated group of women from Maitland and the Hunter Region began collecting to furnish the house and preserve important items of textile and costume history.
Since then, through the generosity of many families, National Trust volunteers have developed a significant collection of domestic textiles and nineteenth century costume. It reflects the taste of wealthy families in the Hunter, as well as important themes in the history of the region and Grossmann House.
When you visit, you'll see elaborate bedspreads and quilts made from velvet, lace and silk, as well as patterns and fabrics showing the wide variety of different types of quilting from the time.
Brough House and weaving room
After exploring Grossmann House and the garden, head next door to Brough House, which features an upstairs Fibre Maker's Space. You can see master weavers using heritage looms to create bespoke items that are also available for purchase. With heritage skills like weaving at risk of fading away, it's a unique opportunity to see master weavers at work and help support local crafts.
Plan your visit
Grossmann House is located at 71 Church Street, Maitland NSW, and is open the second Sunday of each month. Check opening hours and days ahead of your visit.