25 Feb 2021
Gulgong is a historic gold mining town, known for its museums and picturesque streets.
Roughly four hours' drive from Sydney, Gulgong is located in the Mudgee region and holds important aboriginal history. The traditional custodians of the land are the Wiradjuri nation, and many of the local town names are said to be derived from their native language – Mudgee meaning 'nest in the hills' and Gulgong meaning 'deep waterhole'.
Gold was first discovered in 1870 and the population and infrastructure quickly developed. When visiting today, you'll discover that much of the 19th century character of the town still remains.
With a long history, Gulgong is the perfect destination for a heritage holiday in New South Wales.
Stroll along the narrow winding streets
In its gold mining heyday, the population reached 20,000, but that's a far cry of what it is today, the town's population currently sits around 2,500. The slow pace means you can truly take your time wandering the streets which are filled with well-preserved buildings, complete with their original verandahs and iron-lace balconies.
Many of the buildings you'll discover are heritage listed, including the beautiful St Luke's Anglican Church. The church remains of great significance as it's one of only a small number of buildings to have been designed by the famous second Colonial Architect, Edmund Blackett who was highly influential in the development of Australian architecture.
The original Anglican Church of Gulgong was once described as the "shabbiest place of worship ever built" and the ambitious decision to replace it with a beautiful building of local stone was taken in 1874. And now, with its immaculate lawns and gardens, it still remains as a place of beauty.
Find hidden treasure
See where it all started at the Gulgong Gold Experience. Tom Saunders discovered gold on Red Hill, and so began what has often been referred to as, 'the last of the poor man's gold rushes'. Gulgong Gold Experience is located in the exact location Saunders made his discovery.
The Gulgong Gold Experience is fun for the whole family. You'll be given an insight into life on the gold fields, and for those who are a little more adventurous, you can try your hand at extracting gold using the traditional panning technique.
Walk to an ancient meeting place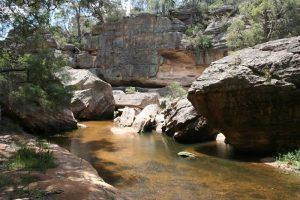 Image: Pool at Corner Gorge, by: Julia Imrie
Geographically, the Wiradjuri Nation is New South Wales' largest Indigenous Nation, and hence holds many sacred sites in the area, including The Drip and Corner Gorges.
This ancient site is a just 30 minutes' drive from Gulgong, making it a rewarding day trip. The area holds great significance having been a crucial meeting point for trading goods and ceremonies – care and respect is paramount to its preservation.
On your exploration, you'll discover the magnificent natural sandstone cliffs, the colours and textures are breathtaking, and if it's recently rained, you'll be lucky to see clear spring water trickling down the walls, giving the atmosphere a cathedral-like quality.
After completing the track loop, next stop is to view the hand stencils made by the Wiradjuri people at Hands on Rock, located just two kilometres north of the Drip.
Catch a show at a theatrical treasure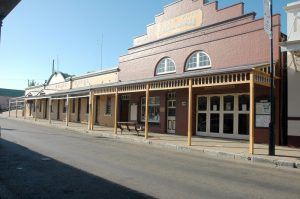 Image: The Prince of Wales Opera House and the adjacent Prince of Wales Hotel (2007), by Conollyb at English Wikipedia
Golgong is home to one of the oldest still-operating opera houses in the Southern Hemisphere, the Prince of Wales Opera House.
The building is socially important for its long associations with the theatrical life of the town, with performances dating back to 1872.
Normally, the venue holds regular shows, but they've paused performances due to COVID-19, so check their website or Facebook page for updates.
Stay in a historic hotel
Gulgong's opera house has long been associated with the adjacent Prince of Wales Hotel, which today remains a perfect place to stay whilst you explore Gulgong's charming history. What began as nothing more than a shack, has now become a much-loved pub and hotel which sees visitors returning time and time again.
Another fantastic option is to stay at the Ten Dollar Town Motel – also located in the heart of Gulgong. The motel retains the heritage charm of the former Royal Hotel.
Don't expect to be paying just $10 for your stay. The motel renamed itself after the first Australian $10 note. Reason being, the note featured well-known writer and poet, Henry Lawson, alongside his childhood home of Gulgong.
Take a step back in time at the local museums
Remarkably, much of this quaint town's history has been well-documented photographically and many of the photos can be viewed at the contemporary Gulgong Holtermann Museum, as part of the Holtermann Collection.
Having recently been included on the UNESCO Australian Memory of the World register, this unique digital collection is of world significance and should not to be missed when planning your trip.
A successful gold miner and businessman, Bernhardt Otto Holtermann, commissioned photographers who travelled to the town to record the rush and photographed the major goldmining towns and areas of NSW. Holtermann hoped the images would attract migrants from across the globe!
Some of the Holtermann Collection can also be seen at the Gulgong Pioneers Museum, located just a few minutes' walk from the Gulgong Holtermann Museum. There is so much to see at this award-winning volunteer-led museum – numerous collections including domestic tools, farm and mining equipment, Aboriginal and geological artifacts and periodic clothing – you can easily spend a few hours here.
Indulge at award-winning wineries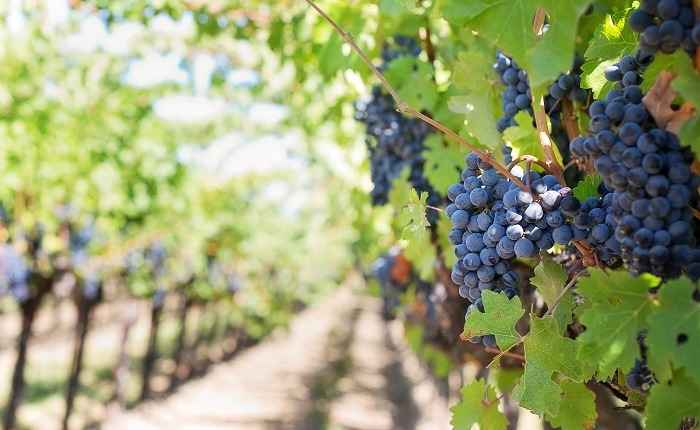 And finally, a trip to Gulgong wouldn't be complete without a quick (or not so quick) trip to the neighbouring wine region.
Over 35 cellar doors are located a 30 minutes' drive away. After learning about Gulgong's rich heritage, it's time to sit back, relax and indulge.
There's plenty to see in Gulgong and the nearby towns and we would love to hear what your top heritage places are to see and do here.