14 Nov 2020
If you're visiting Sydney and you'd like an award-winning guide of its history, there's an award-winning app for that. You don't just get to travel through Sydney with this app – you get to travel back in time to Sydney in 1861.
If you're looking to have a heritage holiday in the capital of New South Wales, you can take a trip back to 1861 with a guided tour that takes you from Sydney Town Hall to Customs House, and various other places. The Stranger's Guide has been developed by the City of Sydney.
When we say 'award winning' – we really mean it. The Stranger's Guide was recently named a winner in the Heritage Events, Exhibitions & Tours category at the National Trust Heritage Award for 2020.
Guided by James Waugh and featuring contemporary watercolours, etchings and photographs, the digital guide takes you to places of significant built, cultural and natural heritage significance – including the Royal Botanic Gardens, burial grounds, St Andrew's Cathedral and many more.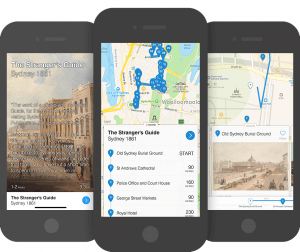 How do you get the Stranger's Guide to Sydney?
All you need is a smartphone!
You can download the app from Apple (for iPhone users) or Google Play (for anyone with a Gmail account).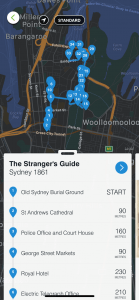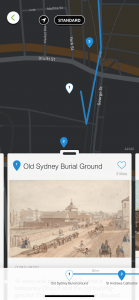 In fact, the Stranger's Guide isn't the only culture walk app the City of Sydney has developed. There's a whole bunch of them and something for pretty much everyone.
If you like to explore laneways and get off the main drag, try the Hidden option. If you're into modern architecture, and Sydney is jam packed with architectural gems that rival Mad Men for lovers of all things from the 1950s, 1960s and 1970s, then this guide for you.