1 Nov 2021
On the 4 November 2021 the National Trust (NSW) is celebrating Ask a Conservator Day. We are participating in this international collaboration by sharing the work of the professionals that help us care for the National Trust Collection.
Ask a Conservator Day was first held in remembrance of the 1966 flooding of Florence, Italy, and the devastating loss of priceless cultural heritage that resulted. The Day provides opportunity to acknowledge the value of the work of conservators, and promote a better understanding of the important work they do.
In July 2021 the National Trust (NSW) commenced a major art conservation project – Rescue. Revive. Reveal. Generous donations are funding the conservation of over 50 distinctive oil paintings, watercolours, etchings, engravings and drawings. These artworks have adorned the walls of our heritage properties for generations, and with the help of conservators, are being returned to their former glory.
We spoke to some conservators about why they do what they do. Their enthusiasm and joy in what they do is revealed in their answers – along with the some fascinating stories of what makes their job so interesting.
Can you tell us what made you decide to be a conservator?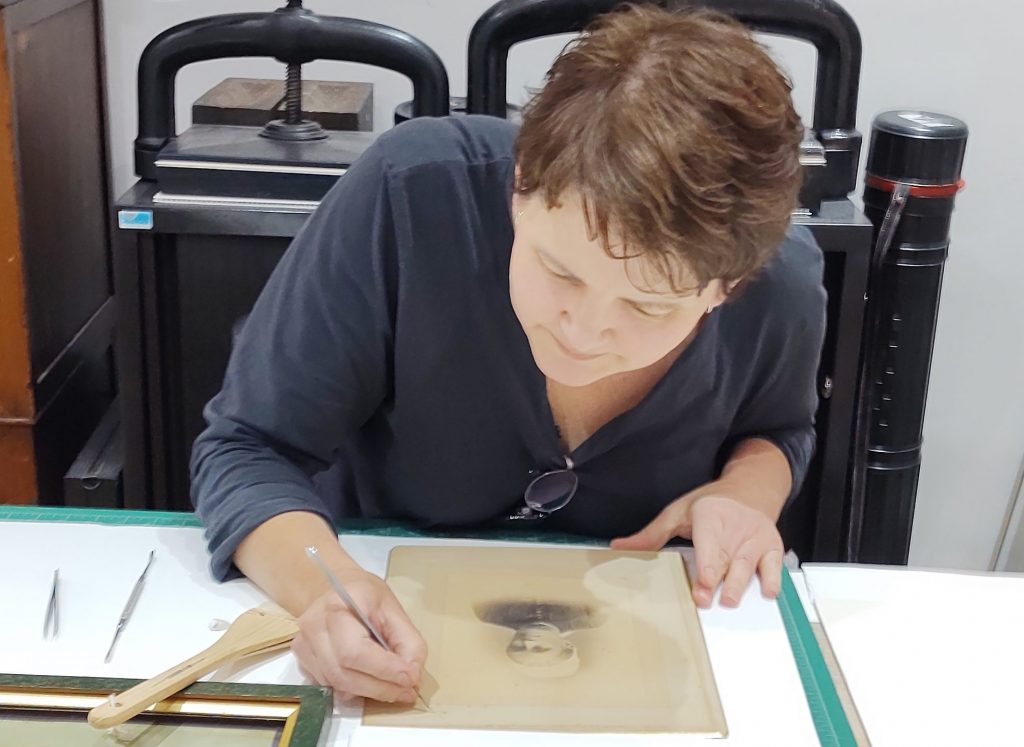 Julie McCarthy – Papers Past, Armidale
I came to conservation through my love of history. My first degree was late medieval history, so it was parchment and medieval bindings that piqued my interest in conservation. However, funnily enough parchment is probably what I have worked least on over the last twenty years. I love that objects have their own material history. Materials and construction show us about craftsmanship and value in past times and add texture to historical record. The combination of art and science in conservation is fascinating.
Matteo Volonté – International Conservation Services, Sydney
The love for art and how art can take the life of humankind to another level, is one of the reasons. Artists always have a great perception of the future, and they are most of the time the first to sense changes in society.
I have always had a predisposition to look at things in close detail, particularly nature and the old architectures of Europe. I remember always being fascinated by thinking of the history that lays beneath the layers of paint and plasters in some of those old buildings. I decided then to take on the specialisation of paintings conservation, so that I could conserve works of art and frail heritage, so that those stories wouldn't go lost.
Sarah Bunn – Freelance paper conservator
I was always involved in visual arts and dabbled with different media but knew I wasn't driven to be an artist. I was also interested in art history and science – conservation was a perfect way to combine them all.
What part of your job do you enjoy/find the most interesting?
Julie McCarthy
There is so much to enjoy about being a conservator. I worked in large cultural institutions in Canberra and Melbourne as a paper conservator, before returning to Armidale ten years ago, where I now operate a small conservation studio. I have never been bored in any of these roles. As a conservator in regional Australia, I love seeing the family collections – art as well as archival – these really bring the area alive for me and I like the fact that I can add value/longevity to these family stories. It's a privilege.
Matteo Volonté
The stories around each artwork or historic piece, the lives that rotate around some of the objects and the narratives of people's families' memories is definitely number one in the list.
Artworks that come to us for conservation, have almost certainly an interesting tale connected to it. Learning about the life of the artist and the way the artist has perceived and executed the artwork is the next most enjoyable and most important aspect of our work.
The more I spend my time with an artwork, the more I begin to understand the artists' intentions and the conservation problems associated to it. Each brush stroke and colour in a painting can tell us a lot about the artists' technique and intentions, you just need to listen. Even the soot or surface dirt on an artwork, or the aging cracks in the paint layer can tell us stories.
Sarah Bunn
I particularly enjoy getting into 'the zone': just you, the artwork and a torch, noting every detail of the media and paper, texture, touch, line – feeling the artists' hand.
I am currently in the midst of removing a degraded back board from a Norman Lindsay etching – it takes many hours chipping away at the back with a scalpel, layer by layer until you remove the final layer with a poultice.
It's an almost meditative process.
Can you tell us about what is your worst nightmare or an experience you don't want to repeat?
Sarah Bunn
Treating aged sticky tape is my worst nightmare! I see an awful lot of precious family and collection archives striped with yellowed sticky tape, often they come to me too late and the stains remain.
Can you tell us about a ''discovery'' you have made when working on an object? Something you didn't expect to see?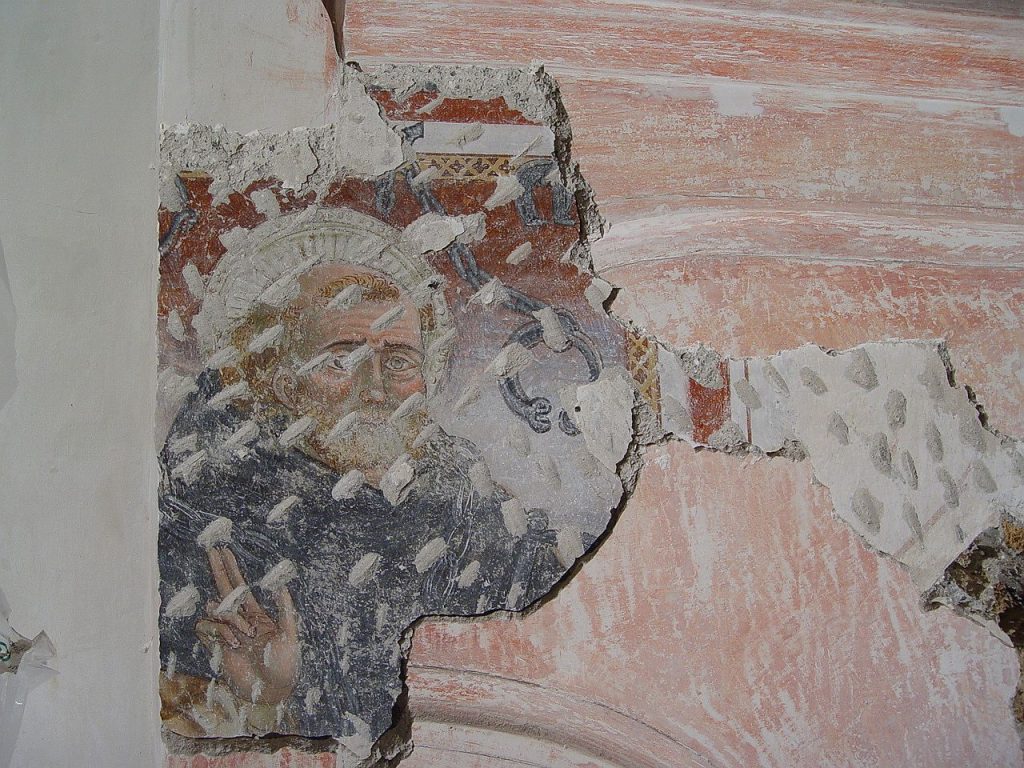 Julie McCarthy
One thing I do love is finding annotations or inscriptions on the back of artworks – notes that had been hidden by the mounting. I had a beautiful watercolour of a family home from the mid-1800s which had been painted by someone's great, great grandfather. When we took it off the acidic mount board, there was an inscription detailing which windows in the picture corresponded to which bedrooms of each (named) family member. That was pretty sweet.
I did have a small oil painting used as a backing board for someone's etching recently as well.  That was fun.
Matteo Volonté
Every day is a discovery for a conservator. However, one specific find is something that happened in my early career as a painting conservator. I'm generally curious and my curiosity on a specific day took me to discover something amazing.
I was working in a small church in Sovere in the northern valley of Lake Iseo, Italy. My colleagues and I were cleaning and restoring the internal decorations and paintings of the church. I remember seeing a fraction of red colour peering from beneath the layers of plaster and white lime paint. We began removing a bit more plaster and the layers of paint from the surface and variations in tones and colours began to appear. We knew we were onto something incredible, and the reality was that we were opening windows to the past. An eye all of the sudden was looking at us, it was the eye of Saint Apollonia, a common subject of 15th Century frescoes in northern Italy. It took approximately two years to reveal the almost 15 meters of frescos, depicting various saints, martyrs and representations of Mary and child and the Trinity.
Sarah Bunn
I was working on a backing removal of a large John Olsen ink drawing which took days of meticulous chipping away with a scalpel. As I got to the final layer, an ink under drawing was slowly revealed which had many of the same elements of the drawing on the front. The curator was thrilled as it appeared to be an unfinished study of the drawing and showed the artist's working processes.
What is the coolest object you have ever worked on?
Matteo Volonté
I have been working on many cool artworks in my (nearly 20 years) career, both Australian and non-Australian artists.
I hold close to my heart the conservation work I have done on the paintings by Jessie Emily Scarvell in the National Trust (NSW), S. H. Ervin Gallery collection. I didn't know Scarvell's paintings at the time, but her works immediately grasped my attention. Like many of her fellow contemporary impressionist artists, Scarvell has managed to perfectly capture the exceptional Australian outdoor atmosphere, but in an incredibly simple and serene way. In my judgement, her work is up there with her peers – Tom Roberts, Arthur Streeton and Charles Conder.
Sarah Bunn
I had the privilege to work on Charles Darwin's notebooks for English Heritage, a collection of tiny leather covered books with his notes in pencil which he took on his voyages around the world. Turning the pages and reading his handwriting felt like the man himself was before me, there was even a comment lamenting his lack of drawing skills as he recorded a shoreline!
Would you recommend (or not) being a conservator as a career?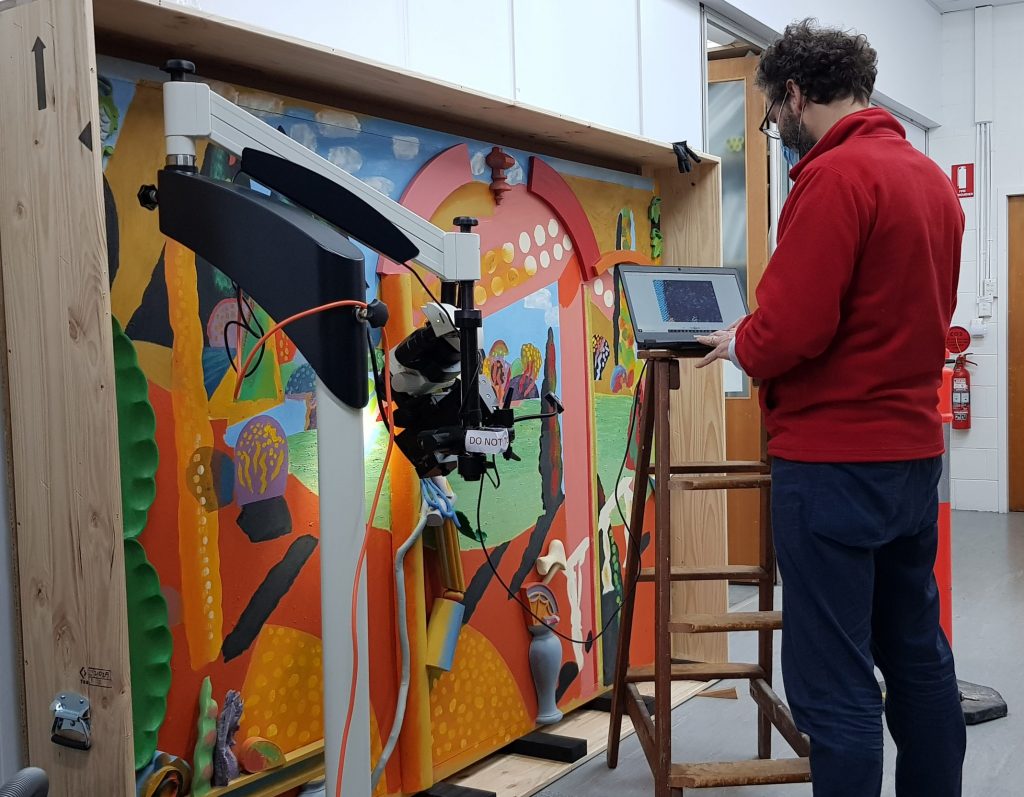 Julie McCarthy
I think being a conservator is a rewarding profession.
There is so much to conservation, and so many avenues to be involved in. Technical examination skills, preservation, digitisation are all interesting facets of the profession that sit alongside the actual conservation treatments ('the bench skills'). For example, disaster preparedness is a really important part of our profession. As we know, Australia has its fair share of natural disasters, and we need to make sure that our cultural institutions are best prepared to meet these challenges.
[Julie is part of the Australian Institute for the Conservation of Cultural Material's Disaster Preparedness Committee.]
Matteo Volonté
I would recommend a career in conservation, however, it depends really what you are looking for! The conservator career, is an internationally recognised profession and gives you the opportunity to travel, although, this can also be considered a downside as often conservators have to leave their hometown in search of the right opportunity.
One word of advice I have for young conservators is to have as many different experiences as you can, particularly in the early years of your career. It can be hard to find the perfect position to start with, and do not exclude the option to expand your knowledge to different fields of conservation. We do tend to specialise in specific sectors, however, keeping an open mind to opportunities, could take you far. Choosing a career as a conservator will allow you to work on extraordinary items and to meet interesting personalities for sure.
Sarah Bunn
I love being a conservator – every day is different, although the responsibility is both terrifying and rewarding. It is a small but generous global community of passionate people who usually love to share their experiences.
Is there something about a National Trust (NSW) object you recently worked on which particularly interested or surprised you?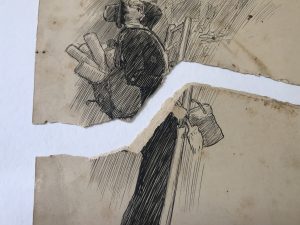 Julie McCarthy
Working on the 1930s travel posters has been an absolute delight. These posters were found rolled at Saumarez Homestead, Armidale, in different states of repair. Flipping through these fabulous, colourful artworks took me straight to 1930s Europe. They are interesting locations: Hungary, Sweden, Norway and Czechoslovakia (as it was then). And from my point of view, really interesting print making techniques and artistic styles. Absolute gems. To be able to bring these back to a state where they can be exhibited is a pleasure.
Matteo Volonté
Of late I have been working on 'Midwinter Spring – James' Garden' by Colin Lanceley 1988. The artwork is considered by some as a Modern Australian masterpiece and was commissioned by James Fairfax for his estate at Retford Park.
The brightly coloured three-dimensional work, is a typical Lanceley work depicting an abstraction of James' gardens constructed of geometric forms and painted wood elements attached to a stretched canvas and wooden support. The artwork came to us for a simple routine assessment, and I was surprised to see that in some areas the paint layer appeared to have a haze over it. I thought at first surface dirt, but the peculiar thing was that the haze was only present on some of the painted shapes and not in others. I decided to send samples taken from the affected surfaces to a mycology laboratory and the report came back positive for mould. Mould unfortunately is one of those problems that often appears on the surface of our artworks and home items, deviously growing unknowingly, even on the best kept collections.
Sarah Bunn
The Norman Lindsey drawing on board I am treating appears to have been torn in two pieces by brute force! I can't help but wonder what happened to lead to that event.
The tear has what we call a 'beveled edge', so I have been carefully cleaning and laying out the fibers along the tear so that they can be reattached with wheat starch paste and supported with kozo paper on the back.