The National Trust Brougham Place Uniting Church Heritage Conservation Appeal
October 1859. The foundation stone was laid on the 15th of May, 1860. Designed by Edmund Wright in partnership with E.A. Hamilton, the church is one of the largest buildings to attest to the reputation of South Australia as a "Paradise of Religious Dissent".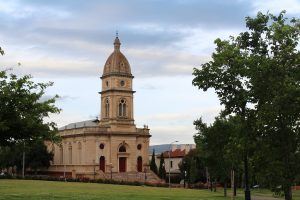 The building features a graceful square tower that sits above the rising marble steps, an Italianate parapet rail around the roof line, ornamental urns, and stone ornamentation at the top of each of the vertical buttresses. The stunning stained-glass windows are a feature of this building bringing beauty and colour. They contain historical and theological significance set in a variety of styles of glass work. The organ, designed and built by William G. Rendall in 1882 has been maintained and restored numerous times, including by J.E. Dodd (1914) and L. Jacob (2007). It is musically and visually beautiful. The ceiling roses, lighting, balconies, monuments, and carpentry all contribute to the aesthetic of the sanctuary.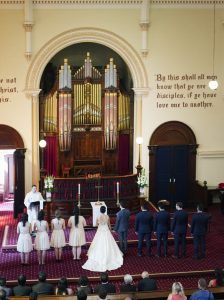 The church was built on two different kinds of foundation. After many years, the building is now twisting and moving, resulting in significant cracking. This movement has also led to the need for roof repairs. The nature of the building and its age also means that salt damp repairs are required.
The National Trust Brougham Place Uniting Church Appeal aims to raise funds to continue with the program of repair for the church building, in order to preserve this historic building for the future.
All gifts over $2 are tax deductible. .
Call to action section
Brougham Place Uniting Church Heritage Conservation Appeal
Please help preserve this historic building for the future
to donate please click here