St David's Church Burnside Conservation Appeal
With its roots planted firmly in the semi-rural village of Burnside of the mid-19th Century, St David's Anglican church now stands strong in the bustling City of Burnside of the 21st Century, just a few kilometres from the City of Adelaide.
Not just a single edifice, St David's comprises three significant buildings.  Set back from Glynburn Road at bus stop number 17 and framed by two mature trees, the original stone church, now the church hall, dates from 1887. The modern brick church, a hundred metres to the south on Glynburn Road, was built in 1963, while standing between these two we find the oldest building of them all, the current Church Office, erected as the Burnside Council Chambers in 1869.
All three are heritage listed and as such demand ongoing maintenance.
The original Church, dating from 1867 and the centre of Anglicanism in the district of Burnside, is now used as the Parish Hall, incorporating kitchen, supper room and a smaller meeting room. This building hosts many parish activities throughout the year and is used by the neighbouring Burnside Primary School and various community groups.  Having stood for some 140 years the original church is in constant need of maintenance and renovation in order to retain its central importance into its next 100 years.
In partnership with the National Trust St David's Church is embarking on a fundraising and restoration initiative to repair all three buildings and preserve their artistic treasures.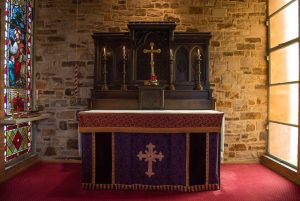 ---
Contribute towards the conservation of St David's Church Burnside