Meet Annette: Executive Manager of Collections and Cultural Projects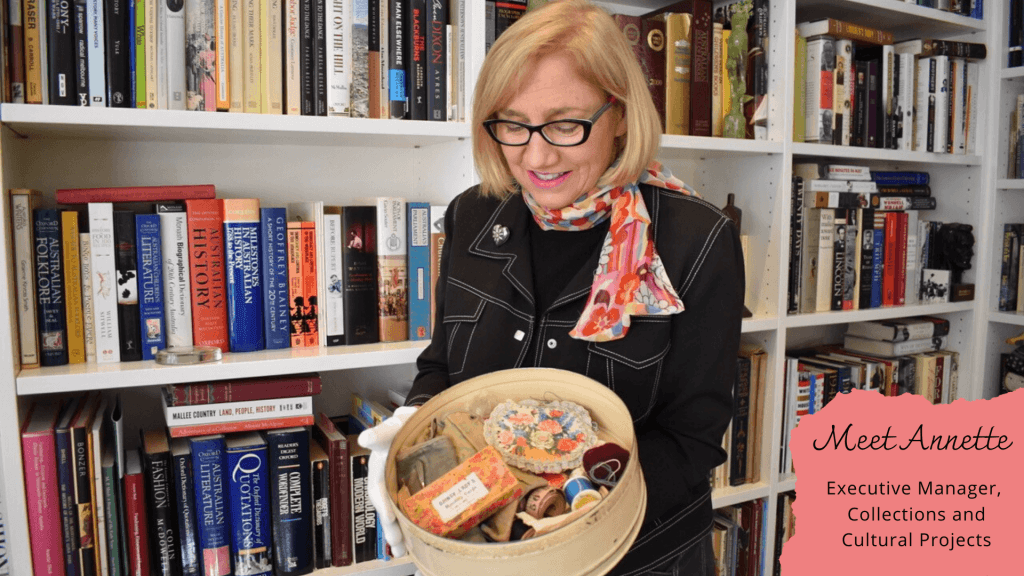 As part of our Keep the Lights On appeal, we want to shine a spotlight on the important people that make up the Trust. Let us introduce you to Dr Annette Shiell, our Executive Manager of Collections and Cultural Projects.
What do you do at the National Trust? 
I have the absolute dream job. I conserve and curate the Trust's fabulous Collections, from mousetraps to mini skirts. I work with a creative team to research and share the wonderful history and stories of our properties.
What are you working on right now? 
Right now I am juggling many projects, from deciphering Caroline Armytage's 1850s handwritten recipes, learning about hand printed wallpaper, planning the Trust's exhibition program and developing new partner projects to give greater access to our collections and resources.
What do you enjoy most about your work? 
I enjoy discovering and sharing the myriad of stories associated with the properties. All of our sites have layers of history running through them from Indigenous heritage and culture to current use. The Trust's domestic homes, work sites and natural reserves are endlessly rich resources; providing a valuable snapshot of Victoria's history and a blueprint for contemporary life. There are infinite connections between people, places and time and our Trust stories are very much the community's stories.
What is your favorite NT place? 
Every time I visit a property, I rediscover a new favourite. At the moment, I have a soft spot for Mulberry Hill in Baxter on the Mornington Peninsula. It is a beautiful property and the home of two legendary talents, Sir Daryl and Lady Joan Lindsay (Picnic at Hanging Rock fame), who have bequeathed Victoria a magnificent creative legacy. I also love Mooramong in Skipton. A beautiful property with a wonderful Hollywood story and a visionary environmental legacy.
Most interesting part of your job?
Meeting and working with passionate and generous people who are committed to protecting Victoria's rich heritage and sharing it with the community.