National Trust Heritage Awards 2018 Shortlist
Congratulations to our 2018 Heritage Awards shortlisted projects. The winners will be announced at a luncheon on 4 May, 2018.
Adaptive Re-use Shortlist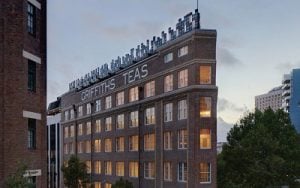 Griffiths Teas – 46 Wentworth Avenue, Surry Hills
PopovBass
The Griffiths Teas Building in Surry Hills, built circa 1913, was once a storage warehouse for tea, coffee and cocoa. After decades of disuse, the distinctive wedge-shaped building has been inspirited through the careful addition of 37 apartments and a restaurant space which embrace and emphasise the heritage fabric, breathing new life into the area over a century after the architectural icon was constructed.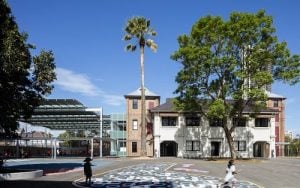 O'Connell Street Primary School
Tonkin Zulaikha Greer Architects
The former Kings School dating from 1837, was acquired by the NSW Department of Education for the future-focussed O'Connell Street Primary School. The adaptive reuse of the heritage significant site provides flexible, highly-serviced teaching and recreation spaces for 1000 children, with facilities to support a multicultural cohort and after-hours care.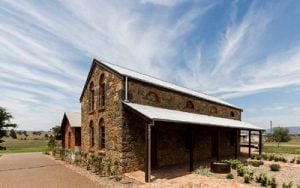 Goonoo Goonoo Station
TKD Architects
Goonoo Goonoo Station was established near Tamworth in 1841 by the Australian Agricultural Company for the production of Merino Wool. The adaptive reuse and conservation of the historic buildings returns life to this once thriving village and provides opportunities for the community to access and engage with the 170-year-old station.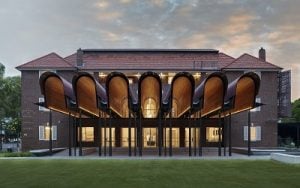 Joynton Avenue Creative Precinct
Peter Stutchbury Architecture, Design 5 – Architects, City of Sydney, Lahey Constructions
Adaptive reuse of the Nurses Home and Operating Block at the former Royal South Sydney Hospital, including artistic workshops, gallery space, community hire space, public amenities and creative offices. A strong commitment to the site's history, for a new era of service to the Green Square community, as been made.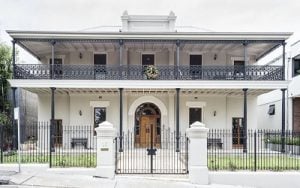 Coutts Sailors Home Rescue
Diane Kinloch
The rescue of Coutts Sailors' Home from dereliction to its former glory based on the principles of the Burra Charter. Its adaptation from sailor's home/hospital/storage facility/government offices/community centre/squat to a comfortable family home.
Conservation – Built  Shortlist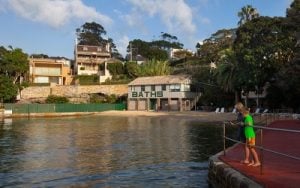 Greenwich Baths
Lucas Stapleton Johnson & Partners
The baths at Greenwich were opened in 1916, and the Clubhouse was added in 1932 to house the Greenwich Amateur Swimming Club. The clubhouse upper facades were restored to celebrate the 100th Anniversary of the Baths and new public facilities installed at the lower level.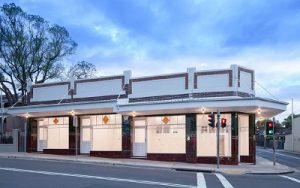 17-21 Charlotte Street
Conybeare Morrison International Pty Ltd
17-21 Charlotte Street is a suite of four heritage listed shops located in Ashfield, Sydney. CM+ was engaged to renovate this heritage building, whilst upgrading it for contemporary retail use, the refurbishment has breathed new life into the building and has protected it for the enjoyment of future generations.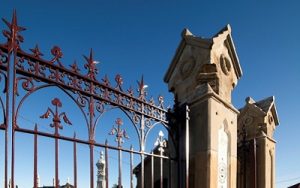 Waverley Cemetery Gates, Bronte
Lucas Stapleton Johnson & Partners
This project entailed the careful restoration; reconstruction and repair of the entrance gateway to Waverley Cemetery, Bronte by Waverley Council, with funding assistance by the National Trust. Built c1880s, as part of the cemetery perimeter wall, the entrance gateway forms an important threshold for visitors entering the cemetery.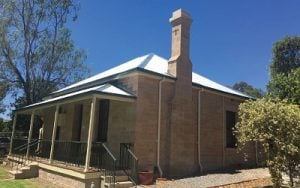 Jerrys Plains Public School conservation
NSW Public Works Advisory
The original school buildings of Jerrys Plains Public School, located in the Hunter Region, were constructed in 1881 of local sandstone. The buildings suffered long term damp problems and earlier attempts to rectify the problem had failed. The project provides quality long term conservation solutions for the façades and roofs.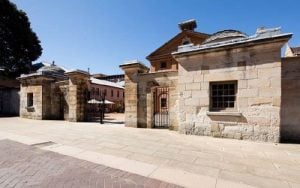 Hyde Park Barracks Stonework Remediation
Sydney Living Museums
Designed by colonial architect Francis Greenway, between 1817 and 1819, the Hyde Park Barracks guardhouses, gate piers and corner pavilion are some of the earliest surviving sandstone elements in Sydney. Following our commitment to preservation Sydney Living Museums carried out specialised stone conservation works on these elements to maintain and address new areas of deterioration.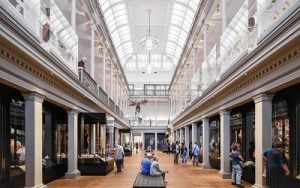 The Westpac Long Gallery
Design 5 – Architects Pty Ltd with the Australian Museum
The Long Gallery opened in 1854 as the first purpose-built museum exhibition space in Australia. The conservation and refurbishment works carried out in 2017 have restored the grandeur and richness of the space as an architectural display cabinet for our nation's history, people and culture.
Conservation – Landscape Shortlist 
Berrima, Sutton Forest and Exeter Cultural Landscape Assessment
Colleen Morris
This cultural landscape assessment of the Berrima, Sutton Forest and Exeter area was aimed atraising awareness of the significance of the landscape with a view to encourage further statutory protection and to provide the basis for a heritage impact assessment of a proposed coal mine in the area.
The Gardens Precinct, Parramatta Park
Parramatta Park and Western Sydney Parklands Trust, Phillips Marler and GML Heritage
The Gardens Precinct in Parramatta Park was revitalised to upgrade the eastern area of the Park and improve its connection to Parramatta CBD. The historic landscape and key features have been conserved through a revitalisation program that includes sensitive design and layout of pathways and landscaping, interpretation and conservation of significant heritage elements.
Conservation Interiors and Objects Shortlist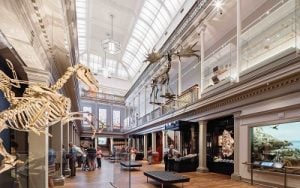 The Westpac Long Gallery
Design 5 – Architects Pty Ltd with the Australian Museum
The Long Gallery opened in 1854 as the first purpose-built museum exhibition space in Australia. The conservation and refurbishment works carried out in 2017 have restored the grandeur and richness of the space as an architectural display cabinet for our nation's history, people and culture.
Jubilee Room
Lucas Stapleton Johnson & Partners
The Jubilee Room is a magnificent space built as the Parliamentary Library in 1906. The project involved the removal of 1980s display panels, reconstruction of lower level cedar bookcases, new lighting based on early photos, sympathetic new carpet, redecoration and a window in the floor displaying Rum Hospital archaeology.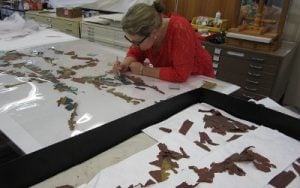 The Birdwood Flag at Christ Church Cathedral, Newcastle
Patricia Gillard
The Birdwood Flag is a nationally significant Australian ensign, originating in the Newcastle community and recently restored. Reduced by age to thousands of pieces disintegrating in a box, its conservation has involved a three-year journey by the community and conservators culminating in the flag's Re-hallowing in Newcastle Cathedral, July 2017.
Continuing Tradition Shortlist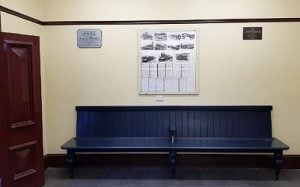 Interior waiting room benches Kiama and Bulli Railway Stations
Sydney Trains
As part of Sydney Trains refresh program throughout 2017, a number of stations have had works to restore original waiting rooms for customer use. Two projects at State-heritage listed Bulli and Kiama stations demonstrate an approach to reinstating heritage features to achieve current standards using traditional joinery skills and detailing.
Benedict XVI Retreat
M J Suttie Architects and Sidney Rofe Architect
The Benedict XVI Retreat Centre is a new development of ten buildings set in the foothills of the blue mountains providing a tranquil oasis for 150 guests. The project, a collaboration of emerging young architects, is groundbreaking in its studied application of classical and traditional principles of architecture.
        
Education and Interpretation Shortlist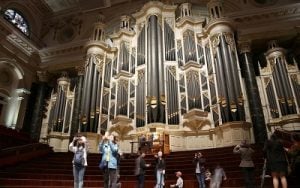 Our City: 175 years in 175 Object anniversary program
City of Sydney Council
2017 marked the 175th Anniversary since the incorporation of the City of Sydney Council. Our City: 175 years in 175 objects was an education and interpretation program exploring Council's impact on shaping the history, heritage and urban environment of our city since 1842.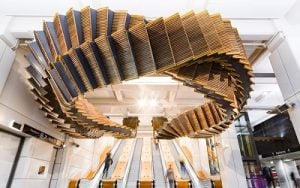 Interloop – a Reinterpretation of 1950s escalators at Wynyard Station
Transport for NSW
Interloop is a large, hovering sculpture commissioned by Transport for NSW that re-uses and re-imagines the 1950s heritage escalators from the York St exit of Wynyard Station into an evocative public artwork. It measures more than 50 metres in length and incorporates 244 wooden escalator treads and four escalator plates.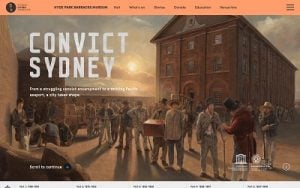 Convict Sydney
Sydney Living Museums
Sydney living Museums developed a new website – for both general and education audiences – that explores the fascinating story of convicts in Sydney through the lens of the UNESCO listed Hyde Park Barracks.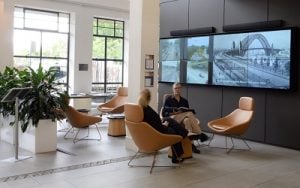 Ennis Rd Bays
Roads and Maritime Service and GML Heritage
Stories of the remarkable engineering feats of the Ennis Road Bays and Sydney Harbour Bridge were brought to life in interpretation for the refurbished offices of the Roads and Maritime Services. Poetry, historic images, photography and typography are utilised across ground inlays, decals, video and a lightbox.
Heritage Resources and Publications Shortlist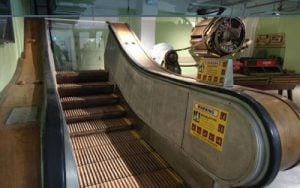 Escalation Sensation

Sydney Trains, Transport for NSW, Art of Multimedia
'Escalation Sensation' chronicles the history of the last operational wooden railway escalators in Australia. After 60 years of service, the much-loved wooden 'Otis' escalators at Town Hall and Wynyard Stations were retired in 2017. 'Escalation Sensation' – documentary and historic booklet – captures the lasting memories of the machines and records the final days of operation.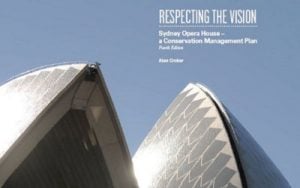 Respecting the Vision: Sydney Opera House – a Conservation Management Plan, Fourth Edition
Design 5 – Architects Pty Ltd
Respecting The Vision, a substantially revised 4th edition of the Conservation Management Plan for Sydney Opera House has been prepared by Alan Croker and his team, based on J.S. Kerr's 3rd edition. Extensively illustrated, it incorporates new conservation management tools to address the complexity of this World Heritage Listed site, to guide future management, conservation and change and ensure a responsible balance with its use as Australia's pre-eminent performing arts centre.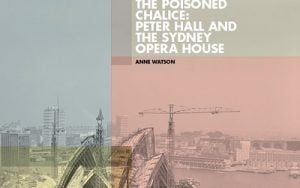 The Poisoned Chalice: Peter Hall and the Sydney Opera House
Anne Watson
The Poisoned Chalice: Peter Hall and the Sydney Opera House' is a book based on my 2014 doctoral thesis (Sydney University) and explores the work of Peter Hall and his team in the completion of the Sydney Opera House after the departure of Jorn Utzon in early 1966. 244 pp, colour and black and white published by opusSOH, Sydney and launched at the Opera House 31 August 2017.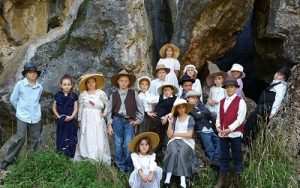 History Here
Paul Stafford
This film project saw a Wiradyuri Elder and seniors visit schools to share local stories; classes selected their favourite; an author delivered script-writing workshops and redrafted via videoconference. Filmmakers taught students to film & edit, movies screened to capacity audience at heritage-listed cinema, archived in museum, historical society, cached online.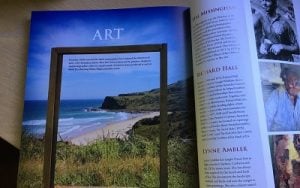 Shack Life
Ingeborg Van Teeseling
Shack Life tells the story of three small beachside communities in the Royal National Park south of Sydney – Era, Burning Palms and Little Garie and how their residents fought to save their beloved shacks and keep shack heritage alive.
Heritage Events, Exhibitions and Tours Shortlist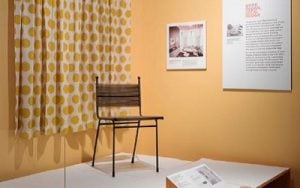 Marion Hall Best: Interiors exhibition and tour
Sydney living Museums
This exhibition colourfully charts the work of Marion Hall Best (1905-1988), one of Australia's first and most influential independent interior designers. The exhibition, public programs and subsequent tour showcase original furniture, fabrics, furnishings, design schemes and images held in SLM's Caroline Simpson Library & Research Collection to audiences across Australia.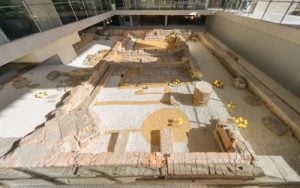 V Heritage – Foundations of Settlement
Freeman Ryan Design
V Heritage: Foundations of Settlement interprets an important Australian archaeological find in the heart of Parramatta. The carefully considered graphics and three-dimensional exhibition components frame the archaeology for the visitor, visible from the informative viewing podium level above, as well as the exhibition level below.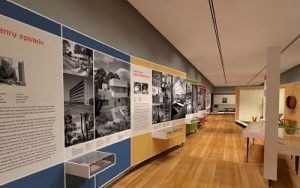 The Moderns: European Designers in Sydney exhibition
Sydney Living Museums
'The Moderns: European designers in Sydney' exhibition celebrated a forgotten aspect of Australian modernism, highlighting the largely unknown stories of Sydney's mid-century émigré architects, interior designers and furniture makers. Developed from a wealth of original research, this object-rich exhibition explored the impact of these creatives on the development of modernist design in Sydney.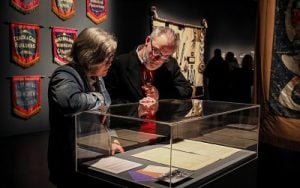 1917: The Great Strike
City of Sydney Council
The City of Sydney partnered with Carriageworks to present 1917: The Great Strike, a free public exhibition to commemorate the centenary of one of Australia's largest industrial conflicts. Held at Carriageworks 15 July – 27 August 2017, the exhibition brought together historical objects and interpretation, alongside five specially commissioned artworks.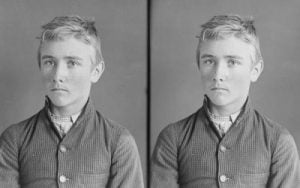 Captured: Portraits of Crime an exhibition
State Archives and Records Authority of NSW
Captured: Portraits of Crime is a major exhibition that explores the stories of men, women and children who were incarcerated in New South Wales gaols from 1870 to 1930. The exhibition is a key public outcome of the significant project to digitise and preserve 46,000 at risk gaol records.