Heritage at Home – Olivia Thorne
Like so many of us in this current time of isolation and social distancing, I am spending a lot of time at home. Staring at the same walls for days on end undoubtedly produces some frustration, but it also gives us time to reflect on our domestic environments, to dig a little deeper into the history of the homes we live in, and hopefully to cherish them all the more for it. Home for me, at the moment, is a brick Federation house in Melbourne's south-east, of substantial original proportions but now subdivided into two dwellings. It's a beautiful old place with wooden floorboards, pressed tin ceilings, picture rails and leadlight windows still intact. Having grown up in Perth, where heritage homes in suburbia are few and far between, when we moved here I was immediately curious about the house's history and stories.
Perhaps you also live in an old house and are wondering how to find out more about its history? Far from requiring expert knowledge, finding out something about the history of your house can be easier than you think. Once I started searching, I was surprised by how much information I could uncover for free, on the couch with a glass of wine in hand. However, you do need to be willing to venture a little further than Google.
Trove and documentary research online
Trove, the database developed by the National Library of Australia which aggregates the holdings of libraries across Australia, is an amazing free resource. It is home to a vast collection of digitised newspapers with searchable text. Amazingly, I was able to reconstruct almost the whole early ownership history of this house just by searching for mentions of the address in the digitised papers. Family notices of births, deaths and marriages, auction advertisements and social pages all provide parts of the story.
The earliest mention of a house at my address is from 1891, in the death notice of one William Varian, originally of County Cork, Ireland, who lived here with his wife Eliza. It is possible that the Varians lived in an earlier house on the site, as the present building seems stylistically a little later. By the way, Heritage Victoria's "What house is that?" guide is an excellent starting place for learning to recognise the different domestic architectural styles in Melbourne. I was lucky to find a wealth of information about some later occupants, the Bett family, who lived in this house between 1924 and 1939, as recorded in the relevant rate books. Mr David Marshall Bett, originally of Edinburgh, Scotland, emigrated to Australia in 1881, and worked as a plumbing and sanitation engineer for the Melbourne Metropolitan Board of Works, occupying senior positions in his later career. His obituary, published in the Argus in 1939 shows him to have been a respected member of the community. He and his wife, Mary Joan "Minnie" Bett, enjoyed a long marriage of 50 years and published a notice celebrating this anniversary. They had four surviving children – three sons and a daughter. Sadly, the Betts' domestic life was not entirely happy, as I discovered in the death notice for another daughter, Lizzie Adela, who passed away at the age of 23 in 1913. This event was before the family moved into the house where I now live, but it's telling that in later family notices, the house was referred to not only by address but also by its name – "Adela". The newspaper records have given me a sense of personal connection to this chapter in the house's history.

Interestingly, an earlier article gave me an inside glimpse into the house's interior before the Bett era. An auction notice from 1919 gives details of furniture being sold from the house, including a 'magnificent dining room suite' and 'elegant Canadian oak sideboard'. Which just goes to show, you never know what you'll find once you start looking! If you are interested in going beyond Trove and researching the history of your home through documentary evidence and public records, the State Archives of Victoria have published a useful getting-started guide.
Backyard Archaeology
No, I didn't dig up the lawn or do any digging at all. But it is worth having a scout around at the bottom of your garden, as sometimes small artefacts will turn up on the surface of the soil. Window glass, bottle glass, slate fragments, ceramic sherds… all are physical evidence of the history of a place. Of course, any serious backyard archaeology at places likely to have heritage significance should be left to experts!
Here is a photo of the ceramic sherds I have found in the backyard so far.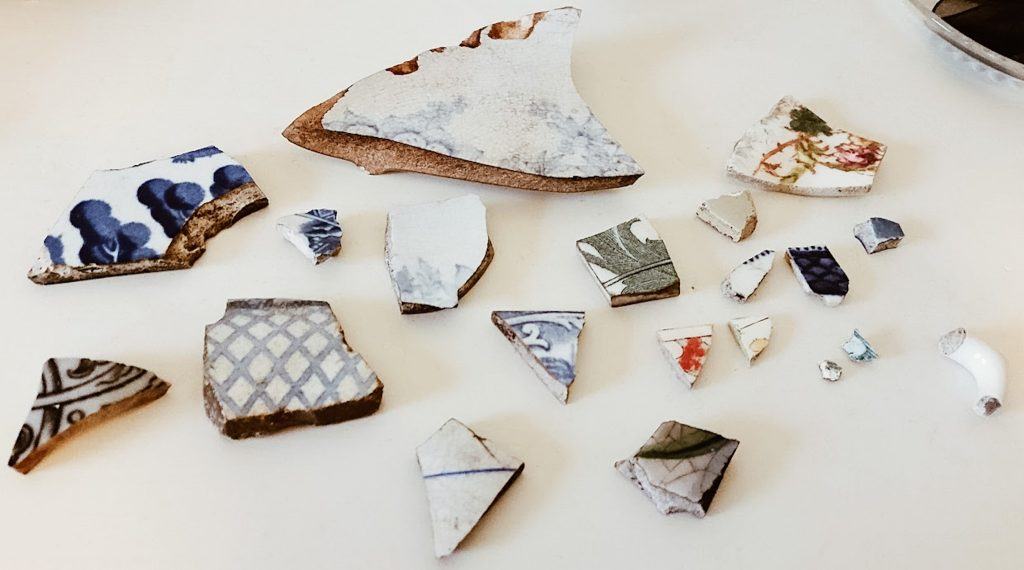 Was any of this broken crockery used by the Varian or Bett families, or did any of these pieces come from plates which once lined the 'Canadian oak sideboard'? That would be difficult to find out for sure, but it's fun to wonder.
Another backyard discovery was this circular metal token, marked 'City of Prahran 1964'. At first, I assumed this was a dog tag, but after stumbling on some similar items from the Bendigo Pottery works on the National Museum of Australia's 'Collection Explorer', I now think it might be a metal timekeeping token, used to help calculate the work hours of employees. Either way, it's an interesting object.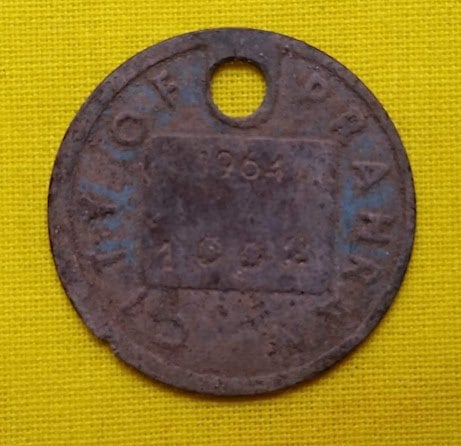 I encourage those of you who are historically-inclined to jump online and see what you can discover about your house. Getting to know the history of our homes is one way we can make a deeper connection with our domestic environment, and learn to better appreciate the heritage we have right on our doorstep.