Gulf Branch update for October 2020.
A special Welcome and thanks  to all  our new Gulf Branch members  Leanne Cameron, Seumas Christir- Johnstone, Cherie Gaffney, Catherine Hinton, Karol Jarentonski , Karen Maloney, Craig McCormack,  and Patsy Shadforth  and all our old residents who have renewed their memberships!
Visitors continue to trickle through although not in any great numbers, but enough to help cover the costs of power and water.  A couple of old campaigners dropped in to say hello, Stumpy Adams who first worked in the area at Creswell in the 1950s and former CLP politician Barry Coulter, who still takes a great interest in the heritage of the Territory.
The branch is ticking over by a resolute although small band of members while our caretaker is still in transit as a Covid refugee. To these go out heartfelt thanks. 
Local contractor David Keighran has now completed the fencing of the Old Police Station Heritage Precinct, done and dusted in four days.  We still need to replace the old mesh panels on the Rrumbriah/Gulf Store fence but need to negotiate with MAWA Aboriginal Corporation. We have the materials courtesy of MRM community benefit funding and hopefully can get this done fairly quickly. We are hoping that the Electrical work can be completed soon and new cupboards fitted.
The stabilisation of the cell block slab has been completed. However while undertaking this we disturbed the old galvanised pipe water lines resulting in a number of leaks. The old galvanised lines are from Welfare days mid 1960's and in poor condition. Technology has moved on and plans are underway to replace the water lines with blue line poly. We have funding for the pipe and fittings.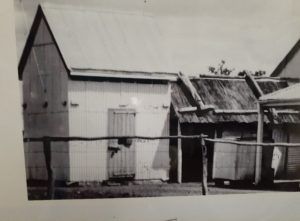 Finally an acknowledgement to Judy Richardson NT Trust Life Member and friend and supporter to many  she  was finally acknowledged in 2018 for all her contribution's over the years to the NT  Trust Judy  passed away in Darwin recently. Judy was a stalwart of the National Trust of the NT for thirty years plus and was extremely supportive in a number of projects associated with regional Branches. Judy was one of the few Trust members willing to make the effort to journey to some of the out of way places such as Borroloola.
We look forward to a good turn out on the 20 October for the Gulf Branch 2020 AGM 430 at the Old Police Station.