Storytelling
Supported by Lotterywest and part of the Western Australian Heritage Festival 2022.
During the Western Australian Heritage Festival we told stories through a special exhibition at East Perth Cemeteries and a new short film about the Old Observatory.
Beneath the Bitumen: Discoveries from the Chinese Cemetery, East Perth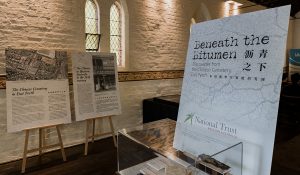 Beneath the Bitumen is an exhibition that displayed discoveries made by archaeologists during excavations of the Chinese Cemetery in East Perth.
It ran for five weeks across May and June before being lent to the National Archives of Australia for display in its Northbridge office until late October.
An expanded digital version of the exhibition is now available to view online, featuring information about additional artefacts uncovered during the excavation.
Watching the skies: A brief history of Perth's Old Observatory
One of Western Australia's most majestic heritage buildings was formerly the Government Astronomer's residence and offices. It was central to the operations of the original Perth Observatory.
The Old Observatory, as we call it today, is located at the summit of Mt Eliza and currently serves as the central office of the National Trust of Western Australia. It is surrounded by Dumas House, Hale House, the Constitutional Centre and Parliament House.
Rarely open to the public, this short film provides a unique view inside this historic building and uncover some of its hidden stories.