This is a story of a Darwin memorial and peace through Darwin's Uniting Church. Local historian, Wendy Beresford-Maning told how a Japanese company Fujita in 1959 cleared Darwin Harbour of shipwrecks after WW2. This became a story of peace and Fujita reconciliation - a story of salvage and salvation.
"After the bombing…what? 
A Journey to Peace & Reconciliation"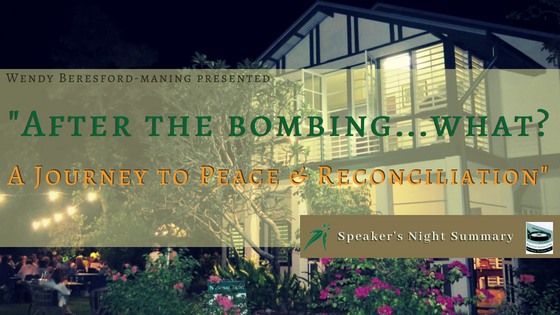 One strand of Darwin's multiple histories of the post-war journey centres on the Darwin Memorial Uniting Church and the involvement with the church of the Fujita family whose company salvaged 6 of the bombed wrecks in the harbour in 1959.
At the same time as the Fujita Salvage Company was working to clear Darwin Harbour, the Methodist Church – by then known as the United Church of North Australia (a union of the Methodist, Presbyterian and Congregational churches) – was in the process of building a new church in Smith Street. The church was to be a national memorial to commemorate the lives of those lost in the prosecution of the war in this region.
The architect for the project was Gordon Brown of Brown & Davies, Adelaide. Brown was also at the time the President of the National Australian Japanese Association and a personal friend of the Japanese Ambassador in Australia. Aware that Ryugo Fujita was a Christian and a pacifist, Brown who also designed the interior furniture and fittings of the new church, suggested to the Japanese Ambassador that the Fujita Company might be asked to make an appropriate gift to the church on behalf of the Japanese Government. Mr Fujita presented the church with 77 bronze crosses fashioned from the metal from the USAT Zealandia and other wrecks. Ryugo Fujita saw this also as a gift from himself and his family.
Other materials for the church furniture were sourced from around the country and presented to the congregation by the national church.
In 2015, the current congregation, having maintained links with the Fujita family, began development of a peace garden as a specific gesture of reconciliation. The Fujita family were again involved and late in 2017, the family repatriated the fin of a spare propeller salvaged from the deck of the sunken USAT Meigs. The propeller fin had marked Ryugo Fujita's grave in Kyoto, but his family expressed their belief that he had always believed that the propeller should be returned to Darwin.
The propeller fin – and Ryugo Fujita's tombstone – now stand at the front of the church, this time as a gift for the people of Darwin, under the ongoing care and stewardship of the Darwin Memorial Uniting Church and the congregation maintains an ongoing connection with the Fujita family.
– Dr Wendy Beresford-Maning