It is entirely fitting that Ellensbrook should be named after a woman, as it was women who played a major role in the development and management of the place.
In 1857 Ellen and Alfred Bussell chose the site of their new home. Sheltered from the winter storms, the site had access to fresh water and was surrounded by fertile soil.
Over the decades the house was built in stages by ticket-of-leave convicts, deserting seamen and local Noongars. The Ellensbrook venture was successful, with income derived from the sale of beef, butter and cheese. Much of the success was due to the practical skills, energy and sound management of Ellen. Alfred and Ellen left Ellensbrook in 1865.
Between 1871 and 1877 Ellensbrook was managed, and the homestead extended, by the eldest of their five daughters, Fanny. Later, the second daughter Edith made Ellensbrook her permanent home. In 1899 she established the Ellensbrook Farm Home for Aboriginal Children. The Home continued for 17 years during which time Edith continued the tradition of extending the main building.
The Noongar name for the locality is Mokidup, and it was a traditional summer camping spot for thousands of years.
Ellensbrook at Mokidup was named as a finalist in the 2020 WA Heritage Awards in the categories of 'Conservation or Adaptive Reuse of a State Registered Place' and 'Interpretation Project'.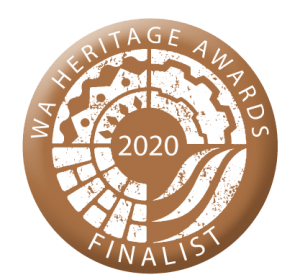 COVID-19 update
In order to keep our valued volunteers safe, along with the thousands of people who enjoy our heritage places each year, we are asking that visitors over 16 show their proof of vaccination.
We also require visitors at our places to follow all current government rules, checking in via SafeWA QR codes or manual contact registers, wearing masks and socially distancing as required. Please visit wa.gov.au for up-to-date details of government requirements.
Read more about the steps we are taking to keep our volunteers and visitors safe.
Group bookings & Education enquiries