From the establishment of the first cemetery in 1829 to the closure of the seven cemeteries in 1899 almost all of the people who died in Perth, from the wealthy and prominent to the poor or unknown, were buried here.
Over the years more than 90 per cent of the grave headstones and markers were lost through decay, neglect or wanton destruction. The remaining 800, however, now conserved by the National Trust, offer a unique opportunity to explore Perth's early years. The headstones tell stories of bravery, tragedy, illness and accident; of success and suffering.
In the middle of the Cemeteries stands a simple Gothic chapel designed by colonial architect, Richard Roach Jewell. Built in 1871 as a mortuary chapel, St Bartholomew's became a parish church in 1888. After a period of neglect, it is still a consecrated church, used for regular church services as well as weddings and other religious events.
Originally located on the edge of the town, the Cemeteries today are a tranquil haven within bustling inner city East Perth.
With the opening of the new Stadium and the Matagarup Bridge, local road closures will be in place in East Perth on event days. You can read further information and view the access map HERE.
Initiatives at East Perth Cemeteries
REST at East Perth Cemeteries was a finalist in the 2020 WA Heritage Awards in the category 'Interpretation Project'.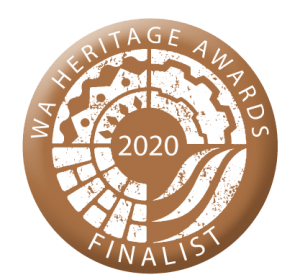 Group bookings & Education enquiries