Stories of life and death written in stone
East Perth Cemeteries sits on Whadjuk Noongar Country in an area known as Martellup, on a sandy hill overlooking Western Australia's capital city.
In 1829 this was the site of the first colonial burial ground in Perth, when a general cemetery was established. This was followed by six more of different denominations, plus one for felons, until the closure of the eight cemeteries in 1899.
More than 10,000 people who died in colonial Perth are buried here, from the wealthy and prominent to the poor and unknown.
In the middle of the Church of England Cemetery stands a simple Gothic church, designed by colonial architect Richard Roach Jewell. Built in 1871, St Bartholomew's is the only example of a mortuary chapel constructed in Western Australia. It became a parish church in 1888 and was almost doubled in size after extensions in 1900.
Despite a period of neglect, St Bartholomew's is still a consecrated church and is used for church services, weddings and other religious events.
Since the closure of the Cemeteries, the majority of the grave headstones and markers have been lost through decay, neglect, vandalism and well-intentioned 'cleanups'.
The remaining 800 however, now cared for by the National Trust, offer a unique opportunity to tell and explore stories of bravery, tragedy, illness and accident, of success, suffering and loved ones lost.
Temporary exhibition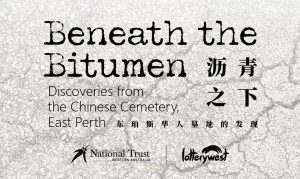 Beneath the Bitumen: Discoveries from the Chinese Cemetery, East Perth
19 May to 19 June 2022
'Beneath the Bitumen: Discoveries from the Chinese Cemetery, East Perth' is a temporary exhibition and part of the Western Australian Heritage Festival, supported by Lotterywest.
'Beneath the Bitumen' will showcase some of the findings made during excavations in the former Chinese Cemetery and is a dual-language exhibition.
The exhibition will be on display in St Bartholomew's Church, East Perth Cemeteries, during regular opening hours on Sundays from 2.00 to 4.00 pm.
For the exhibition period the Cemeteries will have an additional opening on Wednesdays from 11.00 am to 1.00 pm.
Access is included with the entry fee to the site. National Trust members visit for free.
Tickets are limited so please book in advance.
Awards
REST at East Perth Cemeteries won a 2019 MAGNA Award for Interpretation, Learning & Audience Engagement and was a finalist in the 2020 WA Heritage Awards in the Interpretation Project category.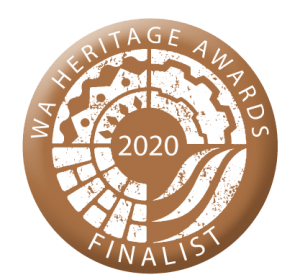 The National Trust won a 2017 MAGNA Award for Interpretation, Learning & Audience Engagement for Sound from the Ground.
See, do, explore
Originally located on the edge of the town, the Cemeteries today are a tranquil haven within bustling inner city East Perth, perfect for a Sunday stroll. No matter how wealthy, famous, or admired we are, what is most important in life is that we have people who love us and will miss us when we are gone.
Stroll through East Perth Cemeteries on a Sunday afternoon and reflect on love ones lost and appreciate the stories this place has to offer. Volunteers on site are incredibly knowledgeable and can help you search the extensive database of burials and locate graves.
Find out more about the history of East Perth Cemeteries, search the database of burials, plan your visit or access a school education program.
A number of recent initiatives at East Perth Cemeteries are aimed at sharing these stories through drama, music and interactive tours. A dedicated East Perth Cemeteries walking tour by Perth's own Two Feet & a Heartbeat has been created in collaboration with the National Trust.
And there is plenty more to see, do and explore in Perth when you finish your visit to East Perth Cemeteries.
Group bookings & Education enquiries