9 May 2022
Get sidetracked in beautiful places with self-drive trail guides for the naturally adventurous.
The National Trust of Western Australia is excited to be a part of a new initiative from the Margaret River and Busselton Tourism Association. Five new self-guided drive trails will help you see more of what matters – in your own time.
The MRBTA has curated a collection of five coast and country drive trails guiding you towards the parts of the Margaret River Region you're looking for – and the parts you didn't expect! Follow them to the letter or use them as your North Star to get back on track if you've wandered off the beaten path (and we hope you do).
Feel the adventure unfolding in your hands as you explore beyond the expected. Discover wild places, culture, produce, ideas and inspiration to make your next getaway an unforgettable experience.
Plan ahead then feel free to get a little sidetracked while finding new favourites, slowing down with a swim, or stopping into a hidden gem. Linger a little longer to bask in the glow of sunset then bring home a story that's all your own.
Find detailed maps and guides online at Driveyourstory.com
Wonnerup House at Wonnerup
is part of the Busselton Bay and Bounty Trail
Stripped back and relaxed, classic family memories are made here. Family holiday legacies are made here. The classic elements remain unchanged: the crystalline, protected waters of Geographe Bay. The foreshore lined with the iconic Norfolk Pines. The historic Busselton Jetty, cherished by generations of locals and visitors who have walked along it, jumped off it, snorkelled, dived, fished from it.
The nostalgia here is palpable, harking back to a simpler time – one of free time. Naturally, the bay is front and centre on this trail but scratch a bit deeper into the bountiful hinterland and you'll find more experiences that hold onto Busselton's essence and give back even more.
The calm of the coastline is paralleled by the adventures found inland, not to mention the quality beer being crafted locally. Expect genuine grassroots cellar doors, one of West Australia's top produce and artisan markets, surprising adventures and unforgettable family holiday memories.
What happens when two worlds collide?
Wonnerup House is ten kilometres north of Busselton, nestled between the majestic Ludlow Tuart Forest and the spectacular Vasse-Wonnerup wetlands. Its peaceful setting belies a 140- history of perseverance and hardship, as well as mistrust and tragedy, following the colonisation of the greater Busselton area in the 1830s.
Working with Traditional Custodians and members of the Layman family, the National Trust has installed a simple but provocative presentation to encourage visitors to question their knowledge of the past and to consider how we understand truth.
Open Thursday to Monday 10.00 am – 4.00 pm, book your tickets online.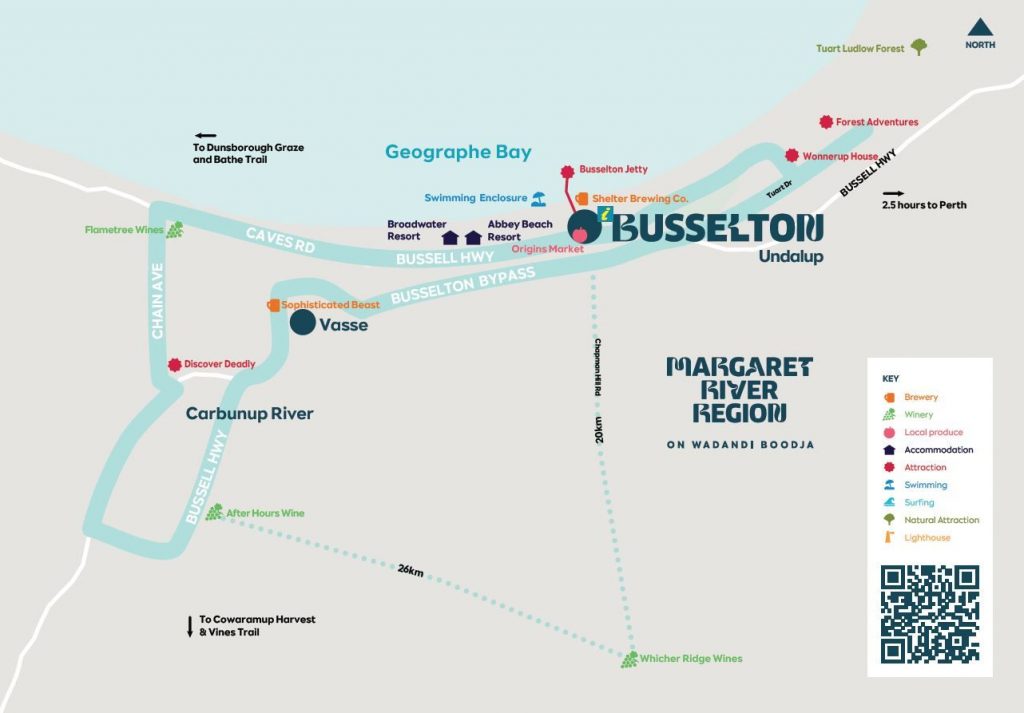 Ellensbrook at Mokidup
is part of the Margaret River Surf and Source Trail
Feel the current of the Margaret River – the land's life source.
Like the beginning and end of something much greater, the fresh waters of the Margaret River flow through land, forest and out to sea, sharing life and vitality to all who encounter it.
It is a magic felt in the earth and the people. The experiences are as varied and unique as the inhabitants. But that's the common thread in Margaret River: a connection to place and a contribution to the culture, no matter your background. It's an area of character and characters. Here, legacy wine producers rub shoulders with old salty surfers, tree changers, nature-lovers, enterprising families and artists.
Visitors come to grasp a slice of this life, but many stay to add their own thread to the intricate tapestry.
A place where nature and cultures merge
Ellensbrook at Mokidup is nestled in the Leeuwin-Naturaliste National Park in the lee of one of most spectacular coastal dunes of the rugged, western-facing coastline of Wadandi Country. Discover the unique history of this place while you enjoy the serenity of this special location. Bring your picnic and settle in a shady spot to relax, explore, learn and discover.
Explore the historic home, built in 1857 Ellen and Alfred Bussell. Follow the path that twists through beautiful bushland and discover the cave, or venture down to the beach, enjoy the wildflowers, native birds and stunning scenery. The paths, a section of the Cape to Cape Track, can be sandy but are generally flat and suited to little legs that are seeking adventure.
Grounds are open daily and the house open Thursday to Saturday 10.00 am – 4.00 pm. Sundays and public holidays, tours at 10.30 am. Book your tickets online.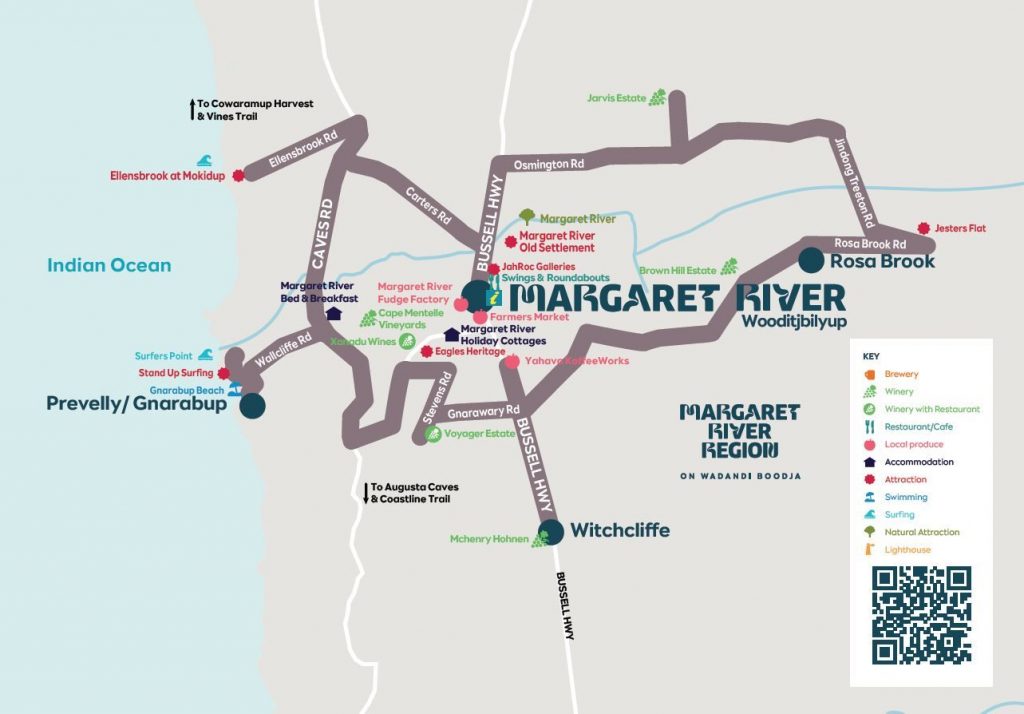 More information
Find detailed maps and guides online at Driveyourstory.com.
Join our mailing list
Sign up to our monthly eNews to keep up to date with the latest National Trust news and events.