23 Apr 2020
Each year, the National Trusts of Australia produce a themed Desk Diary featuring heritage scenes from around Australia. The National Trust (ACT) has been invited to submit 10 images for consideration for next year's Desk Diary.
The theme for the 2021 Diary is "Ode to the Bush" and as Canberra is the "Bush Capital" I feel we should be able to put forward some great images!  They can be artwork or photos but we want striking images that tell a story.   The bush theme can be broadly interpreted to include landscapes, animals, buildings in the bush, people enjoying the bush, the bush in the city….and many more.
Each image should be accompanied by a 'story' of around 75 words and the person/organisation to be credited.
The photographs do not have to be of National Trust properties or even National Trust photos but they do have to come to us free of copyright, in high res, preferably in landscape format, and with their story.
We need to submit our chosen images by the end of May if possible.  If you have any images you think would be suitable, please send them, and the story to accompany them, to me at events@nationaltrustact.org.au by Friday 22 May.
If you would like to discuss, please contact me at events@nationaltrustact.org.au or on 0427 381 380.
Mary Johnston
Tours and Events Committee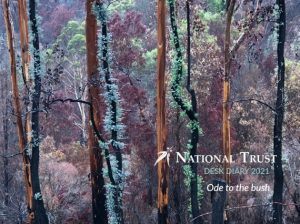 This potential cover shot is regrowth after the bush fires on the South coast of NSW.