10 Jan 2020
Transmission Films are offering all National Trust supporters two complimentary preview tickets to not one but two upcoming film releases at a cinema near you; 'Military wives' and 'The Professor and the Madman'.
The Professor and the Madman:
Based on the worldwide best-selling novel by Simon Winchester, THE PROFESSOR AND THE MADMAN is an extraordinary true tale of madness, genius, and obsession about two remarkable men who created history with the writing of the Oxford English Dictionary.
The compilation of the Oxford English Dictionary began in 1857 and was one of the most ambitious, and revolutionary projects ever undertaken. Professor James Murray (Mel Gibson) took on the challenge of creating the most comprehensive dictionary ever compiled, but knew that it would take him and his team over a century to compile all known definitions. However, by "crowdsourcing" the work, that is, by enlisting definitions from people all over the world, the dictionary could be compiled in mere decades.
As definitions were collected, the overseeing committee, led by Professor Murray, discovered that one man, Dr. W.C. Minor (Sean Penn), had submitted more than ten thousand words. When the committee insisted on honoring him, a shocking truth came to light: Dr. Minor, an American Civil War veteran, was a convicted murderer and being held at an asylum for the criminally insane.
To view the trailer, please click here.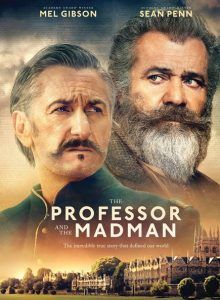 In cinemas 20 February, previews available on 3, 9 or 12 February.
For more information and to download tickets, please click here.
If you require any assistance, please contact helpANZ@showfilmfirst.com
Military Wives:
The Full Monty director Peter Cattaneo recruits A-listers Kristin Scott Thomas and Sharon Horgan to lead this inspiring drama about the bravery of the women of war and the power of the music that saved them. The life of a military wife can be thankless. Separated from loved ones their suffering and sacrifice go unnoticed while they live with the dread of a fateful knock on the door. But Kate (Scott Thomas) finds freedom in song and persuades a ragtag group of women on the base to form the Military Wives Choir. Finding their voice together the misfit choir put two fingers up to stuffy military tradition anti-war protestors and their own personal differences.
As friendships flourish even the sceptical rebel and rocker Lisa (Horgan) is transformed by the choir's friendship humour and courage. Inspired by a true-life global phenomenon Military Wives portrays ordinary women in unbelievably testing circumstances who find courage in the cathartic power of singing together. The luminous cast belts out pop hits and rock anthems empowering everyone to overcome their fears together.
To view the trailer, please click here.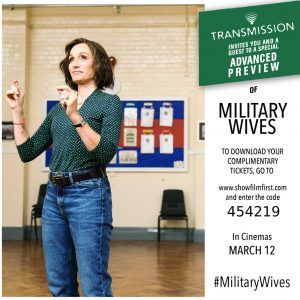 In cinemas 12 March, previews available on 12, 16, 17 and 19 February.
For more information and to download tickets, please click here.