14 Mar 2023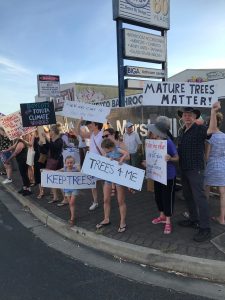 We've spent quite a bit of time running community session the last 3 weeks to enable people to write a submission for the Environment, Resources and Development Committee's Urban Forest Inquiry.  It was great to meet so many new people and to be a part of the community building that went on.
For our final session, which was held via Zoom, we were joined by Jayne Stinson, MP, the Presiding member of the ERD committee.  Jayne is absolutely committed to getting the best possible results for our urban forest – and let's face it, for us! – and she underscored that the closing date for submissions is not the end, but the beginning of the process.  She's keen for the committee to report back to Parliament with recommendations before the end of the year. Watch this space; we'll keep you up to date!
We are disappointed to report that last Wednesday morning, we saw the removal of a beautiful River redgum at 270 Brighton Road, to make way for a few spaces in a proposed car yard.  The developer didn't like the decision made by the Holdfast Bay Council, which was to refuse removal and went to the ERD court, where permission to remove the tree was granted on the grounds of public safety.  To ensure that the tree had not died for nothing, we went ahead with the rally that we had planned in conjunction with the Conservation Council, last Friday morning, and we're so glad we did.   We had about 100 people attend – from little kids with their parents and grandparents to people in their 60s who were attending a rally for the first time – so angered were they by the loss of another mature tree, one which for many locals was a landmark tree.
Toyota is major sponsor of Planet Ark's National Tree Day and the determination of Jarvis Toyota to remove this tree does not sit well with many across the community.  We all understand the evidence that shows that it's not enough to simply plant new trees; we need to retain the mature and maturing trees that give us canopy now – not only for their canopy but also for their ability to help other trees get established.
We are optimistic that the Expert Review Panel in their report back to the Planning Minister (Nick Champion) as part of the Planning and Design Code Review will take the opportunity afforded them to be bold in the recommendations they make.  More on that next time – timelines going to plan!​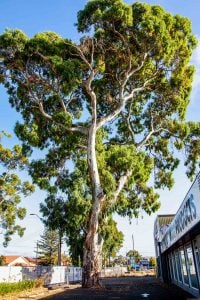 Tree Before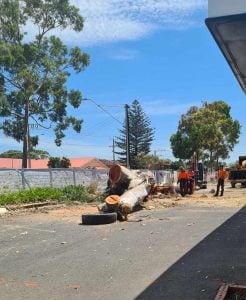 Tree After