From a relatively quiet start to the Year with a drawn out slow hot not very wet wet season, fires across most of southern Australia and now the whole country and the world in Covid-19 lockdown. The unexpected has been happening, our Trust Properties closed across the Territory mid-March, Festivals cancelled and or deferred to 2021.  Members in lockdown staying at home and out of harm's way! Much work is still being conducted by Branch Committees and Council members putting together grant applications and seeking quotes and supervising ongoing projects.
On the 5 May the Executive had the pleasure of welcoming our new Director Grace Foulds to the National Trust family, hopefully over time and as restrictions lift Grace will be able to get around and meet Trust Members across the Territory!
In recent days our Chief Minister Michael Gunner announced the start of pushing back the restrictions with Territory Parks and public facilities opening across the Territory.
It is expected that Trust Properties will be able to open from late May if the necessary Covid-19 planning is in place! Social distancing posters, enforcing of numbers in buildings, hand sanitizers at all entrances and toilet's etc.
I had the pleasure of going down to Pine Creek last week to view the Old Pine Creek railway station as we start to get it cleaned up for our new caretakers. Previous Caretaker Bazza had advised a bit of TLC required but we found out a bit of an understatement with very challenging Railway Station toilet's, no doors and rather full!
The Caretakers Ablution facilities at the back of the station masters building requires attention to make safe! The Railway Station needs remedial work to replace and repair facia boards and gutters. Urgent work as Mastotermes has been rather hungry. We are very grateful for the work undertaken by the local Vic Daly shire in mowing and keeping the precincts clean.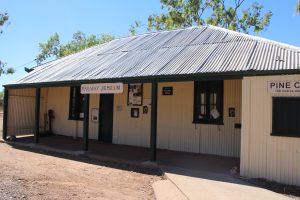 The Old Repeater Station is looking spin and span with its new gutters, gable windows and doors out the side. Local Katherine Builder Markus Bader has done an amazing job!  The Library building is currently being used as the local Centre Link office!
The local Council will be going in shortly to give the repeater station a much needed clean!
Pine Creek like a lot of regional and central Australia is already very dry as they had a very poor wet season. We look forward to encouraging local members to rejoin or join up with the National Trust to take on these local buildings and become the Heritage advocates in their area. Past local members have amassed an amazing collection of Pine Creek history and artifacts, static displays over the years telling the stories of all the peoples who have lived in this small but dynamic little town!
The Executive with new Director Grace and business manager Alex are busy matching Heritage and NT Museums Grants to Trust projects across the Territory planning to get a number of projects organized for 2020/21. Please make sure you have all of your Grant paperwork ready, Heritage approvals/clearances for any building repair work! Have a project brief and quotes ready for future incoming grant programs.
At the moment the only thing stopping us with the Community Benefit Grants is the Tenant Creek Outpatients Building ( Tuxworth Fullwood House) where a much needed ablution facility will hopefully be completed by the end of the month! The other outstanding project is MPHP amenities facility now to be located on the Audit house site, starting this month once again hopefully completed by June. Once these two projects are acquitted the Trust can start applying for CBF grants, to get a number of much needed repairs down to our sites across the Territory.