GULF Branch of National Trust NT update for December!
2019 has been a busy year with tourist, locals and local students visiting through-out the year in the Gulf Region! Extending the year with over 13 Outback Tourist Buses coming through caretaker Glen has been kept busy meeting, greeting and setting up for visitors. With temperatures in the 40's visitors are now down to one or two a week another record-breaking year. The roads are much improved compared to the 1950s Carpentaria highway that residents of Borroloola had to contend with on the drive up to the Sturt Highway,  photo from the Pattermore family collection.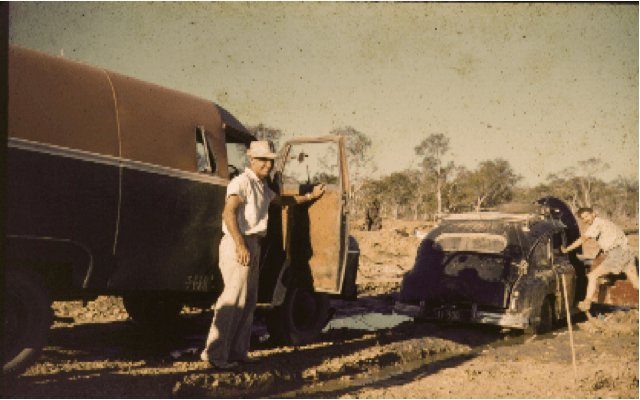 The Branch has had three milestone birthdays this year of Gulf Branch Members in October and November with Adrian O'Reilly turning 84, Stan Allan our resident Borroloola Cemetery researchers 80th Birthday and Norm Hart our now SA member turning 80! A massive amount of gulf history.
Luckily 2019 was a minor year for repairs to the Old Borroloola Police station precinct with running repairs to the main Police station roof, replacing damaged sheets on the old meat house and stabilizing the roof on the Old Laundry mostly caused by wind damage from cyclone Trevor.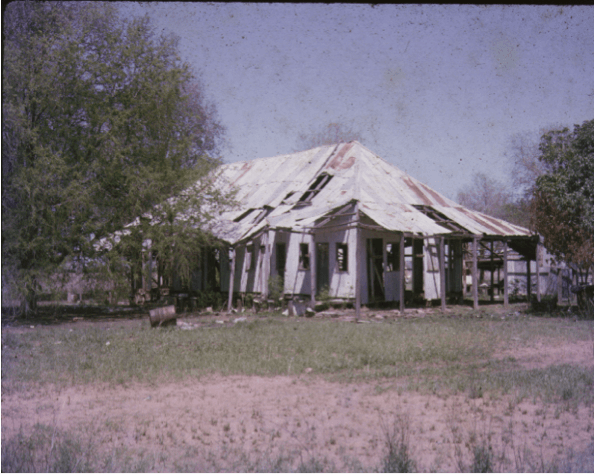 The Old Tattersall's hotel before the verandahs completely collapsed, 1950's Pattermore Family Collection.
The branch received two very special photograph collections, one from the Pattermore Family. A collection of photos taken by Merv and family members who were AIM missionaries in the 1950s-1960s out at Borroloola, The Other Collection of Photos was from Bill Hildebrand of the 1967 Borroloola Annual races.
Members had meetings with MRM Community grants representative Jim Gleeson from Plan C regarding upcoming projects – replace fencing, security lights and replacing storage cupboards and printing of Book 3 of Borroloola Stories.
The Branch held their last meeting for the year in October and end of year working bee preparing for the wet season. Pending weather conditions the first meeting for 2020 will be in late February.
Morning mist lifting at Borroloola the start of another long hot day!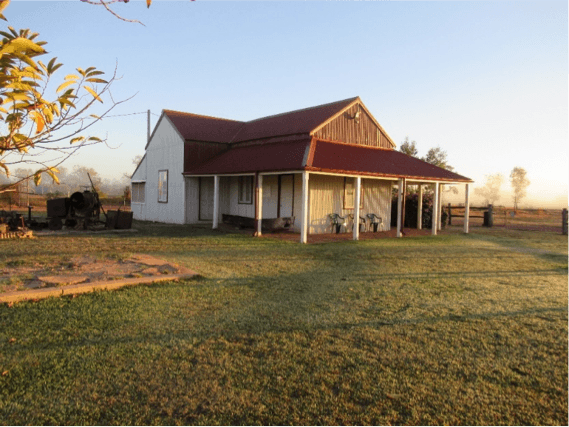 The Gulf Branch would like to thank all our local members for their support and friendship.   Caretaker Glen for keeping the grounds looking spick and span, keeping the visitors informed, Sue for banking and sharing our story. Eddie for always quietly working away, maintaining our old buildings sites and artifacts, writing reports sharing his skills and knowledge and rescuing and fixing up another broken piece of History!
We offer all our fellow Gulf Branch Members, local supporters and sponsors, National Trust Members across the Territory and Australia a very safe and happy festive season! And a productive, enjoyable and Happy 2020!
Vale Trevor Horman,
The Gulf Branch would like to acknowledge the work and friendship of NT Trust President Trevor Horman AM. His passion to learn, share, preserve and conserve the history of the Northern Territory its buildings, site of significance and cultural heritage. His many and varied contributions to the NT state Council, Federal Council, his voluntary work at numerous sites across the Territory MPHP, Pine Creek, Katherine, Adelaide River FNAR, Jones Store, running and organizing Heritage festivals, his instrumental passion in acquiring Road Masters House, Trevor wasn't just a committee member he was a working and networking member of the Trust with enthusiasm for Heritage and made the impossible possible!
Janet Leather – Gulf Branch Representative.
Vice President NT State Council.