The Artists of the Round Yard interpret the beautiful outcomes of cross-pollination in nature and in society. This exhibition explores creativity, our world and proliferation.
In its simplest meaning, x pollination is the joining together of two different things: genetic constitutions, cultures, or the cross fertilisation of ideas. This is the premise of an exhibition for the creative group based at Retford Park; the Artists of the Round Yard (ARY). This spring, ARY's fifteen artists bring as many interpretations of x pollination. Some of the artists are inspired by nature and some by the connections between people.
From a biological perspective, the exhibition's theme aligns perfectly with the ethos of garden management at Retford Park which embraces both creativity and the conservation of beauty. From an ideological point of view, sharing, inspiring, and influencing each other is one of ARY's founding principles.
During your visit you're encouraged to also explore the beautifully manicured gardens of Retford including the exquisite swimming pool and pavilion, sculptures and don't forget to wave at the emu's!
The exhibition in the White Cottage and the Round Yard includes paintings, prints, photographs, sculptures, and much more.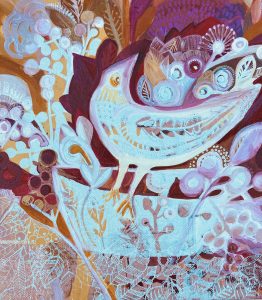 Photo credit: Secret Garden, Mixed Media, Slavica Zivkovic, 2021.
Exhibition details
x pollination will be displayed in the White Cottage and the Round Yard at Retford Park and is available to view 10am – 4pm, Friday – Monday, until 7 February 2022.
How to book your tickets
This is a free event.
Tickets for house and garden tours can be purchased separately for those wishing to get a glimpse inside historic Retford Park and it's impressive surrounds.
Book house and garden tickets via Eventbrite where possible, to guarantee a spot, unless you are redeeming a Service NSW $25 Discover voucher. You are welcome to use your voucher at this National Trust Property when you purchase your tickets upon arrival.