Woodford Academy welcomes Rhonda Dee, their new Artist In Residence. Rhonda will deliver a talk on her expansive art practice and her fascination with the Academy's complex histories and narratives.
Rhonda Dee has worked in painting, sculpture, and installation for over 20 years, exhibiting in Australia, and overseas. Her works are featured in permanent collections including Long Island University, NY, the Museu Brasileiro da Escultura, Sao Paulo Brazil, Macquarie University Art Gallery, the Australia China Arts Foundation, and in private collections. In addition to her arts practice, Rhonda also works as an artist with disadvantaged communities in Western Sydney.
Influences in Rhonda's work stem from cultural mythologies and story-telling traditions as well as contemporary science-fiction themes. Her hybrid figures are created with materials such as clay, collage, and paint. The resulting works and installations are often an enquiry into what it means to be "other".
Join Rhonda from 1pm – 2pm on the following dates: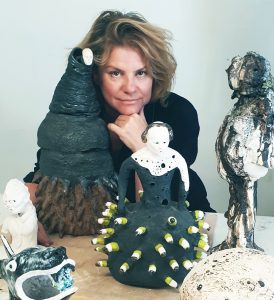 Image: Portrait courtesy of Rhonda Dee
"My work explores the body as a site of transformation.  I create paintings, sculptures, and installations using a variety of materials to expand perceptions of what it means to be human in an uncertain world. I am interested in the complexity of "self" as a layered mystery, formed and deformed by culture and environment.
I am looking forward to working with the complex histories and narratives of the Woodford Academy particularly through the study of historical objects and interior spaces of the building" – Rhonda.
How to book your tickets
This special event is run in conjunction with our regular ticketed open days and is available to attend free with museum entry. Woodford Café will be selling drinks and cake on the day.
Book via Eventbrite, where possible, to guarantee a spot.