The Mary White Saumarez Collection is made up of newly discovered photos and original documents, postcards, maps and an array of stunning art deco travel posters collected by Mary White throughout her voyages from 1939-1947, which were found inside a set of attaché cases in 2014.
The stunning art deco travel posters and large railway maps collected by Mary White throughout her travels to the United Kingdom, Europe and Scandinavia are vibrant reminders of a different world.
The various documents, tickets, brochures, newspaper cuttings and letters has enabled a reconstruction of two overseas journeys made by Mary White in 1939 and 1947. The timing of these trips provides insights into travel between Australia and Europe before the outbreak of WWII and in the period immediately following the war, giving insights into how the world had changed.
Mary was a keen artist and admired many Australian artists. As a special treat, the exhibition will also include two Lionel Lindsay paintings belonging to Mary White.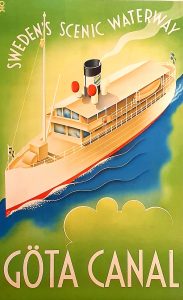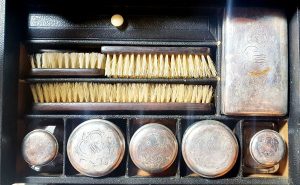 Photos: Jarrad Stevenson. Specifications: Mary White Travel Collection (L-R) – Suitcases, poster "Göta Canal, Sweden's Scenic Waterway", Mary White's travel set.
After viewing the Travels with Mary exhibition, join one of the 'What We Know About Mary' tours of the White family house led by an expert volunteer who has made a study of Mary White's life.
Exhibition details
Exhibition open 10am – 4pm, Wednesday, Friday and Sunday from 4 May – 12 June 2022.
How to book your tickets
Tickets: Members free, general admission $10, concession $8, family $25, children under five free.
Book via Eventbrite, where possible, to guarantee a spot, unless you are redeeming a Service NSW $25 Discover voucher. You are welcome to use your voucher at this National Trust Property when you purchase your tickets upon arrival.