Relive the early twentieth century with Ella and Hazel Porter. See tinplate toys, miniature tea sets, schoolbooks and other childhood memorabilia in a special display.
Born during the first decades of the twentieth century, Ella and Hazel Porter grew up in rapidly changing times. Visitors to Miss Porter's House museum can see a world before cheap toys and widely available plastics. On display are children's toys and books. See the collection's wonderful tin-plate mechanical toys, which probably date from before 1914, and young visitors will love the Miss Porters' dolls and tiny china and enamel toy tea sets .
Both Herbert Porter and his daughters, Ella and Hazel, made the short journey from home to Cooks Hill PS during their school days. Magazines, photographs, reports, certificates and prizes paint a fascinating picture of school life. We know for instance that in 1923 12-year-old Ella Porter was one of thirty-eight students in form 1C, was graded ninth overall, was satisfactory at Shorthand but only tolerable at Business Principles. Her conduct, however, was very good. The school prizes, won mostly by Herbert Porter and his wife Florence, reflect a different world where books were few, text dense and illustrations rare.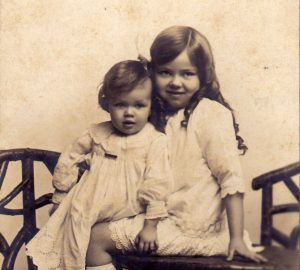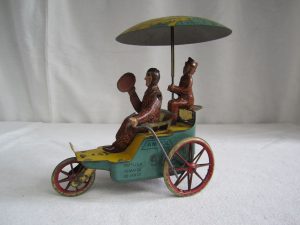 Item copyright National Trust (NSW)
In the early twentieth century, fashions for children and young people were also changing rapidly. From tightly corseted, small waisted and stiff fashions endured by their mother, Florence, they changed to the shorter, looser look of the 1920s. Hair styles changed from long and elaborate to a short, bobbed look. These changes are seen in the museum's collection of photographs. Florence stands stiffly in a high-necked gown for a teenage studio portrait. While her eldest daughter, Ella, is shown at the same age posing informally with her cousins during the 1920s in what was probably a box camera 'snap'.
In addition to the childhood memorabilia on display there is a century of household items, stencilled ceilings, exquisite craftwork, a historic fernery and small period garden; something for everyone at Miss Porter's House!
Event details
On display at Miss Porter's House from 1pm – 4pm, Sunday 9 October 2022.
Miss Porter's House is the only National Trust property in Newcastle. Built by Herbert Porter in 1909, the family lived in this freestanding Edwardian terrace until 1997. It survives with contents intact as a rare living snapshot of life for a female household of modest means.
How to book your tickets
Book via Eventbrite where possible, to guarantee a spot.