Join us for a behind the scenes guided tour of an exquisite selection of historic garments in the collections of Privately owned Garroorigang Homestead, St Saviours Cathedral, and Riversdale Homestead, owned by the National Trust (NSW).
Costume specialist Lindie Ward and site specific guides will reveal the clothes and customs of life in 19th Century Goulburn and how we look after them now.
Start the day at Garroorigang, the home of the Hume family and former Inn and Boys Boarding School. Here you'll see rare christening and childrens clothes, a rare 1890's lady's hacking jacket and gilet, rare wedding and ball gowns, day dresses and under garments. Related artefacts will also be on display including an 1875 original sewing machine, ladies sewing box & gents travelling case.
The tour will move on to St Saviour's Cathedral where skillfully made and highly decorative Bishops vestments will be on display, amongst the other historic textiles and tapestries in the Cathedral designed by Edmund Blacket 1884.
We will conclude at Riversdale Homestead, where after a light lunch we will learn about garments worn by the Twynan family, including a recently restored, rare white dress dating to the 1850's and other garments from rural life. Hear about the Australian Dress Register, costume restoration process and the care, storage and display of historic costumes. The Twynan ladies of Riversdale were talented artists and their hand made textiles will be on display.
Through the costumes, we will learn about the protocols and ceremony surrounding how, what ,where and when garments were worn. Experience the spaces associated with these clothes and the people who wore them. Marvel at the skillful beading, lace, embroidery and cloth and wonder at how the 19th century women created and functioned in this attire.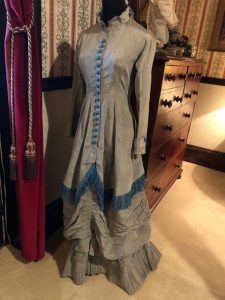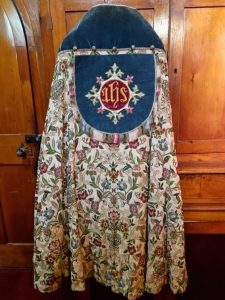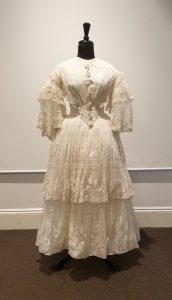 Images (L-R): Garroorigang: Grey silk and satin day dress with bustle. Photo by Meredith Hutton; St Saviour's Cathedral Bishop Radford Vestments. Photo courtesy of St Saviour's Cathedral; Riversdale: Recently Restored: 1850's White Dress. Photo by Rebecca Pinchin
Event details
'The Fabric of History' Guided Tour of Historic Costumes in Goulburn runs from 9:30am – 2:30pm on Saturday 22 October 2022.
Schedule:
9:30am – Garroorigang Homestead
11am – St Saviour's Cathedral
12:30pm –  Riversdale Homestead
2:30pm – Finish
Tickets
Tickets: National Trust members $85, adults $90, children under 5 free.
Includes tour and light lunch at Riversdale Homestead. Morning tea available for purchase separately on arrival at Garroorigang.
Book via Eventbrite, where possible, to guarantee a spot.
Partners
Garroorigang Homestead Partnership
St Saviours Anglican Cathedral
Riversdale – National Trust of Australia (NSW)