Discover the early history of health-care in NSW and the individuals who persevered in often harsh and unfamiliar environments to care for those in need.
(For dates see below.)
Travelling throughout New South Wales, The Doctor Will See You Now delves into the histories of six National Trust properties, exploring each site's association with health and medicine. The intertwining stories from Experiment Farm Cottage, Everglades House and Gardens, Miss Porter's House, Dundullimal, Saumarez Homestead and Miss Traill's House and Gardens reveal much about the history of health in Australia from 1788 to the mid-1900s, reflecting issues still prevalent in our world today.
This exhibition explores the perilous and fascinating history of health in the early colony. Learn how those venturing to Australia in the 1800s were able to access medical attention and supplies, how women dealt with childbirth in the bush, and how quack doctors were able to concoct and distribute 'miracle elixirs'.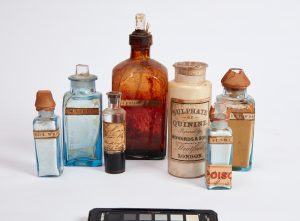 Photography by Jenni Carter, copyright National Trust (NSW)
Take a stroll around the property and immerse yourself in bygone days, where doctors would make house-calls in the middle of the night, but only for those who could afford to pay the fee! Take a peek inside a 19th century medicine chest, and see for yourself the kinds of ingredients and remedies that medical professionals relied upon. Discover how vaccines were dispersed, what a settler's diet consisted of, how families in isolated areas dealt with illnesses, and so much more in this eye-opening exhibition.
The Doctor Will See You Now will appeal to those with an interest in the quirkier side of history looking for an enjoyable day out at one of the properties hosting this exhibition.
How to book your tickets
Please check the specific property pages below for full details of facilities, ticket costs and opening days/times for each location. Next dates and locations:
*Don't miss a very special complementary Health on the Homefront Tour coming to Saumarez Homestead from 20 November 2022 – 8 January 2023.