Steve Lopes Encountered is survey exhibition presented in association with Orange Regional Gallery of over 80 paintings, rarely seen drawings, prints and collages, together with the artist's diaries and drawing books.
Steve Lopes is a Sydney based painter known for his figurative landscapes. He often works en plein air, painting vignettes of places which are used as references for large-scale studio works.
The exhibition examines how the work of Australian and international artists, including Lucian Freud, Euan Macleod, Frank Auerbach, Kevin Connor, Chaim Soutine, Jan Senbergs and Philip Guston has influenced the work of Steve Lopes.
It will also consider how the artist, through thematic narratives of migration and place, of the body on the land and the land without body, reflects on our age of complexity, volatility, crisis. The emergence of voids, barriers and paths that appear and reappear play an important role in Lopes' work, and provide insights into his philosophy regarding representation and the social and art context through which his scenes of harshness and kindness emerge. A further objective will be to contemplate how these paintings come to the eye in a subtle but disquieting manner, and to appreciate the technique with which he achieves these effects.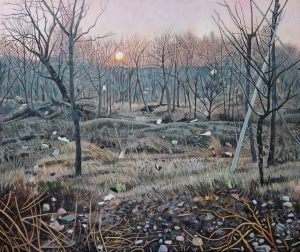 STEVE LOPES
Exposed Wood 2017, Mont St Quentin
oil on Canvas 140cm x 160cm
Gallipoli Club Collection
Lopes places most emphasis on the ideas he seems to love the most: equality and openness. His method is to challenge these ideas through extensive travel, both locally and internationally. He sometimes travels alone, sometimes with another artist or group of artists. Often these journeys are repeated, especially within Australia. Family connections to Orange have realised many paintings his numerous Asian, Pacific and European journeys have also produced thematic series such as on Gallipoli and The Somme. There is a difference in the work produced through the international journeys. The altered context of the subject tends delicately to unsettle the personal. Yet he always reveals poetry. A challenge for the exhibition will be to reveal how Lopes confronts the economic, social and cultural contradictions he finds, and how he accesses and presents in his paintings the often subtle barriers, of injustice and confinement, that he observes.
Exhibition details
Exhibition open 11am – 5pm, Tuesday – Sunday from 26 March – 8 May 2022.
How to book your tickets
Exhibition entry is included in a valid S.H. Ervin Gallery entry ticket.
Book via Eventbrite where possible, to guarantee a spot, unless you are redeeming a Service NSW $25 Discover voucher. You are welcome to use your voucher at this National Trust Property when you purchase your tickets upon arrival.
Partners
Presented in association with Orange Regional Gallery.