Come along and create a beautiful wooden spoon made with your own hands with Nordic Edge at Old Government House.
Creating something as fundamentally human as a wooden spoon using simple hand tools can be a satisfying experience. Come spend the Saturday with Nordic Edge and walk away not only with the experience, but also a full set of spoon carving tools and a beautiful wooden spoon made with your own hands!
This guided workshop will take you through the process of selecting materials and the relaxing process of making your own wooden spoon. After a safety briefing in the courtyard at Old Government House you will receive your tools and sustainably sourced materials. Then we will spend a few hours slowly carving a spoon, from axe work to bowl carving and the whittling of the bowl outline. We'll break for lunch before completing the spoon in the afternoon. You will leave not only with your spoon, but with the tools and skills required to continue your journey as a spoonsmith!
What's included?
Set of Spoon Carving tools (to take home after the class is completed)
All materials required (spoon blank in wood, sand paper, food safe organic wood finish)
Use of other hand tools, based on your design (small axe, saw, chopping block, vice, clamps)
Cut-resistant gloves for limited protection against the tools
All instructions and support required on the day
Note: Great care is always required when working with sharp tools. We recommend wearing full-length pants and closed-toe shoes on the day.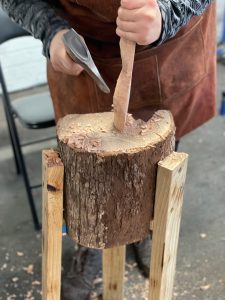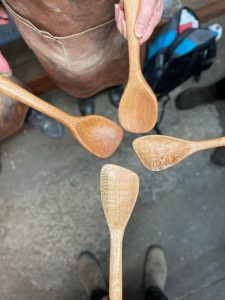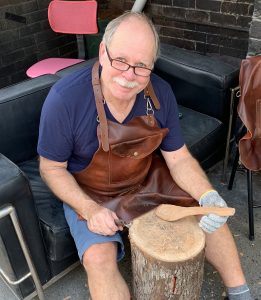 Copyright Nordic Edge.
Suitable For:
Anyone over 16 years old with an interest in making their own spoon, no prior experience is required.
We will be doing some basic axe work as part of the spoon making. Those selecting to not complete the axe steps will use a softer carving wood which can be worked without the use of an axe.
Anyone able to follow basic safety instructions required to work with sharp tools, such as only carving while sitting down and carving away from your body.
Those prepared to be mindful of the safety guidelines as provided by your instructor who is with you every step of the way.
Event details
Spoon Carving Workshop runs 10am – 4pm with a one hour lunch break from 12pm – 1pm.
Lunch is not provided. Attendees are encouraged to bring along their own lunch or to order from our onsite restaurant, Lachlan's.
Tickets
Tickets: $249 per person.
Your ticket includes complimentary entry to Old Government House and the Making Good exhibition – a fantastic opportunity to view some of the fine woodworking pieces on display, created by highly skilled convict artisans.
Book via Eventbrite, where possible, to guarantee a spot.