Secrets, Ciphers and Codes West Block, 'The Bunker' and 'the Cable Girls'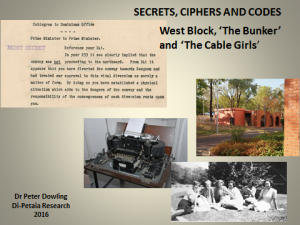 A small, innocuous and often ignored building in Canberra's Parliamentary Triangle has quite a remarkable story to tell. The building is located in the rear of the West Block curtilage and today is used as an electricity machinery shed and a place for the staff of the main offices to park their bicycles. During the Second World War this small building, tucked away behind the main building which housed the Prime Minister's  Department, was known by its occupants as 'The Bunker'. Dr Peter Dowling will tell the story of this building and its staff, mainly young women, who played a vital part in Australia's war effort.
Dr Dowling is a historical archaeologist and member of the ACT National Trust. In a former, rather sneaky life, Peter was involved in defence communications which drew his interest towards the history of 'The Bunker'.