Join local Yass artist, Jeannine Andrews, at historic Cooma Cottage for a beginner workshop in sketch-booking among beautiful surrounds.
Local artist, Jeannine Andrews, has a love for Cooma Cottage and an incredible talent in sketches and watercolour works. Jeannine has used her artistic flare to create unique artworks of historic Cooma Cottage and surrounds, and now she would like to share her knowledge and skill with you.
Be inspired in the fresh air of the Yass Valley at Cooma Cottage as you join Jeannine for a beginner workshop in sketch-booking – no previous knowledge or skill required!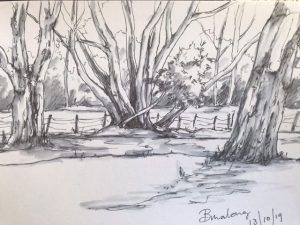 Artwork: "Binalong", Jeannine Andrews, 2019
Event details
This event is in conjunction with the Cooma Cottage exhibition of watercolours Hume's Legacy by Jeannine Andrews, local Yass artist, in September 2022.
Tickets include workshop with Jeannine Andrews (BYO sketch book and pencils or add to your ticket upon purchase), lunch and refreshments.
Tickets
Members $70, adults $80. Tickets are strictly limited so we recommend booking early to avoid disappointment.
Book via Eventbrite where possible, to guarantee a spot.