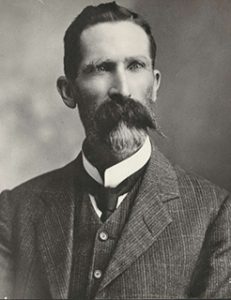 If you like 'firsts', this is a walk for you.  Charles Robert Scrivener not only surveyed Canberra: he recommended the present site of Australia's federal capital as the best of those in the Yass-Canberra district. Then in March 1909 he and his survey teams undertook the first contour survey of the site, placing their trigonometric survey marks on Canberra's hills. Some of those survey marks evolved into the first Canberra place names of the Commonwealth period. The remains of Scrivener's survey camp also became the earliest Commonwealth settlement in what became the Australian Capital Territory.
This walk will be around the western side of Capital Hill and in Stirling Park.  It will cover some of Scrivener's 1909 survey marks, and visit significant sites in the selection, naming and building of Canberra.  There will be views of the key sites that influenced Scrivener and those responsible for selecting the Federal city site.  We will also see traces of Aboriginal occupation, sites occupied by colonial settlers, and the places where Canberra's builders lived, played, and used the work of the surveyors to create modern Canberra.
NB As this Heritage Walk is a Canberra and Region Heritage Festival event, bookings will not open until 13 March.
Meet:  Grassed parking area opposite Lotus Bay boat launch area, Alexandrina Drive, Yarralumla.
Length and terrain: TBA

Walk leader: Tony Maple
Bad weather:  Unless otherwise advised by email, the leader will be at the meeting point where a decision will be made as to whether to proceed or postpone.
Cost:  $10
Bookings essential: https://heritagefestivalwalk-scriveners-marks.eventbrite.com.au

Note:  For the comfort and safety of other walkers, we do not allow dogs on our walks.