Artists Caren Berzins and Anita White present an exhibition that transports the viewer to urban and country Scandinavia with its long summer days.
This is a celebration of the striking light of Scandinavia and its colour palette in response to the artists' travels.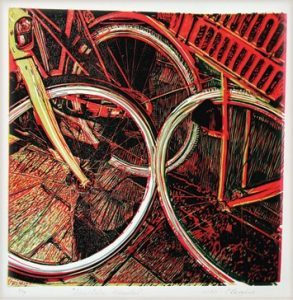 Stockholm Bicycles, Caren Berzins – lino print
Exhibition dates: 7 – 29 November 2020
Gallery hours: Thursday to Sunday, 11am – 3pm
Utilising a number of mediums, mainly oil painting, mixed media on paper and prints, Artists Caren Berzin and Anita White showcase their experiences of travelling through Scandinavia in 2019. Memory, sketches and images taken at the time provide inspiration to their art, as well as their own personal reactions to the landscape and the people.
Entry to the exhibition is included in the price of entry to Everglades.