If you are over 60, NSW Seniors Festival gives you the chance to make new friends or get together with old ones at an array of local community events. There's something for everyone.
Come to Saumarez Homestead on Saturday 11th March for free access to the gardens and grounds as well as free tea/coffee/water and slices.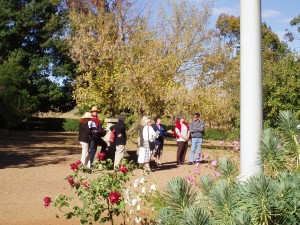 Join us to celebrate NSW Seniors Festival
Free access for Seniors to the Saumarez Homestead gardens and grounds including the Saumarez Homestead Heritage Rose Garden and free tea/coffee/water/slices for Seniors in the Saumarez Centre courtyard.
We will have plenty of chairs spread around the gardens in the shade so people can sit and talk/rest when they want.
Now in its 59th year, the 10-day NSW Seniors Festival runs from Friday 3 March to Sunday 12 March. The festival encourages seniors to get out, make new friends and catch up with old ones by doing more together.
NSW Seniors Festival is presented by the Department of Family and Community Services and attracts over 500,000 seniors across NSW each year through events and new lifestyle experiences that enrich their lives.